There are many vehicles that are capable of towing loads of around 2,000 kg (4,409 lbs). But which are the best?

Whether you enjoy horse riding, sailing or even a walking holiday in the caravan - for many hobbies you need a car that can tow 2000kg. For some people, a small car with 1,000 kilos of traction is enough. If you are have a small single axle trailer for doing tip runs or nipping to the DIY store. However for most twin axel trailers then you really need to be looking at a vehicle with a 2 tonne towing capacity to ensure you stay safe and legal. There are is a big selection of mid-range SUV and 4x4s to choose from, but which cars can tow 2000kg?

Most people think that it's just about the kerb weight of the car. However when choosing the right car there is a lot more to consider. Generally speaking all cars that can pull 2,000 kilos need around 150 hp, usually even more. Because with two tons behind you, if you hit a big hill it's going to take a significant amount of grunt to haul it to the top.

We've hand picked some of the best cars that can tow 2000kg for you here:


Subaru Outback 2.5i 4WD AT - Best Cheap Car

The Subaru brand is one of the all-wheel drive pioneers on the market, and the know-how is correspondingly large. Added to this is the almost legendary reliability of the technology. In contrast to the SUV offerings with a diesel drive, the Outback is a classic station wagon with permanent all-wheel drive as a four-cylinder petrol engine. A diesel version has not been offered since 2018, the 2.5-liter is the only engine.


SsangYong Korando 1.6 E-XDI Diesel 4WD 6AT - Best Crossover

The SsangYong Korando is one of the cheapest crossovers in the mid-size class that can tow up to 2,000kg. As a crossover, the Korando should create a balancing act between an SUV and a sedan, even if its design is clearly based on off-road vehicles. The nominally stronger petrol engine with 163 hp is not enough for the maximum towing capacity, only the higher-torque 136 hp diesel with automatic can do that. But it doesn't even need four-wheel drive for that.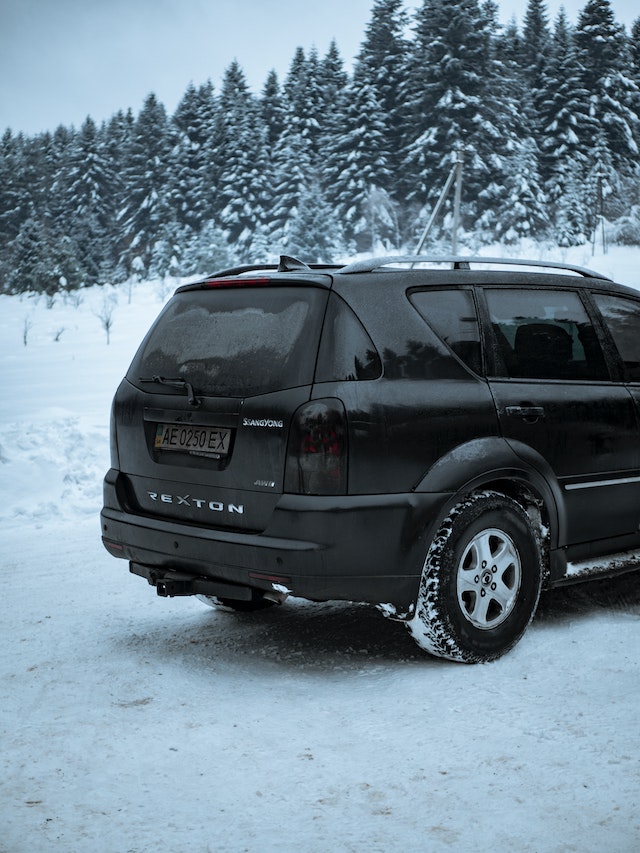 One selling point for the Korando is its lavish equipment at a reasonable price. Even the basic Crystal version is equipped with many useful assistance systems, including hill descent control and an emergency braking system which helps keep you safe when towing.


Mitsubishi L200 2.2 Diesel 4WD 6MT Pick-up - Best Pickup

The L200 is the most powerful towing vehicle in our top picks list: the pick-up can tow an incredible 3,000kg behind it, which no small SUV can do. Even the basic version is enough to get the biggest boat, caravan or horse traile moving. This is due to the beefy diesel engine and all-wheel drive system, in which the front axle can be switched on. Conversely, if you are traveling without a trailer, you can still save fuel with just one driven axle.

On the flip side of the coin, of course, the L200 as day to day vehicle is significantly less comfortable than a family SUV. And lashing down weekend shopping to an open flatbed isn't for everyone either. It is a real work tool and only conditionally an everyday friend of the family.


List of cars that can tow 2000kg
We have provided a comprehensive list of all the cars that can tow up to 2000kg. The towing capacity is a term used to describe the maximum weight of a trailer that a vehicle can tow. If you are towing a trailer with four or six wheels when you should prbably look for a car with a towing capacity of 2000kg.

For those models of car with a towing capacity of 2000kg, we have detailed the make and model of the car where the maximum braked towing capacity is 2000kg (this is when the trailer being towed has its own breaking system). To ensure you are both safe and legal it is really important that you check the towing weight limit for the car with the manufacturer.




Whilst every effort has been made to ensure the towing weights provided on this website are accurate, we always recommend checking the vehicle log book (V5) for the official towing capacity. We accept no responsibility if the towing weights provided on this website are incorrect.
Car Make & Model
Max Towing Weight - Unbraked
Max Towing Capacity - Braked

Audi A4 Avant (2001 - 2004) 2.5 TDI quattro SE (180ps) 5d

750kg

2000kg (2.0t)

Audi A4 Avant (2001 - 2004) 2.5 TDI quattro SE (180ps) 5d Tip Auto

750kg

2000kg (2.0t)

Audi A4 Avant (2001 - 2004) 2.5 TDI quattro Sport (180ps) 5d

750kg

2000kg (2.0t)

Audi A4 Avant (2001 - 2004) 2.5 TDI quattro Sport (180ps) 5d Tip Auto

750kg

2000kg (2.0t)

Audi A4 Avant (2005 - 2008) 3.0 TDi quattro 5d

750kg

2000kg (2.0t)

Audi A4 Avant (2005 - 2008) 3.0 TDi quattro 5d Tip Auto

750kg

2000kg (2.0t)

Audi A4 Avant (2005 - 2008) 3.0 TDi quattro S Line 5d Tip Auto

750kg

2000kg (2.0t)

Audi A4 Avant (2005 - 2008) 3.0 TDi quattro SE 5d

750kg

2000kg (2.0t)

Audi A4 Avant (2005 - 2008) 3.0 TDi quattro SE 5d Tip Auto

750kg

2000kg (2.0t)

Audi A4 Avant (2005 - 2008) 3.0 TDi TDV quattro 5d

750kg

2000kg (2.0t)

Audi A4 Avant (2005 - 2008) 3.0 TDi TDV quattro 5d Tip Auto

750kg

2000kg (2.0t)

Audi A4 Avant (2005 - 2008) 3.0 TDi TDV quattro S Line 5d

750kg

2000kg (2.0t)

Audi A4 Avant (2005 - 2008) 3.0 TDi TDV quattro S Line 5d Tip Auto

750kg

2000kg (2.0t)

Audi A4 Avant (2005 - 2008) 3.0 TDi TDV quattro SE 5d Tip Auto

750kg

2000kg (2.0t)

Audi A4 Avant (2005 - 2008) 3.2 FSI quattro 5d

750kg

2000kg (2.0t)

Audi A4 Avant (2005 - 2008) 3.2 FSI quattro 5d Tip Auto

750kg

2000kg (2.0t)

Audi A4 Avant (2005 - 2008) 3.2 FSI quattro S Line 5d

750kg

2000kg (2.0t)

Audi A4 Avant (2005 - 2008) 3.2 FSI quattro S Line 5d Tip Auto

750kg

2000kg (2.0t)

Audi A4 Avant (2005 - 2008) 3.2 FSI quattro SE 5d

750kg

2000kg (2.0t)

Audi A4 Avant (2005 - 2008) 3.2 FSI quattro SE 5d Tip Auto

750kg

2000kg (2.0t)

Audi A4 Avant (2015 onwards) 2.0 TDI (190bhp) Quattro S Line 5d S Tronic

750kg

2000kg (2.0t)

Audi A4 Avant (2015 onwards) 2.0 TDI (190bhp) Quattro Sport 5d S Tronic

750kg

2000kg (2.0t)

Audi A4 Avant (2015 onwards) 3.0 TDI Quattro S Line 5d S Tronic

750kg

2000kg (2.0t)

Audi A4 Avant (2015 onwards) 3.0 TDI Quattro Sport 5d S Tronic

750kg

2000kg (2.0t)

Audi A4 Saloon (2015 onwards) 2.0 TDI (190bhp) Quattro S Line 4d S Tronic

750kg

2000kg (2.0t)

Audi A4 Saloon (2015 onwards) 2.0 TDI (190bhp) Quattro Sport 4d S Tronic

750kg

2000kg (2.0t)

Audi A4 Saloon (2015 onwards) 3.0 TDI Quattro S Line 4d S Tronic

750kg

2000kg (2.0t)

Audi A4 Saloon (2015 onwards) 3.0 TDI Quattro Sport 4d S Tronic

750kg

2000kg (2.0t)

Audi A5 Coupe (2007 - 2016) 3.0 TDI Quattro 2d

750kg

2000kg (2.0t)

Audi A5 Coupe (2016 onwards) S Line 2.0 TDI 190PS Quattro S Tronic auto 2d

750kg

2000kg (2.0t)

Audi A5 Coupe (2016 onwards) Sport 2.0 TDI 190PS Quattro S Tronic auto 2d

750kg

2000kg (2.0t)

Audi A5 Coupe (2016 onwards) Sport 3.0 TDI 218PS Quattro S Tronic auto 2d

750kg

2000kg (2.0t)

Audi A6 Avant (1998 - 2004) 2.4 quattro SE 5d

750kg

2000kg (2.0t)

Audi A6 Avant (1998 - 2004) 2.4 quattro SE 5d Auto

750kg

2000kg (2.0t)

Audi A6 Avant (2011 onwards) 2.0 TDI Quattro Black Edition 5d S Tronic

750kg

2000kg (2.0t)

Audi A6 Avant (2011 onwards) 2.0 TDI Quattro S Line 5d S Tronic

750kg

2000kg (2.0t)

Audi A6 Avant (2011 onwards) 2.0 TDI Ultra Black Edition (11/14-) 5d

750kg

2000kg (2.0t)

Audi A6 Avant (2011 onwards) 2.0 TDI Ultra Black Edition (11/14-) 5d S Tronic

750kg

2000kg (2.0t)

Audi A6 Avant (2011 onwards) 2.0 TDI Ultra Black Edition 5d

750kg

2000kg (2.0t)

Audi A6 Avant (2011 onwards) 2.0 TDI Ultra Black Edition 5d S Tronic

750kg

2000kg (2.0t)

Audi A6 Avant (2011 onwards) 2.0 TDI Ultra S Line (11/14-) 5d

750kg

2000kg (2.0t)

Audi A6 Avant (2011 onwards) 2.0 TDI Ultra S Line (11/14-) 5d S Tronic

750kg

2000kg (2.0t)

Audi A6 Avant (2011 onwards) 2.0 TDI Ultra S Line 5d

750kg

2000kg (2.0t)

Audi A6 Avant (2011 onwards) 2.0 TDI Ultra S Line 5d S Tronic

750kg

2000kg (2.0t)

Audi A6 Avant (2011 onwards) 2.0 TDI Ultra SE (11/14-) 5d

750kg

2000kg (2.0t)

Audi A6 Avant (2011 onwards) 2.0 TDI Ultra SE (11/14-) 5d S Tronic

750kg

2000kg (2.0t)

Audi A6 Avant (2011 onwards) 2.0 TDI Ultra SE 5d

750kg

2000kg (2.0t)

Audi A6 Avant (2011 onwards) 2.0 TDI Ultra SE 5d S Tronic

750kg

2000kg (2.0t)

Audi A6 Avant (2011 onwards) SE Executive 2.0 TDI 190PS Quattro S Tronic auto 5d

750kg

2000kg (2.0t)

Audi A6 Avant (2011 onwards) SE Executive 2.0 TDI Ultra 190PS 5d

750kg

2000kg (2.0t)

Audi A6 Avant (2011 onwards) SE Executive 2.0 TDI Ultra 190PS S Tronic auto 5d

750kg

2000kg (2.0t)

Audi A6 Saloon (2004 - 2011) 2.8 FSI Le Mans 4d Multitronic

750kg

2000kg (2.0t)

Audi A6 Saloon (2004 - 2011) 2.8 FSI S Line 4d Multitronic

750kg

2000kg (2.0t)

Audi A6 Saloon (2004 - 2011) 2.8 FSI S Line Special Ed 4d Multitronic

750kg

2000kg (2.0t)

Audi A6 Saloon (2004 - 2011) 2.8 FSI SE (08) 4d Multitronic

750kg

2000kg (2.0t)

Audi A6 Saloon (2004 - 2011) 2.8 FSI SE 4d Multitronic

750kg

2000kg (2.0t)

Audi A6 Saloon (2004 - 2011) 3.0 TDI Quattro Le Mans (01/09-) 4d

750kg

2000kg (2.0t)

Audi A6 Saloon (2004 - 2011) 3.0 TDI Quattro S Line (10/08-) 4d

750kg

2000kg (2.0t)

Audi A6 Saloon (2004 - 2011) 3.0 TDI Quattro S Line Special Ed 4d

750kg

2000kg (2.0t)

Audi A6 Saloon (2004 - 2011) 3.0 TDI Quattro SE (10/08) 4d

750kg

2000kg (2.0t)

Audi A6 Saloon (2004 - 2011) 3.2 FSI S Line 4d

750kg

2000kg (2.0t)

Audi A6 Saloon (2004 - 2011) 3.2 FSI S Line 4d Multitronic

750kg

2000kg (2.0t)

Audi A6 Saloon (2004 - 2011) 3.2 FSI SE 4d

750kg

2000kg (2.0t)

Audi A6 Saloon (2004 - 2011) 3.2 FSI SE 4d Multitronic

750kg

2000kg (2.0t)

Audi A6 Saloon (2011 onwards) 2.0 TDI Quattro Black Edition 4d S Tronic

750kg

2000kg (2.0t)

Audi A6 Saloon (2011 onwards) 2.0 TDI Quattro S Line 4d S Tronic

750kg

2000kg (2.0t)

Audi A6 Saloon (2011 onwards) 2.0 TDI Quattro SE 4d S Tronic

750kg

2000kg (2.0t)

Audi A6 Saloon (2011 onwards) 2.0 TDI Ultra Black Edition (11/14-) 4d

750kg

2000kg (2.0t)

Audi A6 Saloon (2011 onwards) 2.0 TDI Ultra Black Edition (11/14-) 4d S Tronic

750kg

2000kg (2.0t)

Audi A6 Saloon (2011 onwards) 2.0 TDI Ultra Black Edition 4d

750kg

2000kg (2.0t)

Audi A6 Saloon (2011 onwards) 2.0 TDI Ultra Black Edition 4d S Tronic

750kg

2000kg (2.0t)

Audi A6 Saloon (2011 onwards) 2.0 TDI Ultra S Line (11/14-) 4d S Tronic

750kg

2000kg (2.0t)

Audi A6 Saloon (2011 onwards) 2.0 TDI Ultra S Line 4d

750kg

2000kg (2.0t)

Audi A6 Saloon (2011 onwards) 2.0 TDI Ultra SE (11/14-) 4d

750kg

2000kg (2.0t)

Audi A6 Saloon (2011 onwards) 2.0 TDI Ultra SE (11/14-) 4d S Tronic

750kg

2000kg (2.0t)

Audi A6 Saloon (2011 onwards) 2.0 TDI Ultra SE 4d

750kg

2000kg (2.0t)

Audi A6 Saloon (2011 onwards) 2.0 TDI Ultra SE 4d S Tronic

750kg

2000kg (2.0t)

Audi A6 Saloon (2011 onwards) SE Executive 2.0 TDI 190PS Quattro S Tronic auto 4d

750kg

2000kg (2.0t)

Audi A6 Saloon (2011 onwards) SE Executive 2.0 TDI Ultra 190PS 4d

750kg

2000kg (2.0t)

Audi A6 Saloon (2011 onwards) SE Executive 2.0 TDI Ultra 190PS S Tronic auto 4d

750kg

2000kg (2.0t)

Audi A8 (1994 - 2002) 3.7 4d Auto

750kg

2000kg (2.0t)

Audi A8 (1994 - 2002) 3.7 Sport 4d Auto

750kg

2000kg (2.0t)

Audi Q3 (2011 onwards) 2.0 TDI (177bhp) Quattro S Line 5d

750kg

2000kg (2.0t)

Audi Q3 (2011 onwards) 2.0 TDI (177bhp) Quattro S Line 5d S Tronic

750kg

2000kg (2.0t)

Audi Q3 (2011 onwards) 2.0 TDI (177bhp) Quattro S Line Plus 5d

750kg

2000kg (2.0t)

Audi Q3 (2011 onwards) 2.0 TDI (177bhp) Quattro S Line Plus 5d S Tronic

750kg

2000kg (2.0t)

Audi Q3 (2011 onwards) 2.0 TDI (177bhp) Quattro SE 5d

750kg

2000kg (2.0t)

Audi Q3 (2011 onwards) 2.0 TDI (177bhp) Quattro SE 5d S Tronic

750kg

2000kg (2.0t)

Audi Q3 (2011 onwards) 2.0 TDI (177bhp) S Line 5d

750kg

2000kg (2.0t)

Audi Q3 (2011 onwards) 2.0 TDI (177bhp) SE 5d

750kg

2000kg (2.0t)

Audi Q3 (2011 onwards) 2.0 TDI (184bhp) Quattro S Line 5d

750kg

2000kg (2.0t)

Audi Q3 (2011 onwards) 2.0 TDI (184bhp) Quattro S Line 5d S Tronic

750kg

2000kg (2.0t)

Audi Q3 (2011 onwards) 2.0 TDI (184bhp) Quattro S Line Plus 5d

750kg

2000kg (2.0t)

Audi Q3 (2011 onwards) 2.0 TDI (184bhp) Quattro S Line Plus 5d S Tronic

750kg

2000kg (2.0t)

Audi Q3 (2011 onwards) 2.0 TDI (184bhp) Quattro SE (03/15-) 5d

750kg

2000kg (2.0t)

Audi Q3 (2011 onwards) 2.0 TDI (184bhp) Quattro SE 5d S Tronic

750kg

2000kg (2.0t)

Audi Q3 (2011 onwards) 2.0 TDI Quattro S Line (03/15-) 5d S Tronic

750kg

2000kg (2.0t)

Audi Q3 (2011 onwards) 2.0 TDI Quattro S Line 5d S Tronic

750kg

2000kg (2.0t)

Audi Q3 (2011 onwards) 2.0 TDI Quattro S Line Plus (03/15-) 5d S Tronic

750kg

2000kg (2.0t)

Audi Q3 (2011 onwards) 2.0 TDI Quattro S Line Plus 5d S Tronic

750kg

2000kg (2.0t)

Audi Q3 (2011 onwards) 2.0 TDI Quattro SE (03/15-) 5d S Tronic

750kg

2000kg (2.0t)

Audi Q3 (2011 onwards) 2.0 TDI Quattro SE 5d S Tronic

750kg

2000kg (2.0t)

Audi Q3 (2011 onwards) 2.0T FSI (170bhp) Quattro SE 5d S Tronic

750kg

2000kg (2.0t)

Audi Q3 (2011 onwards) 2.0T FSI (211bhp) Quattro S Line Plus 5d S Tronic

750kg

2000kg (2.0t)

Audi Q3 (2011 onwards) 2.0T FSI Quattro S Line (03/15-) 5d S Tronic

750kg

2000kg (2.0t)

Audi Q3 (2011 onwards) 2.0T FSI Quattro S Line 5d S Tronic

750kg

2000kg (2.0t)

Audi Q3 (2011 onwards) 2.0T FSI Quattro S Line Plus (03/15-) 5d S Tronic

750kg

2000kg (2.0t)

Audi Q3 (2011 onwards) 2.0T FSI Quattro S Line Plus 5d S Tronic

750kg

2000kg (2.0t)

Audi Q3 (2011 onwards) 2.0T FSI Quattro SE (03/15-) 5d S Tronic

750kg

2000kg (2.0t)

Audi Q3 (2011 onwards) 2.0T FSI Quattro SE 5d S Tronic

750kg

2000kg (2.0t)

Audi Q3 (2011 onwards) S Line Nav 2.0 TDI 150PS Quattro S Tronic auto 5d

750kg

2000kg (2.0t)

Audi Q3 (2011 onwards) S Line Nav 2.0 TDI 184PS Quattro 5d

750kg

2000kg (2.0t)

Audi Q3 (2011 onwards) S Line Nav 2.0 TDI 184PS Quattro S Tronic auto 5d

750kg

2000kg (2.0t)

Audi Q3 (2011 onwards) S Line Nav 2.4 TFSI 180PS Quattro S Tronic auto 5d

750kg

2000kg (2.0t)

Audi Q3 RS (2013 onwards) 2.5T FSI Quattro Performance 5d S Tronic

750kg

2000kg (2.0t)

Audi Q5 (2008 onwards) 2.0 TDI (143bhp) Quattro (Start Stop) 5d

750kg

2000kg (2.0t)

Audi Q5 (2008 onwards) 2.0 TDI (143bhp) Quattro 5d

750kg

2000kg (2.0t)

Audi Q5 (2008 onwards) 2.0 TDI (143bhp) Quattro S Line (01/12-) 5d

750kg

2000kg (2.0t)

Audi Q5 (2008 onwards) 2.0 TDI (143bhp) Quattro S Line (Start Stop) 5d

750kg

2000kg (2.0t)

Audi Q5 (2008 onwards) 2.0 TDI (143bhp) Quattro S Line 5d

750kg

2000kg (2.0t)

Audi Q5 (2008 onwards) 2.0 TDI (143bhp) Quattro S Line Plus (12/12-) 5d

750kg

2000kg (2.0t)

Audi Q5 (2008 onwards) 2.0 TDI (143bhp) Quattro S Line Plus 5d

750kg

2000kg (2.0t)

Audi Q5 (2008 onwards) 2.0 TDI (143bhp) Quattro S Line Special Ed (SS) 5d

750kg

2000kg (2.0t)

Audi Q5 (2008 onwards) 2.0 TDI (143bhp) Quattro S Line Special Ed 5d

750kg

2000kg (2.0t)

Audi Q5 (2008 onwards) 2.0 TDI (143bhp) Quattro SE (01/12-) 5d

750kg

2000kg (2.0t)

Audi Q5 (2008 onwards) 2.0 TDI (143bhp) Quattro SE (Start Stop) 5d

750kg

2000kg (2.0t)

Audi Q5 (2008 onwards) 2.0 TDI (143bhp) Quattro SE 5d

750kg

2000kg (2.0t)

Audi Q5 (2008 onwards) 2.0 TDI (150bhp) Quattro S Line 5d

750kg

2000kg (2.0t)

Audi Q5 (2008 onwards) 2.0 TDI (150bhp) Quattro S Line Plus 5d

750kg

2000kg (2.0t)

Audi Q5 (2008 onwards) 2.0 TDI (150bhp) Quattro SE 5d

750kg

2000kg (2.0t)

BMW 5 Series M5 (2005 - 2010) 5.0 V10 Saloon 4d SMG

750kg

2000kg (2.0t)

BMW 5 Series M5 (2005 - 2010) 5.0 V10 Saloon 4d SMG (07)

750kg

2000kg (2.0t)

BMW 5 Series M5 (2011 onwards) M5 (07/13-) 4d DCT

750kg

2000kg (2.0t)

BMW 5 Series M5 (2011 onwards) M5 (Competition Pack) 4d DCT

750kg

2000kg (2.0t)

BMW 5 Series M5 (2011 onwards) M5 4d DCT

750kg

2000kg (2.0t)

BMW 5 Series M5 (2011 onwards) M5 M Performance Edition 4d DCT

750kg

2000kg (2.0t)

BMW 5 Series Saloon (1996 - 2003) 525d 4d Auto

750kg

2000kg (2.0t)

BMW 5 Series Saloon (1996 - 2003) 525d ES 4d Auto

750kg

2000kg (2.0t)

BMW 5 Series Saloon (1996 - 2003) 525d ES SE 4d Auto

750kg

2000kg (2.0t)

BMW 5 Series Saloon (1996 - 2003) 525d SE 4d Auto

750kg

2000kg (2.0t)

BMW 5 Series Saloon (1996 - 2003) 525d Sport 4d Auto

750kg

2000kg (2.0t)

BMW 5 Series Saloon (1996 - 2003) 528i SE 4d

750kg

2000kg (2.0t)

BMW 5 Series Saloon (1996 - 2003) 528i Sport 4d

750kg

2000kg (2.0t)

BMW 5 Series Saloon (1996 - 2003) 528i Sport 4d Auto

750kg

2000kg (2.0t)

BMW 5 Series Saloon (1996 - 2003) 530d SE (184bhp) 4d

750kg

2000kg (2.0t)

BMW 5 Series Saloon (1996 - 2003) 530d SE (184bhp) 4d Auto

750kg

2000kg (2.0t)

BMW 5 Series Saloon (1996 - 2003) 530d SE (193bhp) 4d

750kg

2000kg (2.0t)

BMW 5 Series Saloon (1996 - 2003) 530d SE (193bhp) 4d Auto

750kg

2000kg (2.0t)

BMW 5 Series Saloon (1996 - 2003) 530d Sport 4d

750kg

2000kg (2.0t)

BMW 5 Series Saloon (1996 - 2003) 530d Sport 4d Auto

750kg

2000kg (2.0t)

BMW 5 Series Saloon (1996 - 2003) 530d Sport Aegean Blue Edition 4d Auto

750kg

2000kg (2.0t)

BMW 5 Series Saloon (1996 - 2003) 530i SE 4d

750kg

2000kg (2.0t)

BMW 5 Series Saloon (1996 - 2003) 530i SE 4d Auto

750kg

2000kg (2.0t)

BMW 5 Series Saloon (1996 - 2003) 530i SE Midnight Blue Edition 4d Auto

750kg

2000kg (2.0t)

BMW 5 Series Saloon (1996 - 2003) 530i Sport 4d

750kg

2000kg (2.0t)

BMW 5 Series Saloon (1996 - 2003) 530i Sport 4d Auto

750kg

2000kg (2.0t)

BMW 5 Series Saloon (1996 - 2003) 530i Sport Aegean Blue Edition 4d Auto

750kg

2000kg (2.0t)

BMW 5 Series Saloon (1996 - 2003) 530i Sport Champagne II Edition 4d Auto

750kg

2000kg (2.0t)

BMW 5 Series Saloon (1996 - 2003) 535i 4d (00)

750kg

2000kg (2.0t)

BMW 5 Series Saloon (1996 - 2003) 535i 4d (96)

750kg

2000kg (2.0t)

BMW 5 Series Saloon (1996 - 2003) 535i 4d Auto (00)

750kg

2000kg (2.0t)

BMW 5 Series Saloon (1996 - 2003) 535i 4d Auto (96)

750kg

2000kg (2.0t)

BMW 5 Series Saloon (1996 - 2003) 535i Sport 4d (00)

750kg

2000kg (2.0t)

BMW 5 Series Saloon (1996 - 2003) 535i Sport 4d (99)

750kg

2000kg (2.0t)

BMW 5 Series Saloon (1996 - 2003) 535i Sport 4d Auto (00)

750kg

2000kg (2.0t)

BMW 5 Series Saloon (1996 - 2003) 535i Sport 4d Auto (99)

750kg

2000kg (2.0t)

BMW 5 Series Saloon (1996 - 2003) 540i 4d (00)

750kg

2000kg (2.0t)

BMW 5 Series Saloon (1996 - 2003) 540i 4d (96)

750kg

2000kg (2.0t)

BMW 5 Series Saloon (1996 - 2003) 540i 4d Auto (00)

750kg

2000kg (2.0t)

BMW 5 Series Saloon (1996 - 2003) 540i 4d Auto (96)

750kg

2000kg (2.0t)

BMW 5 Series Saloon (1996 - 2003) 540i Protection 4d Auto (98)

750kg

2000kg (2.0t)

BMW 5 Series Saloon (1996 - 2003) 540i Sport 4d (00)

750kg

2000kg (2.0t)

BMW 5 Series Saloon (1996 - 2003) 540i Sport 4d (01)

750kg

2000kg (2.0t)

BMW 5 Series Saloon (1996 - 2003) 540i Sport 4d Auto (00)

750kg

2000kg (2.0t)

BMW 5 Series Saloon (1996 - 2003) 540i Sport 4d Auto (01)

750kg

2000kg (2.0t)

BMW 5 Series Saloon (2003 - 2010) 525d M Sport 4d

750kg

2000kg (2.0t)

BMW 5 Series Saloon (2003 - 2010) 525d M Sport 4d (07)

750kg

2000kg (2.0t)

BMW 5 Series Saloon (2003 - 2010) 525d M Sport 4d Auto (07)

750kg

2000kg (2.0t)

BMW 5 Series Saloon (2003 - 2010) 525d M Sport Business Edition 4d

750kg

2000kg (2.0t)

BMW 5 Series Saloon (2003 - 2010) 525d M Sport Business Edition 4d Step Auto

750kg

2000kg (2.0t)

BMW 5 Series Saloon (2003 - 2010) 525d SE 4d

750kg

2000kg (2.0t)

BMW 5 Series Saloon (2003 - 2010) 525d SE 4d (07)

750kg

2000kg (2.0t)

BMW 5 Series Saloon (2003 - 2010) 525d SE 4d Auto

750kg

2000kg (2.0t)

BMW 5 Series Saloon (2003 - 2010) 525d SE 4d Auto (07)

750kg

2000kg (2.0t)

BMW 5 Series Saloon (2003 - 2010) 525d SE Business Edition 4d

750kg

2000kg (2.0t)

BMW 5 Series Saloon (2003 - 2010) 525d SE Business Edition 4d Step Auto

750kg

2000kg (2.0t)

BMW 5 Series Saloon (2003 - 2010) 525d Sport 4d

750kg

2000kg (2.0t)

BMW 5 Series Saloon (2003 - 2010) 525d Sport 4d Auto

750kg

2000kg (2.0t)

BMW 5 Series Saloon (2003 - 2010) 525i M Sport 4d

750kg

2000kg (2.0t)

BMW 5 Series Saloon (2003 - 2010) 525i M Sport 4d Auto

750kg

2000kg (2.0t)

BMW 5 Series Saloon (2003 - 2010) 525i M Sport 4d Auto (07)

750kg

2000kg (2.0t)

BMW 5 Series Saloon (2003 - 2010) 525i SE (215bhp) 4d

750kg

2000kg (2.0t)

BMW 5 Series Saloon (2003 - 2010) 525i SE (215bhp) 4d Auto

750kg

2000kg (2.0t)

BMW 5 Series Saloon (2003 - 2010) 525i SE 4d

750kg

2000kg (2.0t)

BMW 5 Series Saloon (2003 - 2010) 525i SE 4d Auto

750kg

2000kg (2.0t)

BMW 5 Series Saloon (2003 - 2010) 525i SE 4d Auto (07)

750kg

2000kg (2.0t)

BMW 5 Series Saloon (2003 - 2010) 525i SE 4d SMG

750kg

2000kg (2.0t)

BMW 5 Series Saloon (2003 - 2010) 525i Sport (215bhp) 4d Auto

750kg

2000kg (2.0t)

BMW 5 Series Saloon (2003 - 2010) 525i Sport 4d

750kg

2000kg (2.0t)

BMW 5 Series Saloon (2003 - 2010) 525i Sport 4d SMG

750kg

2000kg (2.0t)

BMW 5 Series Saloon (2003 - 2010) 530d M Sport 4d

750kg

2000kg (2.0t)

BMW 5 Series Saloon (2003 - 2010) 530d M Sport 4d (07)

750kg

2000kg (2.0t)

BMW 5 Series Saloon (2003 - 2010) 530d M Sport 4d Auto

750kg

2000kg (2.0t)

BMW 5 Series Saloon (2003 - 2010) 530d M Sport 4d Auto (07)

750kg

2000kg (2.0t)

BMW 5 Series Saloon (2003 - 2010) 530d M Sport Business Edition 4d

750kg

2000kg (2.0t)

BMW 5 Series Saloon (2003 - 2010) 530d M Sport Business Edition 4d Step Auto

750kg

2000kg (2.0t)

BMW 5 Series Saloon (2003 - 2010) 530d SE (231bhp) 4d

750kg

2000kg (2.0t)

BMW 5 Series Saloon (2003 - 2010) 530d SE (231bhp) 4d Auto

750kg

2000kg (2.0t)

BMW 5 Series Saloon (2003 - 2010) 530d SE 4d

750kg

2000kg (2.0t)

BMW 5 Series Saloon (2003 - 2010) 530d SE 4d (07)

750kg

2000kg (2.0t)

BMW 5 Series Saloon (2003 - 2010) 530d SE 4d Auto

750kg

2000kg (2.0t)

BMW 5 Series Saloon (2003 - 2010) 530d SE 4d Auto (07)

750kg

2000kg (2.0t)

BMW 5 Series Saloon (2003 - 2010) 530d SE Business Edition 4d

750kg

2000kg (2.0t)

BMW 5 Series Saloon (2003 - 2010) 530d SE Business Edition 4d Step Auto

750kg

2000kg (2.0t)

BMW 5 Series Saloon (2003 - 2010) 530d Sport 4d

750kg

2000kg (2.0t)

BMW 5 Series Saloon (2003 - 2010) 530d Sport 4d Auto

750kg

2000kg (2.0t)

BMW 5 Series Saloon (2003 - 2010) 530i M Sport 4d (07)

750kg

2000kg (2.0t)

BMW 5 Series Saloon (2003 - 2010) 530i M Sport 4d Auto (07)

750kg

2000kg (2.0t)

BMW 5 Series Saloon (2003 - 2010) 530i M Sport 4d SMG

750kg

2000kg (2.0t)

BMW 5 Series Saloon (2003 - 2010) 530i SE (258bhp) 4d

750kg

2000kg (2.0t)

BMW 5 Series Saloon (2003 - 2010) 530i SE (258bhp) 4d Auto

750kg

2000kg (2.0t)

BMW 5 Series Saloon (2003 - 2010) 530i SE (258bhp) 4d SMG

750kg

2000kg (2.0t)

BMW 5 Series Saloon (2003 - 2010) 530i SE 4d

750kg

2000kg (2.0t)

BMW 5 Series Saloon (2003 - 2010) 530i SE 4d (07)

750kg

2000kg (2.0t)

BMW 5 Series Saloon (2003 - 2010) 530i SE 4d Auto (07)

750kg

2000kg (2.0t)

BMW 5 Series Saloon (2003 - 2010) 530i SE 4d SMG

750kg

2000kg (2.0t)

BMW 5 Series Saloon (2003 - 2010) 530i Sport (258bhp) 4d

750kg

2000kg (2.0t)

BMW 5 Series Saloon (2003 - 2010) 530i Sport (258bhp) 4d Auto

750kg

2000kg (2.0t)

BMW 5 Series Saloon (2003 - 2010) 530i Sport (258bhp) 4d SMG

750kg

2000kg (2.0t)

BMW 5 Series Saloon (2003 - 2010) 530i Sport 4d

750kg

2000kg (2.0t)

BMW 5 Series Saloon (2003 - 2010) 530i Sport 4d Auto

750kg

2000kg (2.0t)

BMW 5 Series Saloon (2003 - 2010) 530i Sport 4d SMG

750kg

2000kg (2.0t)

BMW 5 Series Saloon (2003 - 2010) 535d M Sport 4d Auto

750kg

2000kg (2.0t)

BMW 5 Series Saloon (2003 - 2010) 535d M Sport 4d Auto (07)

750kg

2000kg (2.0t)

BMW 5 Series Saloon (2003 - 2010) 535d SE 4d Auto

750kg

2000kg (2.0t)

BMW 5 Series Saloon (2003 - 2010) 535d SE 4d Auto (07)

750kg

2000kg (2.0t)

BMW 5 Series Saloon (2003 - 2010) 535d Sport 4d Auto

750kg

2000kg (2.0t)

BMW 5 Series Saloon (2003 - 2010) 540i M Sport 4d

750kg

2000kg (2.0t)

BMW 5 Series Saloon (2003 - 2010) 540i M Sport 4d (07)

750kg

2000kg (2.0t)

BMW 5 Series Saloon (2003 - 2010) 540i M Sport 4d Auto

750kg

2000kg (2.0t)

BMW 5 Series Saloon (2003 - 2010) 540i M Sport 4d Auto (07)

750kg

2000kg (2.0t)

BMW 5 Series Saloon (2003 - 2010) 540i SE 4d

750kg

2000kg (2.0t)

BMW 5 Series Saloon (2003 - 2010) 540i SE 4d Auto

750kg

2000kg (2.0t)

BMW 5 Series Saloon (2003 - 2010) 540i SE 4d Auto (07)

750kg

2000kg (2.0t)

BMW 5 Series Saloon (2003 - 2010) 545i SE 4d

750kg

2000kg (2.0t)

BMW 5 Series Saloon (2003 - 2010) 545i SE 4d Auto

750kg

2000kg (2.0t)

BMW 5 Series Saloon (2003 - 2010) 545i SE 4d SMG

750kg

2000kg (2.0t)

BMW 5 Series Saloon (2003 - 2010) 545i Sport 4d

750kg

2000kg (2.0t)

BMW 5 Series Saloon (2003 - 2010) 545i Sport 4d Auto

750kg

2000kg (2.0t)

BMW 5 Series Saloon (2003 - 2010) 545i Sport 4d SMG

750kg

2000kg (2.0t)

BMW 5 Series Saloon (2003 - 2010) 550i M Sport 4d (07)

750kg

2000kg (2.0t)

BMW 5 Series Saloon (2003 - 2010) 550i M Sport 4d Auto

750kg

2000kg (2.0t)

BMW 5 Series Saloon (2003 - 2010) 550i M Sport 4d Auto (07)

750kg

2000kg (2.0t)

BMW 5 Series Saloon (2003 - 2010) 550i M Sport 4d SMG

750kg

2000kg (2.0t)

BMW 5 Series Saloon (2003 - 2010) 550i SE 4d

750kg

2000kg (2.0t)

BMW 5 Series Saloon (2003 - 2010) 550i SE 4d (07)

750kg

2000kg (2.0t)

BMW 5 Series Saloon (2003 - 2010) 550i SE 4d Auto

750kg

2000kg (2.0t)

BMW 5 Series Saloon (2003 - 2010) 550i SE 4d Auto (07)

750kg

2000kg (2.0t)

BMW 5 Series Saloon (2003 - 2010) 550i SE 4d SMG

750kg

2000kg (2.0t)

BMW 5 Series Saloon (2010 onwards) 518d (150bhp) Luxury 4d Step Auto

750kg

2000kg (2.0t)

BMW 5 Series Saloon (2010 onwards) 518d (150bhp) SE 4d Step Auto

750kg

2000kg (2.0t)

BMW 5 Series Saloon (2010 onwards) 518d Luxury 4d Step Auto

750kg

2000kg (2.0t)

BMW 5 Series Saloon (2010 onwards) 518d M Sport 4d Step Auto

750kg

2000kg (2.0t)

BMW 5 Series Saloon (2010 onwards) 518d Modern 4d Step Auto

750kg

2000kg (2.0t)

BMW 5 Series Saloon (2010 onwards) 518d SE 4d Step Auto

750kg

2000kg (2.0t)

BMW 5 Series Saloon (2010 onwards) 520d (190bhp) Luxury 4d Step Auto

750kg

2000kg (2.0t)

BMW 5 Series Saloon (2010 onwards) 520d (190bhp) M Sport 4d Step Auto

750kg

2000kg (2.0t)

BMW 5 Series Saloon (2010 onwards) 520d (190bhp) SE 4d Step Auto

750kg

2000kg (2.0t)

BMW 5 Series Saloon (2010 onwards) 520d BluePerform M Sport (Bus Med) 4d Step Auto

750kg

2000kg (2.0t)

BMW 5 Series Saloon (2010 onwards) 520d BluePerform M Sport (Prof Med) 4d Step Auto

750kg

2000kg (2.0t)

BMW 5 Series Saloon (2010 onwards) 520d BluePerformance Eff Dynamics (Bus Media) 4d

750kg

2000kg (2.0t)

BMW 5 Series Saloon (2010 onwards) 520d BluePerformance Eff Dynamics (Prof Media) 4d

750kg

2000kg (2.0t)

BMW 5 Series Saloon (2010 onwards) 520d BluePerformance M Sport (Business Media) 4d

750kg

2000kg (2.0t)

BMW 5 Series Saloon (2010 onwards) 520d BluePerformance M Sport (Prof Media) 4d

750kg

2000kg (2.0t)

BMW 5 Series Saloon (2010 onwards) 520d BluePerformance M Sport 4d Step Auto

750kg

2000kg (2.0t)

BMW 5 Series Saloon (2010 onwards) 520d BluePerformance SE (Business Media) 4d

750kg

2000kg (2.0t)

BMW 5 Series Saloon (2010 onwards) 520d BluePerformance SE (Business Media) 4d Step Auto

750kg

2000kg (2.0t)

BMW 5 Series Saloon (2010 onwards) 520d BluePerformance SE (Prof Media) 4d Step Auto

750kg

2000kg (2.0t)

BMW 5 Series Saloon (2010 onwards) 520d BluePerformance SE (Professional Media) 4d

750kg

2000kg (2.0t)

BMW 5 Series Saloon (2010 onwards) 520d BluePerformance SE 4d

750kg

2000kg (2.0t)

BMW 5 Series Saloon (2010 onwards) 520d Efficient Dynamics (Business Media) 4d

750kg

2000kg (2.0t)

BMW 5 Series Saloon (2010 onwards) 520d Efficient Dynamics (Professional Media) 4d

750kg

2000kg (2.0t)

BMW 5 Series Saloon (2010 onwards) 520d Efficient Dynamics 4d

750kg

2000kg (2.0t)

BMW 5 Series Saloon (2010 onwards) 520d Luxury 4d Step Auto

750kg

2000kg (2.0t)

BMW 5 Series Saloon (2010 onwards) 520d M Sport (07/13-) 4d Step Auto

750kg

2000kg (2.0t)

BMW 5 Series Saloon (2010 onwards) 520d M Sport (Business Media) 4d

750kg

2000kg (2.0t)

BMW 5 Series Saloon (2010 onwards) 520d M Sport (Business Media) 4d Step Auto

750kg

2000kg (2.0t)

BMW 5 Series Saloon (2010 onwards) 520d M Sport (Professional Media) 4d

750kg

2000kg (2.0t)

BMW 5 Series Saloon (2010 onwards) 520d M Sport (Professional Media) 4d Step Auto

750kg

2000kg (2.0t)

BMW 5 Series Saloon (2010 onwards) 520d M Sport (Start Stop) (Business Med) 4d Step Auto

750kg

2000kg (2.0t)

BMW 5 Series Saloon (2010 onwards) 520d M Sport (Start Stop) (Professional Media) 4d Step Auto

750kg

2000kg (2.0t)

BMW 5 Series Saloon (2010 onwards) 520d M Sport (Start Stop) 4d Step Auto

750kg

2000kg (2.0t)

BMW 5 Series Saloon (2010 onwards) 520d M Sport 4d

750kg

2000kg (2.0t)

BMW 5 Series Saloon (2010 onwards) 520d M Sport 4d Step Auto

750kg

2000kg (2.0t)

BMW 5 Series Saloon (2010 onwards) 520d Modern 4d Step Auto

750kg

2000kg (2.0t)

BMW 5 Series Saloon (2010 onwards) 520d SE (07/13-) 4d Step Auto

750kg

2000kg (2.0t)

BMW 5 Series Saloon (2010 onwards) 520d SE (Business Media) 4d

750kg

2000kg (2.0t)

BMW 5 Series Saloon (2010 onwards) 520d SE (Business Media) 4d Step Auto

750kg

2000kg (2.0t)

BMW 5 Series Saloon (2010 onwards) 520d SE (Media Pack) 4d

750kg

2000kg (2.0t)

BMW 5 Series Saloon (2010 onwards) 520d SE (Start Stop) (Business Media) 4d Step Auto

750kg

2000kg (2.0t)

BMW 5 Series Saloon (2010 onwards) 520d SE (Start Stop) (Professional Media) 4d Step Auto

750kg

2000kg (2.0t)

BMW 5 Series Saloon (2010 onwards) 520d SE (Start Stop) 4d Step Auto

750kg

2000kg (2.0t)

BMW 5 Series Saloon (2010 onwards) 520d SE 4d

750kg

2000kg (2.0t)

BMW 5 Series Saloon (2010 onwards) 520d SE 4d Step Auto

750kg

2000kg (2.0t)

BMW 5 Series Saloon (2010 onwards) 520d SE(Media Pack) 4d Step Auto

750kg

2000kg (2.0t)

BMW 5 Series Saloon (2010 onwards) 520i Luxury 4d Step Auto

750kg

2000kg (2.0t)

BMW 5 Series Saloon (2010 onwards) 520i M Sport (07/13-) 4d Step Auto

750kg

2000kg (2.0t)

BMW 5 Series Saloon (2010 onwards) 520i M Sport (Business Media) 4d Step Auto

750kg

2000kg (2.0t)

BMW 5 Series Saloon (2010 onwards) 520i M Sport (Professional Media) 4d Step Auto

750kg

2000kg (2.0t)

BMW 5 Series Saloon (2010 onwards) 520i M Sport 4d Step Auto

750kg

2000kg (2.0t)

BMW 5 Series Saloon (2010 onwards) 520i Modern 4d Step Auto

750kg

2000kg (2.0t)

BMW 5 Series Saloon (2010 onwards) 520i SE (07/13-) 4d Step Auto

750kg

2000kg (2.0t)

BMW 5 Series Saloon (2010 onwards) 520i SE (Professional Media) 4d Step Auto

750kg

2000kg (2.0t)

BMW 5 Series Saloon (2010 onwards) 520i SE 4d Step Auto

750kg

2000kg (2.0t)

BMW 5 Series Saloon (2010 onwards) 523i M Sport (Business Media) 4d Step Auto

750kg

2000kg (2.0t)

BMW 5 Series Saloon (2010 onwards) 523i M Sport (Professional Media) 4d Step Auto

750kg

2000kg (2.0t)

BMW 5 Series Saloon (2010 onwards) 523i M Sport 4d Step Auto

750kg

2000kg (2.0t)

BMW 5 Series Saloon (2010 onwards) 523i SE (Business Media) 4d Step Auto

750kg

2000kg (2.0t)

BMW 5 Series Saloon (2010 onwards) 523i SE (Media Pack) 4d Step Auto

750kg

2000kg (2.0t)

BMW 5 Series Saloon (2010 onwards) 523i SE 4d Step Auto

750kg

2000kg (2.0t)

BMW 5 Series Saloon (2010 onwards) 525d (218bhp) M Sport (Business Media) 4d

750kg

2000kg (2.0t)

BMW 5 Series Saloon (2010 onwards) 525d (218bhp) M Sport (Business Media) 4d Step Auto

750kg

2000kg (2.0t)

BMW 5 Series Saloon (2010 onwards) 525d (218bhp) M Sport (Professional Media) 4d

750kg

2000kg (2.0t)

BMW 5 Series Saloon (2010 onwards) 525d (218bhp) M Sport (Professional Media) 4d Step Auto

750kg

2000kg (2.0t)

BMW 5 Series Saloon (2010 onwards) 525d (218bhp) M Sport 4d

750kg

2000kg (2.0t)

BMW 5 Series Saloon (2010 onwards) 525d (218bhp) M Sport 4d Step Auto

750kg

2000kg (2.0t)

BMW 5 Series Saloon (2010 onwards) 525d (218bhp) SE (Business Media) 4d Step Auto

750kg

2000kg (2.0t)

BMW 5 Series Saloon (2010 onwards) 525d (218bhp) SE (Professional Media) 4d Step Auto

750kg

2000kg (2.0t)

BMW 5 Series Saloon (2010 onwards) 525d (218bhp) SE 4d

750kg

2000kg (2.0t)

BMW 5 Series Saloon (2010 onwards) 525d (218bhp) SE 4d Step Auto

750kg

2000kg (2.0t)

BMW 5 Series Saloon (2010 onwards) 525d Luxury 4d

750kg

2000kg (2.0t)

BMW 5 Series Saloon (2010 onwards) 525d Luxury 4d Step Auto

750kg

2000kg (2.0t)

BMW 5 Series Saloon (2010 onwards) 525d M Sport (07/13-) 4d

750kg

2000kg (2.0t)

BMW 5 Series Saloon (2010 onwards) 525d M Sport (07/13-) 4d Step Auto

750kg

2000kg (2.0t)

BMW 5 Series Saloon (2010 onwards) 525d M Sport (Business Media) 4d

750kg

2000kg (2.0t)

BMW 5 Series Saloon (2010 onwards) 525d M Sport (Business Media) 4d Step Auto

750kg

2000kg (2.0t)

BMW 5 Series Saloon (2010 onwards) 525d M Sport (Professional Media) 4d

750kg

2000kg (2.0t)

BMW 5 Series Saloon (2010 onwards) 525d M Sport (Professional Media) 4d Step Auto

750kg

2000kg (2.0t)

BMW 5 Series Saloon (2010 onwards) 525d M Sport 4d

750kg

2000kg (2.0t)

BMW 5 Series Saloon (2010 onwards) 525d M Sport 4d Step Auto

750kg

2000kg (2.0t)

BMW 5 Series Saloon (2010 onwards) 525d Modern 4d

750kg

2000kg (2.0t)

BMW 5 Series Saloon (2010 onwards) 525d SE (07/13-) 4d

750kg

2000kg (2.0t)

BMW 5 Series Saloon (2010 onwards) 525d SE (07/13-) 4d Step Auto

750kg

2000kg (2.0t)

BMW 5 Series Saloon (2010 onwards) 525d SE (Business Media) 4d

750kg

2000kg (2.0t)

BMW 5 Series Saloon (2010 onwards) 525d SE (Business Media) 4d Step Auto

750kg

2000kg (2.0t)

BMW 5 Series Saloon (2010 onwards) 525d SE (Media Pack) 4d

750kg

2000kg (2.0t)

BMW 5 Series Saloon (2010 onwards) 525d SE (Media Pack) 4d Step Auto

750kg

2000kg (2.0t)

BMW 5 Series Saloon (2010 onwards) 525d SE 4d

750kg

2000kg (2.0t)

BMW 5 Series Saloon (2010 onwards) 525d SE 4d Step Auto

750kg

2000kg (2.0t)

BMW 5 Series Saloon (2010 onwards) 528i (245bhp) M Sport (Business Media) 4d

750kg

2000kg (2.0t)

BMW 5 Series Saloon (2010 onwards) 528i (245bhp) M Sport (Business Media) 4d Step Auto

750kg

2000kg (2.0t)

BMW 5 Series Saloon (2010 onwards) 528i (245bhp) M Sport (Professional Media) 4d

750kg

2000kg (2.0t)

BMW 5 Series Saloon (2010 onwards) 528i (245bhp) M Sport (Professional Media) 4d Step Auto

750kg

2000kg (2.0t)

BMW 5 Series Saloon (2010 onwards) 528i (245bhp) M Sport 4d

750kg

2000kg (2.0t)

BMW 5 Series Saloon (2010 onwards) 528i (245bhp) M Sport 4d Step Auto

750kg

2000kg (2.0t)

BMW 5 Series Saloon (2010 onwards) 528i (245bhp) SE (Business Media) 4d

750kg

2000kg (2.0t)

BMW 5 Series Saloon (2010 onwards) 528i (245bhp) SE (Business Media) 4d Step Auto

750kg

2000kg (2.0t)

BMW 5 Series Saloon (2010 onwards) 528i (245bhp) SE (Professional Media) 4d

750kg

2000kg (2.0t)

BMW 5 Series Saloon (2010 onwards) 528i (245bhp) SE (Professional Media) 4d Step Auto

750kg

2000kg (2.0t)

BMW 5 Series Saloon (2010 onwards) 528i (245bhp) SE 4d

750kg

2000kg (2.0t)

BMW 5 Series Saloon (2010 onwards) 528i (245bhp) SE 4d Step Auto

750kg

2000kg (2.0t)

BMW 5 Series Saloon (2010 onwards) 528i Luxury 4d

750kg

2000kg (2.0t)

BMW 5 Series Saloon (2010 onwards) 528i Luxury 4d Step Auto

750kg

2000kg (2.0t)

BMW 5 Series Saloon (2010 onwards) 528i M Sport (07/13-) 4d

750kg

2000kg (2.0t)

BMW 5 Series Saloon (2010 onwards) 528i M Sport (07/13-) 4d Step Auto

750kg

2000kg (2.0t)

BMW 5 Series Saloon (2010 onwards) 528i M Sport (Business Media) 4d

750kg

2000kg (2.0t)

BMW 5 Series Saloon (2010 onwards) 528i M Sport (Business Media) 4d Step Auto

750kg

2000kg (2.0t)

BMW 5 Series Saloon (2010 onwards) 528i M Sport (Professional Media) 4d

750kg

2000kg (2.0t)

BMW 5 Series Saloon (2010 onwards) 528i M Sport (Professional Media) 4d Step Auto

750kg

2000kg (2.0t)

BMW 5 Series Saloon (2010 onwards) 528i M Sport 4d

750kg

2000kg (2.0t)

BMW 5 Series Saloon (2010 onwards) 528i M Sport 4d Step Auto

750kg

2000kg (2.0t)

BMW 5 Series Saloon (2010 onwards) 528i Modern 4d

750kg

2000kg (2.0t)

BMW 5 Series Saloon (2010 onwards) 528i SE (07/13-) 4d

750kg

2000kg (2.0t)

BMW 5 Series Saloon (2010 onwards) 528i SE (07/13-) 4d Step Auto

750kg

2000kg (2.0t)

BMW 5 Series Saloon (2010 onwards) 528i SE (Business Media) 4d

750kg

2000kg (2.0t)

BMW 5 Series Saloon (2010 onwards) 528i SE (Business Media) 4d Step Auto

750kg

2000kg (2.0t)

BMW 5 Series Saloon (2010 onwards) 528i SE (Media Pack) 4d

750kg

2000kg (2.0t)

BMW 5 Series Saloon (2010 onwards) 528i SE (Media Pack) 4d Step Auto

750kg

2000kg (2.0t)

BMW 5 Series Saloon (2010 onwards) 528i SE 4d

750kg

2000kg (2.0t)

BMW 5 Series Saloon (2010 onwards) 528i SE 4d Step Auto

750kg

2000kg (2.0t)

BMW 5 Series Saloon (2010 onwards) 530d (258bhp) BluePerf M Sport (Bus Media) 4d Step Auto

750kg

2000kg (2.0t)

BMW 5 Series Saloon (2010 onwards) 530d (258bhp) BluePerform M Sport (Prof) 4d Step Auto

750kg

2000kg (2.0t)

BMW 5 Series Saloon (2010 onwards) 530d (258bhp) BluePerform SE (Prof Med) 4d Step Auto

750kg

2000kg (2.0t)

BMW 5 Series Saloon (2010 onwards) 530d (258bhp) BluePerformance M Sport 4d Step Auto

750kg

2000kg (2.0t)

BMW 5 Series Saloon (2010 onwards) 530d (258bhp) BluePerformance SE 4d Step Auto

750kg

2000kg (2.0t)

BMW 5 Series Saloon (2010 onwards) 530d (258bhp) M Sport (Business Media) 4d

750kg

2000kg (2.0t)

BMW 5 Series Saloon (2010 onwards) 530d (258bhp) M Sport (Business Media) 4d Step Auto

750kg

2000kg (2.0t)

BMW 5 Series Saloon (2010 onwards) 530d (258bhp) M Sport (Professional Media) 4d

750kg

2000kg (2.0t)

BMW 5 Series Saloon (2010 onwards) 530d (258bhp) M Sport (Professional Media) 4d Step Auto

750kg

2000kg (2.0t)

BMW 5 Series Saloon (2010 onwards) 530d (258bhp) M Sport 4d

750kg

2000kg (2.0t)

BMW 5 Series Saloon (2010 onwards) 530d (258bhp) M Sport 4d Step Auto

750kg

2000kg (2.0t)

BMW 5 Series Saloon (2010 onwards) 530d (258bhp) SE (Business Media) 4d

750kg

2000kg (2.0t)

BMW 5 Series Saloon (2010 onwards) 530d (258bhp) SE (Business Media) 4d Step Auto

750kg

2000kg (2.0t)

BMW 5 Series Saloon (2010 onwards) 530d (258bhp) SE (Professional Media) 4d

750kg

2000kg (2.0t)

BMW 5 Series Saloon (2010 onwards) 530d (258bhp) SE (Professional Media) 4d Step Auto

750kg

2000kg (2.0t)

BMW 5 Series Saloon (2010 onwards) 530d (258bhp) SE 4d

750kg

2000kg (2.0t)

BMW 5 Series Saloon (2010 onwards) 530d (258bhp) SE 4d Step Auto

750kg

2000kg (2.0t)

BMW 5 Series Saloon (2010 onwards) 530d Luxury 4d Step Auto

750kg

2000kg (2.0t)

BMW 5 Series Saloon (2010 onwards) 530d M Sport (Business Media) 4d

750kg

2000kg (2.0t)

BMW 5 Series Saloon (2010 onwards) 530d M Sport (Business Media) 4d Step Auto

750kg

2000kg (2.0t)

BMW 5 Series Saloon (2010 onwards) 530d M Sport (Professional Media) 4d

750kg

2000kg (2.0t)

BMW 5 Series Saloon (2010 onwards) 530d M Sport (Professional Media) 4d Step Auto

750kg

2000kg (2.0t)

BMW 5 Series Saloon (2010 onwards) 530d M Sport 4d

750kg

2000kg (2.0t)

BMW 5 Series Saloon (2010 onwards) 530d M Sport 4d Step Auto

750kg

2000kg (2.0t)

BMW 5 Series Saloon (2010 onwards) 530d SE (07/13-) 4d Step Auto

750kg

2000kg (2.0t)

BMW 5 Series Saloon (2010 onwards) 530d SE (Business Media) 4d

750kg

2000kg (2.0t)

BMW 5 Series Saloon (2010 onwards) 530d SE (Business Media) 4d Step Auto

750kg

2000kg (2.0t)

BMW 5 Series Saloon (2010 onwards) 530d SE (Media Pack) 4d

750kg

2000kg (2.0t)

BMW 5 Series Saloon (2010 onwards) 530d SE 4d

750kg

2000kg (2.0t)

BMW 5 Series Saloon (2010 onwards) 530d SE 4d Step Auto

750kg

2000kg (2.0t)

BMW 5 Series Saloon (2010 onwards) 530d SE(Media Pack) 4d Step Auto

750kg

2000kg (2.0t)

BMW 5 Series Saloon (2010 onwards) 530i M Sport (Business Media) 4d

750kg

2000kg (2.0t)

BMW 5 Series Saloon (2010 onwards) 530i M Sport (Business Media) 4d Step Auto

750kg

2000kg (2.0t)

BMW 5 Series Saloon (2010 onwards) 530i M Sport (Professional Media) 4d

750kg

2000kg (2.0t)

BMW 5 Series Saloon (2010 onwards) 530i M Sport (Professional Media) 4d Step Auto

750kg

2000kg (2.0t)

BMW 5 Series Saloon (2010 onwards) 530i M Sport 4d

750kg

2000kg (2.0t)

BMW 5 Series Saloon (2010 onwards) 530i M Sport 4d Step Auto

750kg

2000kg (2.0t)

BMW 5 Series Saloon (2010 onwards) 530i SE (Business Media) 4d

750kg

2000kg (2.0t)

BMW 5 Series Saloon (2010 onwards) 530i SE (Business Media) 4d Step Auto

750kg

2000kg (2.0t)

BMW 5 Series Saloon (2010 onwards) 530i SE (Professional Media) 4d

750kg

2000kg (2.0t)

BMW 5 Series Saloon (2010 onwards) 530i SE 4d

750kg

2000kg (2.0t)

BMW 5 Series Saloon (2010 onwards) 530i SE 4d Step Auto

750kg

2000kg (2.0t)

BMW 5 Series Saloon (2010 onwards) 535d (313bhp) M Sport (Business Media) 4d Step Auto

750kg

2000kg (2.0t)

BMW 5 Series Saloon (2010 onwards) 535d (313bhp) M Sport (Professional Media) 4d Step Auto

750kg

2000kg (2.0t)

BMW 5 Series Saloon (2010 onwards) 535d (313bhp) M Sport 4d Step Auto

750kg

2000kg (2.0t)

BMW 5 Series Saloon (2010 onwards) 535d (313bhp) SE (Business Media) 4d Step Auto

750kg

2000kg (2.0t)

BMW 5 Series Saloon (2010 onwards) 535d (313bhp) SE (Professional Media) 4d Step Auto

750kg

2000kg (2.0t)

BMW 5 Series Saloon (2010 onwards) 535d (313bhp) SE 4d Step Auto

750kg

2000kg (2.0t)

BMW 5 Series Saloon (2010 onwards) 535d Luxury 4d Step Auto

750kg

2000kg (2.0t)

BMW 5 Series Saloon (2010 onwards) 535d M Sport (07/13-) 4d Step Auto

750kg

2000kg (2.0t)

BMW 5 Series Saloon (2010 onwards) 535d M Sport (Business Media) 4d Step Auto

750kg

2000kg (2.0t)

BMW 5 Series Saloon (2010 onwards) 535d M Sport (Professional Media) 4d Step Auto

750kg

2000kg (2.0t)

BMW 5 Series Saloon (2010 onwards) 535d M Sport 4d Step Auto

750kg

2000kg (2.0t)

BMW 5 Series Saloon (2010 onwards) 535d SE (Business Media) 4d Step Auto

750kg

2000kg (2.0t)

BMW 5 Series Saloon (2010 onwards) 535d SE (Professional Media) 4d Step Auto

750kg

2000kg (2.0t)

BMW 5 Series Saloon (2010 onwards) 535i Luxury 4d Step Auto

750kg

2000kg (2.0t)

BMW 5 Series Saloon (2010 onwards) 535i M Sport (07/13-) 4d Step Auto

750kg

2000kg (2.0t)

BMW 5 Series Saloon (2010 onwards) 535i M Sport (Business Media) 4d

750kg

2000kg (2.0t)

BMW 5 Series Saloon (2010 onwards) 535i M Sport (Business Media) 4d Step Auto

750kg

2000kg (2.0t)

BMW 5 Series Saloon (2010 onwards) 535i M Sport (Professional Media) 4d

750kg

2000kg (2.0t)

BMW 5 Series Saloon (2010 onwards) 535i M Sport (Professional Media) 4d Step Auto

750kg

2000kg (2.0t)

BMW 5 Series Saloon (2010 onwards) 535i M Sport (Start Stop) (Professional Media) 4d

750kg

2000kg (2.0t)

BMW 5 Series Saloon (2010 onwards) 535i M Sport (Start Stop) (Professional Media) 4d Step Auto

750kg

2000kg (2.0t)

BMW 5 Series Saloon (2010 onwards) 535i M Sport (Start Stop) 4d

750kg

2000kg (2.0t)

BMW 5 Series Saloon (2010 onwards) 535i M Sport (Start Stop) 4d Step Auto

750kg

2000kg (2.0t)

BMW 5 Series Saloon (2010 onwards) 535i M Sport 4d

750kg

2000kg (2.0t)

BMW 5 Series Saloon (2010 onwards) 535i M Sport 4d Step Auto

750kg

2000kg (2.0t)

BMW 5 Series Saloon (2010 onwards) 535i SE (Business Media) 4d

750kg

2000kg (2.0t)

BMW 5 Series Saloon (2010 onwards) 535i SE (Business Media) 4d Step Auto

750kg

2000kg (2.0t)

BMW 5 Series Saloon (2010 onwards) 535i SE (Start Stop) (Business Media) 4d

750kg

2000kg (2.0t)

BMW 5 Series Saloon (2010 onwards) 535i SE (Start Stop) (Business Media) 4d Step Auto

750kg

2000kg (2.0t)

BMW 5 Series Saloon (2010 onwards) 535i SE (Start Stop) (Professional Media) 4d

750kg

2000kg (2.0t)

BMW 5 Series Saloon (2010 onwards) 535i SE (Start Stop) (Professional Media] 4d Step Auto

750kg

2000kg (2.0t)

BMW 5 Series Saloon (2010 onwards) 535i SE (Start Stop) 4d

750kg

2000kg (2.0t)

BMW 5 Series Saloon (2010 onwards) 535i SE 4d Step Auto

750kg

2000kg (2.0t)

BMW 5 Series Saloon (2010 onwards) 535i SE(Media Pack) 4d

750kg

2000kg (2.0t)

BMW 5 Series Saloon (2010 onwards) 535i SE(Media Pack) 4d Step Auto

750kg

2000kg (2.0t)

BMW 5 Series Saloon (2010 onwards) 550i Luxury 4d Step Auto

750kg

2000kg (2.0t)

BMW 5 Series Saloon (2010 onwards) 550i M Sport (Business Media) 4d Step Auto

750kg

2000kg (2.0t)

BMW 5 Series Saloon (2010 onwards) 550i M Sport (Professional Media) 4d Step Auto

750kg

2000kg (2.0t)

BMW 5 Series Saloon (2010 onwards) 550i M Sport 4d Step Auto

750kg

2000kg (2.0t)

BMW 5 Series Saloon (2010 onwards) 550i SE (Media Pack) 4d Step Auto

750kg

2000kg (2.0t)

BMW 5 Series Saloon (2010 onwards) 550i SE 4d Step Auto

750kg

2000kg (2.0t)

BMW 5 Series Touring (2003 - 2010) 525d ES 5d Auto

750kg

2000kg (2.0t)

BMW 5 Series Touring (2003 - 2010) 525d M Sport 5d (07)

750kg

2000kg (2.0t)

BMW 5 Series Touring (2003 - 2010) 525d M Sport 5d Auto

750kg

2000kg (2.0t)

BMW 5 Series Touring (2003 - 2010) 525d M Sport 5d Auto (07)

750kg

2000kg (2.0t)

BMW 5 Series Touring (2003 - 2010) 525d M Sport Business Edition 5d

750kg

2000kg (2.0t)

BMW 5 Series Touring (2003 - 2010) 525d M Sport Business Edition 5d Step Auto

750kg

2000kg (2.0t)

BMW 5 Series Touring (2003 - 2010) 525d SE 5d

750kg

2000kg (2.0t)

BMW 5 Series Touring (2003 - 2010) 525d SE 5d (07)

750kg

2000kg (2.0t)

BMW 5 Series Touring (2003 - 2010) 525d SE 5d Auto (07)

750kg

2000kg (2.0t)

BMW 5 Series Touring (2003 - 2010) 525d SE Business Edition 5d Step Auto

750kg

2000kg (2.0t)

BMW 5 Series Touring (2003 - 2010) 525d Sport 5d

750kg

2000kg (2.0t)

BMW 5 Series Touring (2003 - 2010) 525d Sport 5d Auto

750kg

2000kg (2.0t)

BMW 5 Series Touring (2003 - 2010) 525i M Sport 5d

750kg

2000kg (2.0t)

BMW 5 Series Touring (2003 - 2010) 525i M Sport 5d (07)

750kg

2000kg (2.0t)

BMW 5 Series Touring (2003 - 2010) 525i M Sport 5d Auto

750kg

2000kg (2.0t)

BMW 5 Series Touring (2003 - 2010) 525i M Sport 5d Auto (07)

750kg

2000kg (2.0t)

BMW 5 Series Touring (2003 - 2010) 525i SE (218bhp) 5d

750kg

2000kg (2.0t)

BMW 5 Series Touring (2003 - 2010) 525i SE (218bhp) 5d Auto

750kg

2000kg (2.0t)

BMW 5 Series Touring (2003 - 2010) 525i SE 5d

750kg

2000kg (2.0t)

BMW 5 Series Touring (2003 - 2010) 525i SE 5d (07)

750kg

2000kg (2.0t)

BMW 5 Series Touring (2003 - 2010) 525i Sport (218bhp) 5d Auto

750kg

2000kg (2.0t)

BMW 5 Series Touring (2003 - 2010) 525i Sport 5d

750kg

2000kg (2.0t)

BMW 5 Series Touring (2003 - 2010) 525i Sport 5d Auto

750kg

2000kg (2.0t)

BMW 5 Series Touring (2003 - 2010) 525i Sport 5d SMG

750kg

2000kg (2.0t)

BMW 5 Series Touring (2003 - 2010) 530d M Sport 5d

750kg

2000kg (2.0t)

BMW 5 Series Touring (2003 - 2010) 530d M Sport 5d (07)

750kg

2000kg (2.0t)

BMW 5 Series Touring (2003 - 2010) 530d M Sport 5d Auto

750kg

2000kg (2.0t)

BMW 5 Series Touring (2003 - 2010) 530d M Sport 5d Auto (07)

750kg

2000kg (2.0t)

BMW 5 Series Touring (2003 - 2010) 530d M Sport Business Edition 5d

750kg

2000kg (2.0t)

BMW 5 Series Touring (2003 - 2010) 530d SE (231bhp) 5d

750kg

2000kg (2.0t)

BMW 5 Series Touring (2003 - 2010) 530d SE (231bhp) 5d Auto

750kg

2000kg (2.0t)

BMW 5 Series Touring (2003 - 2010) 530d SE 5d

750kg

2000kg (2.0t)

BMW 5 Series Touring (2003 - 2010) 530d SE 5d (07)

750kg

2000kg (2.0t)

BMW 5 Series Touring (2003 - 2010) 530d SE 5d Auto

750kg

2000kg (2.0t)

BMW 5 Series Touring (2003 - 2010) 530d SE 5d Auto (07)

750kg

2000kg (2.0t)

BMW 5 Series Touring (2003 - 2010) 530d SE Business Edition 5d

750kg

2000kg (2.0t)

BMW 5 Series Touring (2003 - 2010) 530d SE Business Edition 5d Step Auto

750kg

2000kg (2.0t)

BMW 5 Series Touring (2003 - 2010) 530d Sport 5d

750kg

2000kg (2.0t)

BMW 5 Series Touring (2003 - 2010) 530d Sport 5d Auto

750kg

2000kg (2.0t)

BMW 5 Series Touring (2003 - 2010) 530i M Sport 5d

750kg

2000kg (2.0t)

BMW 5 Series Touring (2003 - 2010) 530i M Sport 5d (07)

750kg

2000kg (2.0t)

BMW 5 Series Touring (2003 - 2010) 530i M Sport 5d Auto

750kg

2000kg (2.0t)

BMW 5 Series Touring (2003 - 2010) 530i M Sport 5d Auto (07)

750kg

2000kg (2.0t)

BMW 5 Series Touring (2003 - 2010) 530i M Sport 5d SMG

750kg

2000kg (2.0t)

BMW 5 Series Touring (2003 - 2010) 530i SE 5d

750kg

2000kg (2.0t)

BMW 5 Series Touring (2003 - 2010) 530i SE 5d (07)

750kg

2000kg (2.0t)

BMW 5 Series Touring (2003 - 2010) 530i SE 5d Auto

750kg

2000kg (2.0t)

BMW 5 Series Touring (2003 - 2010) 530i SE 5d Auto (07)

750kg

2000kg (2.0t)

BMW 5 Series Touring (2003 - 2010) 530i SE 5d SMG

750kg

2000kg (2.0t)

BMW 5 Series Touring (2003 - 2010) 530i Sport 5d

750kg

2000kg (2.0t)

BMW 5 Series Touring (2003 - 2010) 530i Sport 5d Auto

750kg

2000kg (2.0t)

BMW 5 Series Touring (2003 - 2010) 530i Sport 5d SMG

750kg

2000kg (2.0t)

BMW 5 Series Touring (2003 - 2010) 535d M Sport 5d Auto (07)

750kg

2000kg (2.0t)

BMW 5 Series Touring (2003 - 2010) 535d SE 5d Auto (07)

750kg

2000kg (2.0t)

BMW 5 Series Touring (2003 - 2010) 535d Sport 5d Auto

750kg

2000kg (2.0t)

BMW 5 Series Touring (2003 - 2010) 545i SE 5d

750kg

2000kg (2.0t)

BMW 5 Series Touring (2003 - 2010) 545i SE 5d SMG

750kg

2000kg (2.0t)

BMW 5 Series Touring (2003 - 2010) 545i Sport 5d

750kg

2000kg (2.0t)

BMW 5 Series Touring (2003 - 2010) 545i Sport 5d Auto

750kg

2000kg (2.0t)

BMW 5 Series Touring (2003 - 2010) 545i Sport 5d SMG

750kg

2000kg (2.0t)

BMW 5 Series Touring (2003 - 2010) 550i M Sport 5d

750kg

2000kg (2.0t)

BMW 5 Series Touring (2003 - 2010) 550i M Sport 5d (07)

750kg

2000kg (2.0t)

BMW 5 Series Touring (2003 - 2010) 550i M Sport 5d Auto

750kg

2000kg (2.0t)

BMW 5 Series Touring (2003 - 2010) 550i M Sport 5d Auto (07)

750kg

2000kg (2.0t)

BMW 5 Series Touring (2003 - 2010) 550i M Sport 5d SMG

750kg

2000kg (2.0t)

BMW 5 Series Touring (2003 - 2010) 550i SE 5d (07)

750kg

2000kg (2.0t)

BMW 5 Series Touring (2003 - 2010) 550i SE 5d Auto

750kg

2000kg (2.0t)

BMW 5 Series Touring (2003 - 2010) 550i SE 5d Auto (07)

750kg

2000kg (2.0t)

BMW 5 Series Touring (2003 - 2010) 550i SE 5d SMG

750kg

2000kg (2.0t)

BMW 7 Series (2002 - 2008) 730i 4d Auto (03)

750kg

2000kg (2.0t)

BMW 7 Series (2002 - 2008) 730i 4d Auto (05)

750kg

2000kg (2.0t)

BMW 7 Series (2002 - 2008) 730i Sport 4d Auto (03)

750kg

2000kg (2.0t)

BMW 7 Series (2002 - 2008) 730Li 4d Auto (03)

750kg

2000kg (2.0t)

BMW 7 Series (2002 - 2008) 730Li 4d Auto (05)

750kg

2000kg (2.0t)

BMW 7 Series (2002 - 2008) 730Li SE 4d Auto (03)

750kg

2000kg (2.0t)

BMW Alpina Saloon (2000 - 2009) B10 3.3 4d

750kg

2000kg (2.0t)

BMW Alpina Saloon (2000 - 2009) B10 3.3 4d Switch-tronic

750kg

2000kg (2.0t)

BMW Alpina Saloon (2000 - 2009) B10 V8 4d Switch-tronic

750kg

2000kg (2.0t)

BMW Alpina Saloon (2000 - 2009) B5 V8 4d Switch-tronic

750kg

2000kg (2.0t)

BMW Alpina Saloon (2008 onwards) B5 Edition 50 V8 Bi Turbo 4d Switch-Tronic

750kg

2000kg (2.0t)

BMW Alpina Saloon (2008 onwards) B5 S 4d Switch-Tronic

750kg

2000kg (2.0t)

BMW Alpina Saloon (2008 onwards) B5 V8 (540bhp) Bi Turbo 4d Switch-Tronic

750kg

2000kg (2.0t)

BMW Alpina Saloon (2008 onwards) B5 V8 Bi Turbo 4d Switch-Tronic

750kg

2000kg (2.0t)

BMW Alpina Saloon (2008 onwards) D5 3.0 Bi Turbo 4d Switch-Tronic

750kg

2000kg (2.0t)

BMW Alpina Touring (2000 - 2009) B10 3.3 5d

750kg

2000kg (2.0t)

BMW Alpina Touring (2000 - 2009) B10 V8 5d Switch-tronic

750kg

2000kg (2.0t)

BMW Alpina Touring (2008 onwards) B5 S 5d Switch-Tronic

750kg

2000kg (2.0t)

BMW Alpina Touring (2008 onwards) B5 V8 (540bhp) Bi Turbo 5d Switch-Tronic

750kg

2000kg (2.0t)

BMW Alpina Touring (2008 onwards) B5 V8 Bi Turbo (2011) 5d Switch-tronic

750kg

2000kg (2.0t)

BMW Alpina Touring (2008 onwards) D5 3.0 Bi Turbo 5d Switch-Tronic

750kg

2000kg (2.0t)

BMW X1 (2009 - 2015) xDrive 20d M Sport (07/12-) 5d

750kg

2000kg (2.0t)

BMW X1 (2009 - 2015) xDrive 20d M Sport 5d

750kg

2000kg (2.0t)

BMW X1 (2009 - 2015) xDrive 20d M Sport 5d Step Auto

750kg

2000kg (2.0t)

BMW X1 (2009 - 2015) xDrive 20d SE (07/12-) 5d

750kg

2000kg (2.0t)

BMW X1 (2009 - 2015) xDrive 20d SE (07/12-) 5d Step Auto

750kg

2000kg (2.0t)

BMW X1 (2009 - 2015) xDrive 20d SE 5d

750kg

2000kg (2.0t)

BMW X1 (2009 - 2015) xDrive 20d SE 5d Step Auto

750kg

2000kg (2.0t)

BMW X1 (2009 - 2015) xDrive 20d Sport (07/12-) 5d

750kg

2000kg (2.0t)

BMW X1 (2009 - 2015) xDrive 20d Sport 5d Step Auto

750kg

2000kg (2.0t)

BMW X1 (2009 - 2015) xDrive 20d xLine 5d

750kg

2000kg (2.0t)

BMW X1 (2009 - 2015) xDrive 20d xLine 5d Step Auto

750kg

2000kg (2.0t)

BMW X1 (2009 - 2015) xDrive 23d M Sport 5d

750kg

2000kg (2.0t)

BMW X1 (2009 - 2015) xDrive 23d M Sport 5d Step Auto

750kg

2000kg (2.0t)

BMW X1 (2009 - 2015) xDrive 23d SE 5d

750kg

2000kg (2.0t)

BMW X1 (2009 - 2015) xDrive 23d SE 5d Step Auto

750kg

2000kg (2.0t)

BMW X1 (2009 - 2015) xDrive 25d M Sport (07/12-) 5d

750kg

2000kg (2.0t)

BMW X1 (2009 - 2015) xDrive 25d M Sport (07/12-) 5d Step Auto

750kg

2000kg (2.0t)

BMW X1 (2009 - 2015) xDrive 25d xLine 5d

750kg

2000kg (2.0t)

BMW X1 (2009 - 2015) xDrive 25d xLine 5d Step Auto

750kg

2000kg (2.0t)

BMW X1 (2009 - 2015) xDrive20i M Sport 5d

750kg

2000kg (2.0t)

BMW X1 (2009 - 2015) xDrive20i M Sport 5d Step Auto

750kg

2000kg (2.0t)

BMW X1 (2009 - 2015) xDrive20i SE 5d

750kg

2000kg (2.0t)

BMW X1 (2009 - 2015) xDrive20i SE 5d Step Auto

750kg

2000kg (2.0t)

BMW X1 (2009 - 2015) xDrive20i Sport 5d

750kg

2000kg (2.0t)

BMW X1 (2009 - 2015) xDrive20i Sport 5d Step Auto

750kg

2000kg (2.0t)

BMW X1 (2009 - 2015) xDrive20i xLine 5d

750kg

2000kg (2.0t)

BMW X1 (2009 - 2015) xDrive20i xLine 5d Step Auto

750kg

2000kg (2.0t)

BMW X3 (2004 - 2010) 2.0d xDrive M Sport 5d Step Auto

720kg

2000kg (2.0t)

BMW X3 (2004 - 2010) 2.0d xDrive SE 5d Step Auto

720kg

2000kg (2.0t)

BMW X3 (2004 - 2010) 2.0D xDrive20d SE (Dynamic) 5d Step Auto

720kg

2000kg (2.0t)

BMW X3 (2004 - 2010) 2.0D xDrive20d SE Edition Exclusive 5d Step Auto

720kg

2000kg (2.0t)

BMW X3 (2004 - 2010) 2.0D xDrive20d SE Edition Premium 5d Step Auto

720kg

2000kg (2.0t)

BMW X3 (2004 - 2010) 3.0d M Sport 5d

750kg

2000kg (2.0t)

BMW X3 (2004 - 2010) 3.0d M Sport 5d (06)

750kg

2000kg (2.0t)

BMW X3 (2004 - 2010) 3.0d M Sport 5d Auto

750kg

2000kg (2.0t)

BMW X3 (2004 - 2010) 3.0d M Sport 5d Step Auto (06)

750kg

2000kg (2.0t)

BMW X3 (2004 - 2010) 3.0d SE 5d

750kg

2000kg (2.0t)

BMW X3 (2004 - 2010) 3.0d SE 5d (06)

750kg

2000kg (2.0t)

BMW X3 (2004 - 2010) 3.0d SE 5d Auto

750kg

2000kg (2.0t)

BMW X3 (2004 - 2010) 3.0d SE 5d Step Auto (06)

750kg

2000kg (2.0t)

BMW X3 (2004 - 2010) 3.0d Sport 5d

750kg

2000kg (2.0t)

BMW X3 (2004 - 2010) 3.0d Sport 5d Auto

750kg

2000kg (2.0t)

BMW X3 (2004 - 2010) 3.0d xDrive M Sport 5d

750kg

2000kg (2.0t)

BMW X3 (2004 - 2010) 3.0d xDrive M Sport 5d Step Auto

750kg

2000kg (2.0t)

BMW X3 (2004 - 2010) 3.0d xDrive SE 5d

750kg

2000kg (2.0t)

BMW X3 (2004 - 2010) 3.0d xDrive SE 5d Step Auto

750kg

2000kg (2.0t)

BMW X3 (2004 - 2010) 3.0D xDrive30d SE (Dynamic) 5d

750kg

2000kg (2.0t)

BMW X3 (2004 - 2010) 3.0D xDrive30d SE (Dynamic) 5d Step Auto

750kg

2000kg (2.0t)

BMW X3 (2004 - 2010) 3.0D xDrive35d SE (Dynamic) 5d Step Auto

750kg

2000kg (2.0t)

BMW X3 (2004 - 2010) 3.0i M Sport 5d Auto

720kg

2000kg (2.0t)

BMW X3 (2004 - 2010) 3.0i SE 5d Auto

720kg

2000kg (2.0t)

BMW X3 (2004 - 2010) 3.0i Sport 5d Auto

720kg

2000kg (2.0t)

BMW X3 (2004 - 2010) 3.0i xDrive M Sport 5d Step Auto

720kg

2000kg (2.0t)

BMW X3 (2004 - 2010) 3.0i xDrive30i SE (Dynamic) 5d Step Auto

720kg

2000kg (2.0t)

BMW X3 (2004 - 2010) 3.0sd M Sport 5d Step Auto

750kg

2000kg (2.0t)

BMW X3 (2004 - 2010) 3.0sd SE 5d Step Auto

750kg

2000kg (2.0t)

BMW X3 (2004 - 2010) 3.0si M Sport 5d Step Auto

720kg

2000kg (2.0t)

BMW X3 (2004 - 2010) 3.0si SE 5d Step Auto

720kg

2000kg (2.0t)

BMW X3 (2004 - 2010) 3.5d xDrive M Sport 5d Step Auto

750kg

2000kg (2.0t)

BMW X3 (2004 - 2010) 3.5d xDrive SE 5d Step Auto

750kg

2000kg (2.0t)

BMW X3 (2004 - 2010) xDrive20d Limited Sport Edition 5d Step Auto

720kg

2000kg (2.0t)

BMW X3 (2011 onwards) sDrive18d M Sport (Business Media) 5d

750kg

2000kg (2.0t)

BMW X3 (2011 onwards) sDrive18d M Sport (Business Media) 5d Step Auto

750kg

2000kg (2.0t)

BMW X3 (2011 onwards) sDrive18d M Sport (Professional Media) 5d

750kg

2000kg (2.0t)

BMW X3 (2011 onwards) sDrive18d M Sport (Professional Media) 5d Step Auto

750kg

2000kg (2.0t)

BMW X3 (2011 onwards) sDrive18d M Sport 5d

750kg

2000kg (2.0t)

BMW X3 (2011 onwards) sDrive18d M Sport 5d Step Auto

750kg

2000kg (2.0t)

BMW X3 (2011 onwards) sDrive18d SE (06/14-) 5d

750kg

2000kg (2.0t)

BMW X3 (2011 onwards) sDrive18d SE (06/14-) 5d Step Auto

750kg

2000kg (2.0t)

BMW X3 (2011 onwards) sDrive18d SE (Business Media) 5d

750kg

2000kg (2.0t)

BMW X3 (2011 onwards) sDrive18d SE (Business Media) 5d Step Auto

750kg

2000kg (2.0t)

BMW X3 (2011 onwards) sDrive18d SE (Professional Media) 5d

750kg

2000kg (2.0t)

BMW X3 (2011 onwards) sDrive18d SE (Professional Media) 5d Step Auto

750kg

2000kg (2.0t)

BMW X3 (2011 onwards) sDrive18d SE 5d

750kg

2000kg (2.0t)

BMW X3 (2011 onwards) sDrive18d SE 5d Step Auto

750kg

2000kg (2.0t)

BMW X3 (2011 onwards) xDrive20d BluePerf M Sport (Business Media) 5d

750kg

2000kg (2.0t)

BMW X3 (2011 onwards) xDrive20d BluePerformance M Sport (Professional Media) 5d

750kg

2000kg (2.0t)

BMW X3 (2011 onwards) xDrive20d BluePerformance M Sport 5d

750kg

2000kg (2.0t)

BMW X3 (2011 onwards) xDrive20d BluePerformance SE (Business Media) 5d

750kg

2000kg (2.0t)

BMW X3 (2011 onwards) xDrive20d BluePerformance SE (Professional Media) 5d

750kg

2000kg (2.0t)

BMW X3 (2011 onwards) xDrive20d BluePerformance SE 5d

750kg

2000kg (2.0t)

BMW X3 (2011 onwards) xDrive20d M Sport (Business Media) 5d

750kg

2000kg (2.0t)

BMW X3 (2011 onwards) xDrive20d M Sport (Professional Media) 5d

750kg

2000kg (2.0t)

BMW X3 (2011 onwards) xDrive20d M Sport 4d

750kg

2000kg (2.0t)

BMW X3 (2011 onwards) xDrive20d M Sport 5d

750kg

2000kg (2.0t)

BMW X3 (2011 onwards) xDrive20d SE (06/14-) 5d

750kg

2000kg (2.0t)

BMW X3 (2011 onwards) xDrive20d SE (Business Media) 5d

750kg

2000kg (2.0t)

BMW X3 (2011 onwards) xDrive20d SE (Professional Media) 5d

750kg

2000kg (2.0t)

BMW X3 (2011 onwards) xDrive20d SE 5d

750kg

2000kg (2.0t)

BMW X3 (2011 onwards) xDrive20d xLine 5d

750kg

2000kg (2.0t)

BMW X4 (2014 onwards) xDrive20d M Sport 5d

750kg

2000kg (2.0t)

BMW X4 (2014 onwards) xDrive20d SE 5d

750kg

2000kg (2.0t)

BMW X4 (2014 onwards) xDrive20d xLine 5d

750kg

2000kg (2.0t)

Chevrolet Captiva (2007 - 2015) 2.0 CDTi LT 5d

750kg

2000kg (2.0t)

Chevrolet Captiva (2007 - 2015) 2.0 CDTi LT 5d (7 seats)

750kg

2000kg (2.0t)

Chevrolet Captiva (2007 - 2015) 2.0 CDTi LTX 5d (7 seats)

750kg

2000kg (2.0t)

Chevrolet Captiva (2007 - 2015) 2.0 VCDi Ikon 5d

750kg

2000kg (2.0t)

Chevrolet Captiva (2007 - 2015) 2.0 VCDi LS 5d

750kg

2000kg (2.0t)

Chevrolet Captiva (2007 - 2015) 2.0 VCDi LT (7 Seats) (2010.5) 5d

750kg

2000kg (2.0t)

Chevrolet Captiva (2007 - 2015) 2.0 VCDi LT FWD 5d

750kg

2000kg (2.0t)

Chevrolet Captiva (2007 - 2015) 2.0 VCDi LTZ (7 Seats) 5d

750kg

2000kg (2.0t)

Chevrolet Captiva (2007 - 2015) 2.2 VCDi (163bhp) LS FWD (Start Stop) 5d

750kg

2000kg (2.0t)

Chevrolet Captiva (2007 - 2015) 2.2 VCDi LT (7 Seats) (Start Stop) 5d

750kg

2000kg (2.0t)

Chevrolet Captiva (2007 - 2015) 2.2 VCDi LT (7 Seats) 5d

750kg

2000kg (2.0t)

Chevrolet Captiva (2007 - 2015) 2.2 VCDi LTZ (7 Seats) (Start Stop) 5d

750kg

2000kg (2.0t)

Chevrolet Captiva (2007 - 2015) 2.2 VCDi LTZ (7 Seats) 5d

750kg

2000kg (2.0t)

Chrysler 300C Saloon (2005 - 2010) 3.0 V6 CRD 4d Auto

450kg

2000kg (2.0t)

Chrysler 300C Saloon (2005 - 2010) 3.0 V6 CRD SRT Design 4d Auto

450kg

2000kg (2.0t)

Chrysler 300C Touring (2006 - 2010) 3.0 V6 CRD 5d Auto

450kg

2000kg (2.0t)

Chrysler 300C Touring (2006 - 2010) 3.0 V6 CRD SRT Design 5d Auto

450kg

2000kg (2.0t)

Citroen C-Crosser (2007 - 2012) 2.2 HDi Code 5d

750kg

2000kg (2.0t)

Citroen C-Crosser (2007 - 2012) 2.2 HDi Exclusive 5d

750kg

2000kg (2.0t)

Citroen C-Crosser (2007 - 2012) 2.2 HDi VTR Plus 5d

750kg

2000kg (2.0t)

Citroen C-Crosser (2007 - 2012) 2.2 HDi VTR Plus 5d Auto DCS

750kg

2000kg (2.0t)

Citroen Dispatch Combi (2007 - 2015) 1.6 HDi (95bhp) L2 6dr (6 Seat) 6d

-

2000kg (2.0t)

Citroen Dispatch Combi (2007 - 2015) 1.6 HDi L1 (6 Seat) 6d

-

2000kg (2.0t)

Citroen Dispatch Combi (2007 - 2015) 1.6 HDi L2 6dr (6 Seat) 6d

-

2000kg (2.0t)

Citroen Dispatch Combi (2007 - 2015) 2.0 HDi (125bhp) L1 6dr (6 Seat) 6d

-

2000kg (2.0t)

Citroen Dispatch Combi (2007 - 2015) 2.0 HDi (125bhp) L1 SX (9 Seat) 5d

-

2000kg (2.0t)

Citroen Dispatch Combi (2007 - 2015) 2.0 HDi (125bhp) L2 6dr (6 Seat) 6d

-

2000kg (2.0t)

Citroen Dispatch Combi (2007 - 2015) 2.0 HDi (125bhp) L2 SX (9 Seat) 5d

-

2000kg (2.0t)

Citroen Dispatch Combi (2007 - 2015) 2.0 HDi (136bhp) L2 SX (9 Seat) 5d

-

2000kg (2.0t)

Citroen Dispatch Combi (2007 - 2015) 2.0 HDi (160bhp) L1 SX (9 Seat) 5d Auto

-

2000kg (2.0t)

Citroen Dispatch Combi (2007 - 2015) 2.0 HDi (160bhp) L2 SX (9 Seat) 5d

-

2000kg (2.0t)

Citroen Dispatch Combi (2007 - 2015) 2.0 HDi (95bhp) L1 6dr (6 Seat) 6d

-

2000kg (2.0t)

Citroen Dispatch Combi (2007 - 2015) 2.0 HDi L1 (9 Seat) 6d

-

2000kg (2.0t)

Citroen Dispatch Combi (2007 - 2015) 2.0 HDi L1 6dr (6 Seat) 6d

-

2000kg (2.0t)

Citroen Dispatch Combi (2007 - 2015) 2.0 HDi L1 SX (9 Seat) 5d

-

2000kg (2.0t)

Citroen Dispatch Combi (2007 - 2015) 2.0 HDi L2 (6 Seat) 6d

-

2000kg (2.0t)

Citroen Dispatch Combi (2007 - 2015) 2.0 HDi L2 (9 Seat) 6d

-

2000kg (2.0t)

Citroen Dispatch Combi (2007 - 2015) 2.0 HDi L2 SX (9 Seat) 5d

-

2000kg (2.0t)

Fiat Scudo Combi (2007 - 2015) 10Q 1.6 Multijet (90bhp) 6 Seat L1 5d

-

2000kg (2.0t)

Fiat Scudo Combi (2007 - 2015) 10Q 1.6 Multijet (90bhp) 9 Seat L1 5d

-

2000kg (2.0t)

Fiat Scudo Combi (2007 - 2015) 10Q 1.6 Multijet L1 (90bhp) 5d (5 Seat)

-

2000kg (2.0t)

Fiat Scudo Combi (2007 - 2015) 10Q 2.0 Multijet (120bhp) 5d (5 Seat)

-

2000kg (2.0t)

Fiat Scudo Combi (2007 - 2015) 10Q 2.0 Multijet (120bhp) 5d (8 Seat)

-

2000kg (2.0t)

Fiat Scudo Combi (2007 - 2015) 10Q 2.0 Multijet (120bhp) 6 Seat L1 5d

-

2000kg (2.0t)

Fiat Scudo Combi (2007 - 2015) 10Q 2.0 Multijet (120bhp) 6 Seat L2 5d

-

2000kg (2.0t)

Fiat Scudo Combi (2007 - 2015) 10Q 2.0 Multijet (120bhp) 9 Seat L1 5d

-

2000kg (2.0t)

Fiat Scudo Combi (2007 - 2015) 10Q 2.0 Multijet (120bhp) 9 Seat L2 5d

-

2000kg (2.0t)

Fiat Scudo Combi (2007 - 2015) 10Q 2.0 Multijet (120bhp) L2 5d (8 Seat)

-

2000kg (2.0t)

Fiat Scudo Combi (2007 - 2015) 10Q 2.0 Multijet (130bhp) 6 Seat L1 5d

-

2000kg (2.0t)

Fiat Scudo Combi (2007 - 2015) 10Q 2.0 Multijet (130bhp) 6 Seat L2 5d

-

2000kg (2.0t)

Fiat Scudo Combi (2007 - 2015) 10Q 2.0 Multijet (130bhp) 9 Seat L1 5d

-

2000kg (2.0t)

Fiat Scudo Combi (2007 - 2015) 10Q 2.0 Multijet (130bhp) 9 Seat L2 5d

-

2000kg (2.0t)

Fiat Scudo Combi (2007 - 2015) 10Q 2.0 Multijet (163bhp) 5 Seat L2 5d

-

2000kg (2.0t)

Fiat Scudo Combi (2007 - 2015) 10Q 2.0 Multijet (163bhp) 6 Seat L2 5d

-

2000kg (2.0t)

Fiat Scudo Combi (2007 - 2015) 10Q 2.0 Multijet (163bhp) 9 Seat L1 5d

-

2000kg (2.0t)

Fiat Scudo Combi (2007 - 2015) 10Q 2.0 Multijet (163bhp) 9 Seat L2 5d

-

2000kg (2.0t)

Fiat Scudo Combi (2007 - 2015) 10Q 2.0 Multijet L1 (120bhp) 5d (5 Seat)

-

2000kg (2.0t)

Fiat Scudo Panorama (2007 - 2015) 2.0 Multijet (130bhp) Family 8 Seat L1 5d

-

2000kg (2.0t)

Fiat Scudo Panorama (2007 - 2015) 2.0 Multijet (130bhp) Family 8 Seat L2 5d

-

2000kg (2.0t)

Fiat Scudo Panorama (2007 - 2015) 2.0 Multijet (130bhp) Family L1 5d

-

2000kg (2.0t)

Fiat Scudo Panorama (2007 - 2015) 2.0 Multijet (130bhp) Family L2 5d

-

2000kg (2.0t)

Fiat Scudo Panorama (2007 - 2015) 2.0 Multijet (163bhp) Family 8 Seat L2 5d

-

2000kg (2.0t)

Fiat Scudo Panorama (2007 - 2015) 2.0 Multijet (163bhp) Family L2 5d

-

2000kg (2.0t)

Fiat Scudo Panorama (2007 - 2015) 2.0 Multijet Family L1 (140bhp) 5d

-

2000kg (2.0t)

Fiat Scudo Panorama (2007 - 2015) 2.0 Multijet Family L2 (120bhp) 5d

-

2000kg (2.0t)

Fiat Scudo Panorama (2007 - 2015) 2.0 Multijet Family L2 (140bhp) 5d

-

2000kg (2.0t)

Ford Galaxy (2000 - 2006) 1.9 TD Ghia (115ps) 5d

700kg

2000kg (2.0t)

Ford Galaxy (2000 - 2006) 1.9 TD Ghia (115ps) 5d Auto

700kg

2000kg (2.0t)

Ford Galaxy (2000 - 2006) 1.9 TD Ghia (130ps) 5d

700kg

2000kg (2.0t)

Ford Galaxy (2000 - 2006) 1.9 TD Ghia (130ps) 5d (Elegance)

700kg

2000kg (2.0t)

Ford Galaxy (2000 - 2006) 1.9 TD Ghia (150ps) 5d

700kg

2000kg (2.0t)

Ford Galaxy (2000 - 2006) 1.9 TD LX (115ps) 5d

700kg

2000kg (2.0t)

Ford Galaxy (2000 - 2006) 1.9 TD LX (130ps) 5d

700kg

2000kg (2.0t)

Ford Galaxy (2000 - 2006) 1.9 TD LX (90ps) 5d

700kg

2000kg (2.0t)

Ford Galaxy (2000 - 2006) 1.9 TD Silver (115ps) 5d

700kg

2000kg (2.0t)

Ford Galaxy (2000 - 2006) 1.9 TD Zetec (115ps) 5d

700kg

2000kg (2.0t)

Ford Galaxy (2000 - 2006) 1.9 TD Zetec (115ps) 5d Auto

700kg

2000kg (2.0t)

Ford Galaxy (2000 - 2006) 1.9 TD Zetec (130ps) 5d

700kg

2000kg (2.0t)

Ford Galaxy (2000 - 2006) 1.9 TD Zetec (150ps) 5d

700kg

2000kg (2.0t)

Ford Galaxy (2000 - 2006) 2.8 Ghia 5d

700kg

2000kg (2.0t)

Ford Galaxy (2000 - 2006) 2.8 Ghia 5d Auto

700kg

2000kg (2.0t)

Ford Galaxy (2006 - 2014) 2.0 TDCi Zetec (2010) 5d

750kg

2000kg (2.0t)

Ford Galaxy (2006 - 2014) 2.2 TDCi (200bhp) Titanium 5d Auto

750kg

2000kg (2.0t)

Ford Galaxy (2006 - 2014) 2.2 TDCi (200bhp) Titanium X 5d Auto

750kg

2000kg (2.0t)

Ford Galaxy (2015 onwards) 2.0 TDCi (150bhp) Titanium 5d

750kg

2000kg (2.0t)

Ford Galaxy (2015 onwards) 2.0 TDCi (150bhp) Titanium 5d Powershift

750kg

2000kg (2.0t)

Ford Galaxy (2015 onwards) 2.0 TDCi (150bhp) Titanium AWD 5d

750kg

2000kg (2.0t)

Ford Galaxy (2015 onwards) 2.0 TDCi (150bhp) Titanium X 5d

750kg

2000kg (2.0t)

Ford Galaxy (2015 onwards) 2.0 TDCi (150bhp) Titanium X 5d Powershift

750kg

2000kg (2.0t)

Ford Galaxy (2015 onwards) 2.0 TDCi (150bhp) Zetec 5d

750kg

2000kg (2.0t)

Ford Galaxy (2015 onwards) 2.0 TDCi (150bhp) Zetec 5d Powershift

750kg

2000kg (2.0t)

Ford Galaxy (2015 onwards) 2.0 TDCi (180bhp) Titanium 5d

750kg

2000kg (2.0t)

Ford Galaxy (2015 onwards) 2.0 TDCi (180bhp) Titanium 5d Powershift

750kg

2000kg (2.0t)

Ford Galaxy (2015 onwards) 2.0 TDCi (180bhp) Titanium X 5d

750kg

2000kg (2.0t)

Ford Galaxy (2015 onwards) 2.0 TDCi (180bhp) Titanium X 5d Powershift

750kg

2000kg (2.0t)

Ford Galaxy (2015 onwards) 2.0 TDCi (180bhp) Titanium X AWD 5d Powershift

750kg

2000kg (2.0t)

Ford Galaxy (2015 onwards) 2.0 TDCi (210bhp) Titanium X 5d Powershift

750kg

2000kg (2.0t)

Ford Kuga (2008 - 2012) 2.0 TDCi (140bhp) Titanium X 2WD 5d

750kg

2000kg (2.0t)

Ford Kuga (2008 - 2012) 2.0 TDCi (140bhp) Zetec 2WD 5d

750kg

2000kg (2.0t)

Ford Kuga (2012 onwards) 1.5 EcoBoost Zetec 2WD 5d

750kg

2000kg (2.0t)

Ford Kuga (2012 onwards) 1.6 EcoBoost Titanium 2WD 5d

750kg

2000kg (2.0t)

Ford Kuga (2012 onwards) 1.6 EcoBoost Titanium X 2WD 5d

750kg

2000kg (2.0t)

Ford Kuga (2012 onwards) 1.6 EcoBoost Titanium X Sport 2WD 5d

750kg

2000kg (2.0t)

Ford Kuga (2012 onwards) 1.6 EcoBoost Zetec 2WD 5d

750kg

2000kg (2.0t)

Ford Mondeo Estate (2007 - 2014) 2.0 TDCi (115bhp) Edge (10/10 on) 5d

750kg

2000kg (2.0t)

Ford Mondeo Estate (2007 - 2014) 2.0 TDCi (115bhp) Zetec (10/10 on) 5d

750kg

2000kg (2.0t)

Ford Mondeo Estate (2007 - 2014) 2.0 TDCi (140bhp) Edge (10/10 on) 5d Powershift

750kg

2000kg (2.0t)

Ford Mondeo Estate (2007 - 2014) 2.0 TDCi (140bhp) Titanium (10/10 on) 5d

750kg

2000kg (2.0t)

Ford Mondeo Estate (2007 - 2014) 2.0 TDCi (140bhp) Titanium (10/10 on) 5d Powershift

750kg

2000kg (2.0t)

Ford Mondeo Estate (2007 - 2014) 2.0 TDCi (140bhp) Titanium X (10/10 on) 5d

750kg

2000kg (2.0t)

Ford Mondeo Estate (2007 - 2014) 2.0 TDCi (140bhp) Titanium X (10/10 on) 5d Powershift

750kg

2000kg (2.0t)

Ford Mondeo Estate (2007 - 2014) 2.0 TDCi (140bhp) Titanium X Business Ed 5d Powershift

750kg

2000kg (2.0t)

Ford Mondeo Estate (2007 - 2014) 2.0 TDCi (140bhp) Zetec (10/10 on) 5d

750kg

2000kg (2.0t)

Ford Mondeo Estate (2007 - 2014) 2.0 TDCi (140bhp) Zetec (10/10 on) 5d Powershift

750kg

2000kg (2.0t)

Ford Mondeo Estate (2007 - 2014) 2.0 TDCi (140bhp) Zetec Business Edition 5d Powershift

750kg

2000kg (2.0t)

Ford Mondeo Estate (2007 - 2014) 2.0 TDCi (163bhp) Titanium (10/10 on) 5d

750kg

2000kg (2.0t)

Ford Mondeo Estate (2007 - 2014) 2.0 TDCi (163bhp) Titanium (10/10 on) 5d Powershift

750kg

2000kg (2.0t)

Ford Mondeo Estate (2007 - 2014) 2.0 TDCi (163bhp) Titanium X (10/10 on) 5d

750kg

2000kg (2.0t)

Ford Mondeo Estate (2007 - 2014) 2.0 TDCi (163bhp) Titanium X (10/10 on) 5d Powershift

750kg

2000kg (2.0t)

Ford Mondeo Estate (2007 - 2014) 2.0 TDCi (163bhp) Titanium X Business Ed 5d Powershift

750kg

2000kg (2.0t)

Ford Mondeo Estate (2007 - 2014) 2.0 TDCi (163bhp) Titanium X Sport 5d Powershift

750kg

2000kg (2.0t)

Ford Mondeo Estate (2007 - 2014) 2.0 TDCi (163bhp) Zetec (10/10 on) 5d

750kg

2000kg (2.0t)

Ford Mondeo Estate (2007 - 2014) 2.0 TDCi (163bhp) Zetec (10/10 on) 5d Powershift

750kg

2000kg (2.0t)

Ford Mondeo Estate (2007 - 2014) 2.0 TDCi (163bhp) Zetec Business Edition 5d Powershift

750kg

2000kg (2.0t)

Ford Mondeo Estate (2007 - 2014) 2.2 TDCi Titanium X Sport (2011) 5d

750kg

2000kg (2.0t)

Ford Mondeo Estate (2014 onwards) 2.0 TDCi (180bhp) Titanium (X Pack) 5d Powershift

750kg

2000kg (2.0t)

Ford Mondeo Estate (2014 onwards) 2.0 TDCi (210bhp) Titanium 5d Powershift

750kg

2000kg (2.0t)

Ford Mondeo Estate (2014 onwards) 2.0 TDCi (210bhp) Vignale 5d Powershift

750kg

2000kg (2.0t)

Ford Mondeo Estate (2014 onwards) 2.0 TDCi AWD Vignale 5d Powershift

750kg

2000kg (2.0t)

Ford Mondeo Estate (2014 onwards) 2.0 TDCi Titanium (X Pack) 5d Powershift

750kg

2000kg (2.0t)

Ford Mondeo Estate (2014 onwards) 2.0 TDCi Titanium (X Pack) AWD 5d

750kg

2000kg (2.0t)

Ford Mondeo Estate (2014 onwards) 2.0 TDCi Vignale 5d Powershift

750kg

2000kg (2.0t)

Ford Mondeo Estate (2014 onwards) ST-Line 2.0 TDCi 180PS PowerShift auto 5d

750kg

2000kg (2.0t)

Ford Mondeo Hatchback (2007 - 2014) 2.0 TDCi (115bhp) Edge (10/10 on) 5d

750kg

2000kg (2.0t)

Ford Mondeo Hatchback (2007 - 2014) 2.0 TDCi (115bhp) Zetec (10/10 on) 5d

750kg

2000kg (2.0t)

Ford Mondeo Hatchback (2007 - 2014) 2.0 TDCi (140bhp) Edge (10/10 on) 5d Powershift

750kg

2000kg (2.0t)

Ford Mondeo Hatchback (2007 - 2014) 2.0 TDCi (140bhp) Titanium (10/10 on) 5d

750kg

2000kg (2.0t)

Ford Mondeo Hatchback (2007 - 2014) 2.0 TDCi (140bhp) Titanium (10/10 on) 5d Powershift

750kg

2000kg (2.0t)

Ford Mondeo Hatchback (2007 - 2014) 2.0 TDCi (140bhp) Titanium X (10/10 on) 5d

750kg

2000kg (2.0t)

Ford Mondeo Hatchback (2007 - 2014) 2.0 TDCi (140bhp) Titanium X (10/10 on) 5d Powershift

750kg

2000kg (2.0t)

Ford Mondeo Hatchback (2007 - 2014) 2.0 TDCi (140bhp) Titanium X Business Ed 5d Powershift

750kg

2000kg (2.0t)

Ford Mondeo Hatchback (2007 - 2014) 2.0 TDCi (140bhp) Zetec (10/10 on) 5d

750kg

2000kg (2.0t)

Ford Mondeo Hatchback (2007 - 2014) 2.0 TDCi (140bhp) Zetec (10/10 on) 5d Powershift

750kg

2000kg (2.0t)

Ford Mondeo Hatchback (2007 - 2014) 2.0 TDCi (140bhp) Zetec Business Edition 5d Powershift

750kg

2000kg (2.0t)

Ford Mondeo Hatchback (2007 - 2014) 2.0 TDCi (163bhp) Titanium (10/10 on) 5d

750kg

2000kg (2.0t)

Ford Mondeo Hatchback (2007 - 2014) 2.0 TDCi (163bhp) Titanium (10/10 on) 5d Powershift

750kg

2000kg (2.0t)

Ford Mondeo Hatchback (2007 - 2014) 2.0 TDCi (163bhp) Titanium X (10/10 on) 5d

750kg

2000kg (2.0t)

Ford Mondeo Hatchback (2007 - 2014) 2.0 TDCi (163bhp) Titanium X (10/10 on) 5d Powershift

750kg

2000kg (2.0t)

Ford Mondeo Hatchback (2007 - 2014) 2.0 TDCi (163bhp) Titanium X Business Ed 5d Powershift

750kg

2000kg (2.0t)

Ford Mondeo Hatchback (2007 - 2014) 2.0 TDCi (163bhp) Titanium X Sport 5d Powershift

750kg

2000kg (2.0t)

Ford Mondeo Hatchback (2007 - 2014) 2.0 TDCi (163bhp) Zetec (10/10 on) 5d

750kg

2000kg (2.0t)

Ford Mondeo Hatchback (2007 - 2014) 2.0 TDCi (163bhp) Zetec Business Edition 5d Powershift

750kg

2000kg (2.0t)

Ford Mondeo Hatchback (2007 - 2014) 2.2 TDCi Titanium X Sport (2011) 5d

750kg

2000kg (2.0t)

Ford Mondeo Hatchback (2014 onwards) 2.0 TDCi (180bhp) Titanium (X Pack) 5d Powershift

750kg

2000kg (2.0t)

Ford Mondeo Hatchback (2014 onwards) 2.0 TDCi (180bhp) Titanium (X Pack) AWD 5d Powershift

750kg

2000kg (2.0t)

Ford Mondeo Hatchback (2014 onwards) 2.0 TDCi (180bhp) Titanium 5d Powershift

750kg

2000kg (2.0t)

Ford Mondeo Hatchback (2014 onwards) 2.0 TDCi (210bhp) Titanium (X Pack) 5d Powershift

750kg

2000kg (2.0t)

Ford Mondeo Hatchback (2014 onwards) ST-Line 2.0 TDCi 180PS PowerShift auto 5d

750kg

2000kg (2.0t)

Ford Mondeo Saloon (2014 onwards) 2.0 TDCi (210bhp) Vignale 4d Powershift

750kg

2000kg (2.0t)

Ford Mondeo Saloon (2014 onwards) 2.0 TDCi AWD Vignale 4d Powershift

750kg

2000kg (2.0t)

Ford Mondeo Saloon (2014 onwards) 2.0 TDCi Vignale 4d Powershift

750kg

2000kg (2.0t)

Ford Scorpio Estate (1995 - 1999) 2.0 16V Ghia 5d

-

2000kg (2.0t)

Ford Scorpio Estate (1995 - 1999) 2.0 16V Ghia 5d Auto

-

2000kg (2.0t)

Ford Scorpio Estate (1995 - 1999) 2.0 16V Ultima 5d

-

2000kg (2.0t)

Ford Scorpio Estate (1995 - 1999) 2.0 16V Ultima 5d Auto

-

2000kg (2.0t)

Ford Scorpio Estate (1995 - 1999) 2.0 16V Ultima 5d Auto (LT)

-

2000kg (2.0t)

Ford Scorpio Estate (1995 - 1999) 2.0 8V Ghia 5d

-

2000kg (2.0t)

Ford Scorpio Estate (1995 - 1999) 2.3 16V Ghia 5d

-

2000kg (2.0t)

Ford Scorpio Estate (1995 - 1999) 2.3 16V Ghia 5d Auto

-

2000kg (2.0t)

Ford Scorpio Estate (1995 - 1999) 2.3 16V Ghia X 5d

-

2000kg (2.0t)

Ford Scorpio Estate (1995 - 1999) 2.3 16V Ghia X 5d Auto

-

2000kg (2.0t)

Ford Scorpio Estate (1995 - 1999) 2.3 16V Ultima 5d

-

2000kg (2.0t)

Ford Scorpio Estate (1995 - 1999) 2.3 16V Ultima 5d (LT)

-

2000kg (2.0t)

Ford Scorpio Estate (1995 - 1999) 2.3 16V Ultima 5d Auto

-

2000kg (2.0t)

Ford Scorpio Estate (1995 - 1999) 2.3 16V Ultima 5d Auto (LT)

-

2000kg (2.0t)

Ford Scorpio Estate (1995 - 1999) 2.9 12V Ghia 5d Auto

-

2000kg (2.0t)

Ford Scorpio Estate (1995 - 1999) 2.9 12V Ultima 5d Auto

-

2000kg (2.0t)

Ford Scorpio Estate (1995 - 1999) 2.9 12V Ultima 5d Auto (LT)

-

2000kg (2.0t)

Ford Scorpio Estate (1995 - 1999) 2.9 24V Ghia 5d Auto

-

2000kg (2.0t)

Ford Scorpio Estate (1995 - 1999) 2.9 24V Ghia X 5d Auto

-

2000kg (2.0t)

Ford Scorpio Estate (1995 - 1999) 2.9 24V Ultima 5d Auto

-

2000kg (2.0t)

Ford Scorpio Estate (1995 - 1999) 2.9 24V Ultima 5d Auto (LT)

-

2000kg (2.0t)

Ford S-MAX (2006 - 2014) 2.2 TDCi (200bhp) Titanium 5d Auto

750kg

2000kg (2.0t)

Ford S-MAX (2006 - 2014) 2.2 TDCi (200bhp) Titanium X Sport 5d Auto

750kg

2000kg (2.0t)

Ford S-MAX (2015 onwards) 2.0 TDCi (150bhp) Titanium (X Pack) 5d

750kg

2000kg (2.0t)

Ford S-MAX (2015 onwards) 2.0 TDCi (150bhp) Titanium (X Pack) 5d Powershift

750kg

2000kg (2.0t)

Ford S-MAX (2015 onwards) 2.0 TDCi (150bhp) Titanium (X Pack) AWD 5d

750kg

2000kg (2.0t)

Ford S-MAX (2015 onwards) 2.0 TDCi (150bhp) Titanium 5d

750kg

2000kg (2.0t)

Ford S-MAX (2015 onwards) 2.0 TDCi (150bhp) Titanium 5d Powershift

750kg

2000kg (2.0t)

Ford S-MAX (2015 onwards) 2.0 TDCi (150bhp) Titanium AWD 5d

750kg

2000kg (2.0t)

Ford S-MAX (2015 onwards) 2.0 TDCi (150bhp) Zetec 5d

750kg

2000kg (2.0t)

Ford S-MAX (2015 onwards) 2.0 TDCi (150bhp) Zetec 5d Powershift

750kg

2000kg (2.0t)

Ford S-MAX (2015 onwards) 2.0 TDCi (180bhp) Titanium (X Pack) 5d

750kg

2000kg (2.0t)

Ford S-MAX (2015 onwards) 2.0 TDCi (180bhp) Titanium (X Pack) 5d Powershift

750kg

2000kg (2.0t)

Ford S-MAX (2015 onwards) 2.0 TDCi (180bhp) Titanium 5d Powershift

750kg

2000kg (2.0t)

Ford S-MAX (2015 onwards) 2.0 TDCi (180bhp) Titanium Sport (X Pack) 5d

750kg

2000kg (2.0t)

Ford S-MAX (2015 onwards) 2.0 TDCi (180bhp) Titanium Sport (X Pack) 5d Powershift

750kg

2000kg (2.0t)

Ford S-MAX (2015 onwards) 2.0 TDCi (180bhp) Titanium Sport (X Pack) AWD 5d Powershift

750kg

2000kg (2.0t)

Ford S-MAX (2015 onwards) 2.0 TDCi (180bhp) Titanium Sport 5d

750kg

2000kg (2.0t)

Ford S-MAX (2015 onwards) 2.0 TDCi (180bhp) Titanium Sport 5d Powershift

750kg

2000kg (2.0t)

Ford S-MAX (2015 onwards) 2.0 TDCi (180bhp) Titanium Sport AWD 5d Powershift

750kg

2000kg (2.0t)

Ford S-MAX (2015 onwards) 2.0 TDCi (210bhp) Titanium Sport (X Pack) 5d Powershift

750kg

2000kg (2.0t)

Ford S-MAX (2015 onwards) 2.0 TDCi (210bhp) Titanium Sport 5d

750kg

2000kg (2.0t)

Ford S-MAX (2015 onwards) 2.0 TDCi (210bhp) Vignale 5d Powershift

750kg

2000kg (2.0t)

Ford S-MAX (2015 onwards) 2.0 TDCi AWD Vignale 5d Powershift

750kg

2000kg (2.0t)

Ford S-MAX (2015 onwards) 2.0 TDCi Vignale 5d

750kg

2000kg (2.0t)

Ford S-MAX (2015 onwards) 2.0 TDCi Vignale 5d Powershift

750kg

2000kg (2.0t)

Ford S-MAX (2015 onwards) 2.0 TDCi Zetec 5d

750kg

2000kg (2.0t)

Honda CR-V (2007 - 2012) 2.2 i-CTDi ES 5d

600kg

2000kg (2.0t)

Honda CR-V (2007 - 2012) 2.2 i-CTDi ES 5d (Sat Nav/HFT/Rear Camera)

600kg

2000kg (2.0t)

Honda CR-V (2007 - 2012) 2.2 i-CTDi EX 5d

600kg

2000kg (2.0t)

Honda CR-V (2007 - 2012) 2.2 i-CTDi EX 5d (ACC/CMBS/HID/AFS)

600kg

2000kg (2.0t)

Honda CR-V (2007 - 2012) 2.2 i-CTDi SE 5d

600kg

2000kg (2.0t)

Honda CR-V (2007 - 2012) 2.2 i-DTEC ES 5d

600kg

2000kg (2.0t)

Honda CR-V (2007 - 2012) 2.2 i-DTEC ES-T 5d

600kg

2000kg (2.0t)

Honda CR-V (2007 - 2012) 2.2 i-DTEC EX (Advanced Safety Pack) 5d

600kg

2000kg (2.0t)

Honda CR-V (2007 - 2012) 2.2 i-DTEC EX 5d

600kg

2000kg (2.0t)

Honda CR-V (2007 - 2012) 2.2 i-DTEC SE+ T 5d

600kg

2000kg (2.0t)

Honda CR-V (2012 onwards) 1.6 i-DTEC Black Edition 5d

600kg

2000kg (2.0t)

Honda CR-V (2012 onwards) 1.6 i-DTEC EX (DASP) 5d

600kg

2000kg (2.0t)

Honda CR-V (2012 onwards) 1.6 i-DTEC EX (Sensing) 5d

600kg

2000kg (2.0t)

Honda CR-V (2012 onwards) 1.6 i-DTEC EX 5d

600kg

2000kg (2.0t)

Honda CR-V (2012 onwards) 1.6 i-DTEC SE (Nav/DASP) 5d

600kg

2000kg (2.0t)

Honda CR-V (2012 onwards) 1.6 i-DTEC SE 5d

600kg

2000kg (2.0t)

Honda CR-V (2012 onwards) 1.6 i-DTEC SR (DASP) 5d

600kg

2000kg (2.0t)

Honda CR-V (2012 onwards) 1.6 i-DTEC SR 5d

600kg

2000kg (2.0t)

Honda CR-V (2012 onwards) 2.2 i-DTEC Black Edition 5d

600kg

2000kg (2.0t)

Honda CR-V (2012 onwards) 2.2 i-DTEC EX (ADAS) 5d

600kg

2000kg (2.0t)

Honda CR-V (2012 onwards) 2.2 i-DTEC EX 5d

600kg

2000kg (2.0t)

Honda CR-V (2012 onwards) 2.2 i-DTEC SE 5d

600kg

2000kg (2.0t)

Honda CR-V (2012 onwards) 2.2 i-DTEC SE-T 5d

600kg

2000kg (2.0t)

Honda CR-V (2012 onwards) 2.2 i-DTEC SR (Sat Nav) 5d

600kg

2000kg (2.0t)

Honda CR-V (2012 onwards) 2.2 i-DTEC SR (Sat Nav/ADAS) 5d

600kg

2000kg (2.0t)

Honda CR-V (2012 onwards) 2.2 i-DTEC SR 5d

600kg

2000kg (2.0t)

Honda CR-V (2012 onwards) 2.2 i-DTEC S-T 5d

600kg

2000kg (2.0t)

Honda CR-V (2012 onwards) 2.2 i-DTEC White Edition 5d

600kg

2000kg (2.0t)

Hyundai ix35 (2010 - 2015) 2.0 CRDi Premium (Ind Pack) 2WD 5d

750kg

2000kg (2.0t)

Hyundai ix35 (2010 - 2015) 2.0 CRDi Premium (Ind Pack) 5d

750kg

2000kg (2.0t)

Hyundai ix35 (2010 - 2015) 2.0 CRDi Premium (Ind/Media Pack) 2WD 5d

750kg

2000kg (2.0t)

Hyundai ix35 (2010 - 2015) 2.0 CRDi Premium (Ind/Media Pack) 5d

750kg

2000kg (2.0t)

Hyundai ix35 (2010 - 2015) 2.0 CRDi Premium (Leather) 5d

750kg

2000kg (2.0t)

Hyundai ix35 (2010 - 2015) 2.0 CRDi Premium (Media Pack) 2WD 5d

750kg

2000kg (2.0t)

Hyundai ix35 (2010 - 2015) 2.0 CRDi Premium (Media Pack) 5d

750kg

2000kg (2.0t)

Hyundai ix35 (2010 - 2015) 2.0 CRDi Premium 2WD 5d

750kg

2000kg (2.0t)

Hyundai ix35 (2010 - 2015) 2.0 CRDi Premium 5d

750kg

2000kg (2.0t)

Hyundai ix35 (2010 - 2015) 2.0 CRDi Premium Panorama 5d

750kg

2000kg (2.0t)

Hyundai ix35 (2010 - 2015) 2.0 CRDi SE 5d

750kg

2000kg (2.0t)

Hyundai ix35 (2010 - 2015) 2.0 CRDi SE Nav 5d

750kg

2000kg (2.0t)

Hyundai ix35 (2010 - 2015) 2.0 CRDi Style 2WD 5d

750kg

2000kg (2.0t)

Hyundai ix35 (2010 - 2015) 2.0 CRDi Style 5d

750kg

2000kg (2.0t)

Hyundai Santa Fe (2006 - 2012) 2.2 CRDi Premium (5 Seats) 5d Auto

750kg

2000kg (2.0t)

Hyundai Santa Fe (2006 - 2012) 2.2 CRDi Premium (7 Seats) 5d Auto

750kg

2000kg (2.0t)

Hyundai Santa Fe (2006 - 2012) 2.2 CRDi Premium (Media Pack) (5 Seats) 5d Auto

750kg

2000kg (2.0t)

Hyundai Santa Fe (2006 - 2012) 2.2 CRDi Style (5 Seats) 5d Auto

750kg

2000kg (2.0t)

Hyundai Santa Fe (2006 - 2012) 2.2 CRDi Style (7 Seats) 5d Auto

750kg

2000kg (2.0t)

Hyundai Santa Fe (2006 - 2012) 2.2 CRTD CDX 5d Auto (155ps) (5 Seats)

750kg

2000kg (2.0t)

Hyundai Santa Fe (2006 - 2012) 2.2 CRTD CDX 5d Auto (155ps) (7 Seats)

750kg

2000kg (2.0t)

Hyundai Santa Fe (2006 - 2012) 2.2 CRTD CDX 5d Auto (5 Seats)

750kg

2000kg (2.0t)

Hyundai Santa Fe (2006 - 2012) 2.2 CRTD CDX 5d Auto (7 Seats)

750kg

2000kg (2.0t)

Hyundai Santa Fe (2006 - 2012) 2.2 CRTD GSI 5d Auto (155ps) (5 Seats)

750kg

2000kg (2.0t)

Hyundai Santa Fe (2006 - 2012) 2.2 CRTD GSI 5d Auto (155ps) (7 Seats)

750kg

2000kg (2.0t)

Hyundai Santa Fe (2006 - 2012) 2.2 CRTD GSI 5d Auto (5 Seats)

750kg

2000kg (2.0t)

Hyundai Santa Fe (2006 - 2012) 2.2 CRTD GSI 5d Auto (7 Seats)

750kg

2000kg (2.0t)

Hyundai Santa Fe (2006 - 2012) 2.2 CRTD Limited 5d Auto (5 seats)

750kg

2000kg (2.0t)

Hyundai Santa Fe (2006 - 2012) 2.2 CRTD Limited 5d Auto (7 Seats)

750kg

2000kg (2.0t)

Hyundai Santa Fe (2006 - 2012) 2.7 V6 CDX 5d Auto (5 Seats)

750kg

2000kg (2.0t)

Hyundai Santa Fe (2006 - 2012) 2.7 V6 CDX 5d Auto (7 Seats)

750kg

2000kg (2.0t)

Hyundai Santa Fe (2012 onwards) 2.2 CRDi Blue Drive Premium (5 Seats) 5d Auto

750kg

2000kg (2.0t)

Hyundai Santa Fe (2012 onwards) 2.2 CRDi Blue Drive Premium (7 Seats) 5d Auto

750kg

2000kg (2.0t)

Hyundai Santa Fe (2012 onwards) 2.2 CRDi Blue Drive Premium SE (7 Seats) 5d Auto

750kg

2000kg (2.0t)

Hyundai Santa Fe (2012 onwards) 2.2 CRDi Premium (5 Seats) 5d Auto

750kg

2000kg (2.0t)

Hyundai Santa Fe (2012 onwards) 2.2 CRDi Premium (7 Seats) 5d Auto

750kg

2000kg (2.0t)

Hyundai Santa Fe (2012 onwards) 2.2 CRDi Premium SE (7 Seats) 5d Auto

750kg

2000kg (2.0t)

Hyundai Santa Fe (2012 onwards) 2.2 CRDi SE (5 Seats) 5d Auto

750kg

2000kg (2.0t)

Hyundai Santa Fe (2012 onwards) 2.2 CRDi SE (7 Seats) 5d Auto

750kg

2000kg (2.0t)

Hyundai Santa Fe (2012 onwards) 2.2 CRDi Style (5 Seats) 5d Auto

750kg

2000kg (2.0t)

Hyundai Santa Fe (2012 onwards) Team Wiggins Edition (7 Seat) 2.2 CRDi 200PS Blue Drive 4WD aut

750kg

2000kg (2.0t)

Infiniti M (2010 onwards) 3.0d 4d Auto

750kg

2000kg (2.0t)

Infiniti M (2010 onwards) 3.0d GT (Q70) 4d Auto

750kg

2000kg (2.0t)

Infiniti M (2010 onwards) 3.0d GT 4d Auto

750kg

2000kg (2.0t)

Infiniti M (2010 onwards) 3.0d GT Premium (Q70) 4d Auto

750kg

2000kg (2.0t)

Infiniti M (2010 onwards) 3.0d GT Premium 4d Auto

750kg

2000kg (2.0t)

Infiniti M (2010 onwards) 3.0d S (Q70) 4d Auto

750kg

2000kg (2.0t)

Infiniti M (2010 onwards) 3.0d S 4d Auto

750kg

2000kg (2.0t)

Infiniti M (2010 onwards) 3.0d S Premium (Q70) 4d Auto

750kg

2000kg (2.0t)

Infiniti M (2010 onwards) 3.0d S Premium 4d Auto

750kg

2000kg (2.0t)

Jaguar F-Pace (2016 onwards) 2.0d Portfolio 5d

750kg

2000kg (2.0t)

Jaguar F-Pace (2016 onwards) 2.0d Portfolio AWD 5d

750kg

2000kg (2.0t)

Jaguar F-Pace (2016 onwards) 2.0d Prestige 5d

750kg

2000kg (2.0t)

Jaguar F-Pace (2016 onwards) 2.0d Prestige AWD 5d

750kg

2000kg (2.0t)

Jaguar F-Pace (2016 onwards) 2.0d R-Sport 5d

750kg

2000kg (2.0t)

Jaguar F-Pace (2016 onwards) 2.0d R-Sport AWD 5d

750kg

2000kg (2.0t)

Jaguar XF Saloon (2015 onwards) 2.0d (180bhp) Portfolio 4d Auto

-

2000kg (2.0t)

Jaguar XF Saloon (2015 onwards) 2.0d (180bhp) Portfolio AWD 4d Auto

-

2000kg (2.0t)

Jaguar XF Saloon (2015 onwards) 2.0d (180bhp) R-Sport 4d Auto

-

2000kg (2.0t)

Jaguar XF Saloon (2015 onwards) 2.0d (180bhp) R-Sport AWD 4d Auto

-

2000kg (2.0t)

Jaguar XF Saloon (2015 onwards) 3.0 V6 Supercharged S 4d Auto

-

2000kg (2.0t)

Jaguar XF Saloon (2015 onwards) 3.0d V6 S 4d Auto

-

2000kg (2.0t)

Jeep Compass (2011 - 2015) 2.2 CRD 70th Anniversary 5d

450kg

2000kg (2.0t)

Jeep Compass (2011 - 2015) 2.2 CRD Limited 5d

450kg

2000kg (2.0t)

Jeep Patriot (2007 - 2011) 2.2 CRD Limited 5d

450kg

2000kg (2.0t)

Jeep Patriot (2007 - 2011) 2.2 CRD Overland 5d

450kg

2000kg (2.0t)

Jeep Patriot (2007 - 2011) 2.2 CRD Sport 5d

450kg

2000kg (2.0t)

Jeep Patriot (2007 - 2011) 2.2 CRD Sport Plus 5d

450kg

2000kg (2.0t)

Jeep Wrangler (2007 onwards) 2.8 CRD 75th Anniversary 4WD auto 4d

750kg

2000kg (2.0t)

Jeep Wrangler (2007 onwards) 2.8 CRD Overland 4d Auto

750kg

2000kg (2.0t)

Jeep Wrangler (2007 onwards) 2.8 CRD Sahara (2011) 4d Auto

750kg

2000kg (2.0t)

Jeep Wrangler (2007 onwards) 2.8 CRD Sahara 2d Auto

750kg

2000kg (2.0t)

Jeep Wrangler (2007 onwards) 2.8 CRD Sport 2d

750kg

2000kg (2.0t)

Jeep Wrangler (2007 onwards) 2.8 CRD Sport 2d Auto

750kg

2000kg (2.0t)

Jeep Wrangler (2007 onwards) 2.8 CRD Ultimate 2d Auto

750kg

2000kg (2.0t)

Jeep Wrangler (2007 onwards) 3.6 V6 75th Anniversary 4WD auto 4d

750kg

2000kg (2.0t)

Jeep Wrangler (2007 onwards) 3.6 V6 Overland 4d Auto

750kg

2000kg (2.0t)

Jeep Wrangler (2007 onwards) 3.6 V6 Rubicon 4d

750kg

2000kg (2.0t)

Jeep Wrangler (2007 onwards) 3.6 V6 Rubicon 4d Auto

750kg

2000kg (2.0t)

Jeep Wrangler (2007 onwards) 3.6 V6 Sahara 4d Auto

750kg

2000kg (2.0t)

Jeep Wrangler (2007 onwards) 3.8 V6 Rubicon (04/11-) 2d

750kg

2000kg (2.0t)

Jeep Wrangler (2007 onwards) 3.8 V6 Rubicon (04/11-) 2d Auto

750kg

2000kg (2.0t)

Jeep Wrangler (2007 onwards) 3.8 V6 Rubicon 2d

750kg

2000kg (2.0t)

Jeep Wrangler (2007 onwards) 3.8 V6 Rubicon 2d Auto

750kg

2000kg (2.0t)

Jeep Wrangler Hardtop (1993 - 2005) 4.0 Sahara 2d Auto (96)

-

2000kg (2.0t)

Jeep Wrangler Softtop (1996 - 2006) 4.0 60th Anniversary 2d

-

2000kg (2.0t)

Jeep Wrangler Softtop (1996 - 2006) 4.0 Extreme Sport 2d

-

2000kg (2.0t)

Jeep Wrangler Softtop (1996 - 2006) 4.0 Grizzly 2d

-

2000kg (2.0t)

Jeep Wrangler Softtop (1996 - 2006) 4.0 Sport TR2 2d

-

2000kg (2.0t)

Kia Sedona (1999 - 2006) 2.5 V6 Exec 5d (7 Seat)

570kg

2000kg (2.0t)

Kia Sedona (1999 - 2006) 2.5 V6 Exec 5d Auto (7 Seat)

570kg

2000kg (2.0t)

Kia Sedona (1999 - 2006) 2.5 V6 GSX 5d (7 Seat)

570kg

2000kg (2.0t)

Kia Sedona (1999 - 2006) 2.5 V6 GSX 5d Auto (7 Seat)

570kg

2000kg (2.0t)

Kia Sedona (1999 - 2006) 2.5 V6 L 5d (7 Seat)

570kg

2000kg (2.0t)

Kia Sedona (1999 - 2006) 2.5 V6 LX 5d (7 Seat)

570kg

2000kg (2.0t)

Kia Sedona (1999 - 2006) 2.5 V6 S 5d (7 Seat)

570kg

2000kg (2.0t)

Kia Sedona (1999 - 2006) 2.5 V6 S 5d Auto (7 Seat)

570kg

2000kg (2.0t)

Kia Sedona (1999 - 2006) 2.5 V6 SE 5d Auto (7 Seat)

570kg

2000kg (2.0t)

Kia Sedona (1999 - 2006) 2.5 V6 SX 5d (7 Seat)

570kg

2000kg (2.0t)

Kia Sedona (1999 - 2006) 2.5 V6 SX 5d Auto (7 Seat)

570kg

2000kg (2.0t)

Kia Sedona (1999 - 2006) 2.9 CRDi ES 5d

570kg

2000kg (2.0t)

Kia Sedona (1999 - 2006) 2.9 CRDi ES 5d Auto

570kg

2000kg (2.0t)

Kia Sedona (1999 - 2006) 2.9 CRDi L 5d (7 Seat)

570kg

2000kg (2.0t)

Kia Sedona (1999 - 2006) 2.9 CRDi L 5d Auto (7 Seat)

570kg

2000kg (2.0t)

Kia Sedona (1999 - 2006) 2.9 CRDi LE 5d

570kg

2000kg (2.0t)

Kia Sedona (1999 - 2006) 2.9 CRDi LE 5d Auto

570kg

2000kg (2.0t)

Kia Sedona (1999 - 2006) 2.9 CRDi LS 5d (7 Seat)

570kg

2000kg (2.0t)

Kia Sedona (1999 - 2006) 2.9 CRDi LS 5d Auto (7 Seat)

570kg

2000kg (2.0t)

Kia Sedona (1999 - 2006) 2.9 CRDi LX 5d (7 Seat)

570kg

2000kg (2.0t)

Kia Sedona (1999 - 2006) 2.9 CRDi LX 5d Auto (7 Seat)

570kg

2000kg (2.0t)

Kia Sedona (1999 - 2006) 2.9 CRDi SE 5d (7 Seat)

570kg

2000kg (2.0t)

Kia Sedona (1999 - 2006) 2.9 CRDi SE 5d Auto (7 Seat)

570kg

2000kg (2.0t)

Kia Sedona (1999 - 2006) 2.9 CRDi T-LE 5d

570kg

2000kg (2.0t)

Kia Sedona (1999 - 2006) 2.9 CRDi T-LE 5d Auto

570kg

2000kg (2.0t)

Kia Sedona (1999 - 2006) 2.9 TD Exec 5d (7 Seat)

570kg

2000kg (2.0t)

Kia Sedona (1999 - 2006) 2.9 TD Exec 5d Auto (7 Seat)

570kg

2000kg (2.0t)

Kia Sedona (1999 - 2006) 2.9 TD GSX 5d (7 Seat)

570kg

2000kg (2.0t)

Kia Sedona (1999 - 2006) 2.9 TD GSX 5d Auto (7 Seat)

570kg

2000kg (2.0t)

Kia Sedona (1999 - 2006) 2.9 TD S 5d (7 Seat)

570kg

2000kg (2.0t)

Kia Sedona (1999 - 2006) 2.9 TD S 5d Auto (7 Seat)

570kg

2000kg (2.0t)

Kia Sedona (1999 - 2006) 2.9 TD SX 5d (7 Seat)

570kg

2000kg (2.0t)

Kia Sedona (1999 - 2006) 2.9 TD SX 5d Auto (7 Seat)

570kg

2000kg (2.0t)

Kia Sedona (2006 - 2012) 2.2 CRDi 1 5d

750kg

2000kg (2.0t)

Kia Sedona (2006 - 2012) 2.2 CRDi 2 5d

750kg

2000kg (2.0t)

Kia Sedona (2006 - 2012) 2.2 CRDi 2 5d Auto

750kg

2000kg (2.0t)

Kia Sedona (2006 - 2012) 2.2 CRDi 3 5d

750kg

2000kg (2.0t)

Kia Sedona (2006 - 2012) 2.2 CRDi 3 5d Auto

750kg

2000kg (2.0t)

Kia Sedona (2006 - 2012) 2.7 V6 GS 5d

750kg

2000kg (2.0t)

Kia Sedona (2006 - 2012) 2.9 CRDi GS 5d

750kg

2000kg (2.0t)

Kia Sedona (2006 - 2012) 2.9 CRDi LS 5d

750kg

2000kg (2.0t)

Kia Sedona (2006 - 2012) 2.9 CRDi LS 5d Auto

750kg

2000kg (2.0t)

Kia Sedona (2006 - 2012) 2.9 CRDi TS 5d

750kg

2000kg (2.0t)

Kia Sedona (2006 - 2012) 2.9 CRDi TS 5d Auto

750kg

2000kg (2.0t)

Kia Sorento (2010 - 2014) 2.2 CRDi 1 2WD 5d Auto

750kg

2000kg (2.0t)

Kia Sorento (2010 - 2014) 2.2 CRDi Atlas 5d Auto

750kg

2000kg (2.0t)

Kia Sorento (2010 - 2014) 2.2 CRDi KX-1 5d Auto

750kg

2000kg (2.0t)

Kia Sorento (2010 - 2014) 2.2 CRDi KX-2 (10/12-) 5d Auto

750kg

2000kg (2.0t)

Kia Sorento (2010 - 2014) 2.2 CRDi KX-2 (Sat Nav) 5d Auto

750kg

2000kg (2.0t)

Kia Sorento (2010 - 2014) 2.2 CRDi KX-2 5d Auto

750kg

2000kg (2.0t)

Kia Sorento (2010 - 2014) 2.2 CRDi KX-3 (10/12-) 5d Auto

750kg

2000kg (2.0t)

Kia Sorento (2010 - 2014) 2.2 CRDi KX-3 (Sat Nav) 5d Auto

750kg

2000kg (2.0t)

Kia Sorento (2010 - 2014) 2.2 CRDi KX-3 5d Auto

750kg

2000kg (2.0t)

Kia Sorento (2010 - 2014) 2.2 CRDi KX-4 5d Auto

750kg

2000kg (2.0t)

Kia Sorento (2010 - 2014) 2.4 1 2WD 5d

750kg

2000kg (2.0t)

Kia Sorento (2015 onwards) 2.2 CRDi KX-2 5d Auto

750kg

2000kg (2.0t)

Kia Sorento (2015 onwards) 2.2 CRDi KX-3 5d Auto

750kg

2000kg (2.0t)

Kia Sorento (2015 onwards) 2.2 CRDi KX-4 5d Auto

750kg

2000kg (2.0t)

Kia Sportage (2010 - 2016) 2.0 CRDi First Edition 5d

750kg

2000kg (2.0t)

Kia Sportage (2010 - 2016) 2.0 CRDi KX-1 5d

750kg

2000kg (2.0t)

Kia Sportage (2010 - 2016) 2.0 CRDi KX-2 5d

750kg

2000kg (2.0t)

Kia Sportage (2010 - 2016) 2.0 CRDi KX-3 (Sat Nav) 5d

750kg

2000kg (2.0t)

Land Rover Discovery Sport (2015 onwards) 2.0 TD4 (180bhp) HSE 5d

750kg

2000kg (2.0t)

Land Rover Discovery Sport (2015 onwards) 2.0 TD4 (180bhp) HSE Luxury 5d

750kg

2000kg (2.0t)

Land Rover Discovery Sport (2015 onwards) 2.0 TD4 (180bhp) SE 5d

750kg

2000kg (2.0t)

Land Rover Discovery Sport (2015 onwards) 2.0 TD4 HSE (5 Seat) 5d

750kg

2000kg (2.0t)

Land Rover Discovery Sport (2015 onwards) 2.0 TD4 SE (5 Seat) 5d

750kg

2000kg (2.0t)

Land Rover Discovery Sport (2015 onwards) 2.0 TD4 SE Tech (5 Seat) 5d

750kg

2000kg (2.0t)

Land Rover Discovery Sport (2015 onwards) 2.2 SD4 HSE 5d

750kg

2000kg (2.0t)

Land Rover Discovery Sport (2015 onwards) 2.2 SD4 HSE Luxury 5d

750kg

2000kg (2.0t)

Land Rover Discovery Sport (2015 onwards) 2.2 SD4 SE 5d

750kg

2000kg (2.0t)

Land Rover Discovery Sport (2015 onwards) 2.2 SD4 SE Tech 5d

750kg

2000kg (2.0t)

Land Rover Freelander (2006 - 2014) 2.2 eD4 Black and White 2WD 5d

750kg

2000kg (2.0t)

Land Rover Freelander (2006 - 2014) 2.2 eD4 Dynamic 2WD 5d

750kg

2000kg (2.0t)

Land Rover Freelander (2006 - 2014) 2.2 eD4 GS 2WD 5d

750kg

2000kg (2.0t)

Land Rover Freelander (2006 - 2014) 2.2 eD4 HSE 2WD 5d

750kg

2000kg (2.0t)

Land Rover Freelander (2006 - 2014) 2.2 eD4 HSE LUX 2WD 5d

750kg

2000kg (2.0t)

Land Rover Freelander (2006 - 2014) 2.2 eD4 S 2WD 5d

750kg

2000kg (2.0t)

Land Rover Freelander (2006 - 2014) 2.2 eD4 XS 2WD 5d

750kg

2000kg (2.0t)

Land Rover Freelander (2006 - 2014) 2.2 SD4 Dynamic 5d Auto

750kg

2000kg (2.0t)

Land Rover Freelander (2006 - 2014) 2.2 SD4 GS (2010) 5d Auto

750kg

2000kg (2.0t)

Land Rover Freelander (2006 - 2014) 2.2 SD4 HSE 5d Auto

750kg

2000kg (2.0t)

Land Rover Freelander (2006 - 2014) 2.2 SD4 HSE LUX 5d Auto

750kg

2000kg (2.0t)

Land Rover Freelander (2006 - 2014) 2.2 SD4 Metropolis 5d Auto

750kg

2000kg (2.0t)

Land Rover Freelander (2006 - 2014) 2.2 SD4 SE 5d Auto

750kg

2000kg (2.0t)

Land Rover Freelander (2006 - 2014) 2.2 SD4 SE Tech 5d Auto

750kg

2000kg (2.0t)

Land Rover Freelander (2006 - 2014) 2.2 SD4 Sport LE 5d Auto

750kg

2000kg (2.0t)

Land Rover Freelander (2006 - 2014) 2.2 SD4 XS 5d Auto

750kg

2000kg (2.0t)

Land Rover Freelander (2006 - 2014) 2.2 TD4 Black and White 5d Auto

750kg

2000kg (2.0t)

Land Rover Freelander (2006 - 2014) 2.2 TD4 Dynamic 5d

750kg

2000kg (2.0t)

Land Rover Freelander (2006 - 2014) 2.2 TD4 Dynamic 5d Auto

750kg

2000kg (2.0t)

Land Rover Freelander (2006 - 2014) 2.2 Td4 e Aspen LE 5d

750kg

2000kg (2.0t)

Land Rover Freelander (2006 - 2014) 2.2 Td4 e Black SE 5d

750kg

2000kg (2.0t)

Land Rover Freelander (2006 - 2014) 2.2 Td4 e GS 5d

750kg

2000kg (2.0t)

Land Rover Freelander (2006 - 2014) 2.2 Td4 e HSE 5d

750kg

2000kg (2.0t)

Land Rover Freelander (2006 - 2014) 2.2 Td4 e S 5d

750kg

2000kg (2.0t)

Land Rover Freelander (2006 - 2014) 2.2 Td4 e Sport LE (Body Styling Kit) 5d

750kg

2000kg (2.0t)

Land Rover Freelander (2006 - 2014) 2.2 Td4 e Sport LE 5d

750kg

2000kg (2.0t)

Land Rover Freelander (2006 - 2014) 2.2 TD4 GS (2010) 5d

750kg

2000kg (2.0t)

Land Rover Freelander (2006 - 2014) 2.2 TD4 GS (2010) 5d Auto

750kg

2000kg (2.0t)

Land Rover Freelander (2006 - 2014) 2.2 Td4 GS 5d

750kg

2000kg (2.0t)

Land Rover Freelander (2006 - 2014) 2.2 TD4 HSE (2010) 5d

750kg

2000kg (2.0t)

Land Rover Freelander (2006 - 2014) 2.2 TD4 HSE (2010) 5d Auto

750kg

2000kg (2.0t)

Land Rover Freelander (2006 - 2014) 2.2 Td4 HSE 5d

750kg

2000kg (2.0t)

Land Rover Freelander (2006 - 2014) 2.2 TD4 HSE LUX 5d

750kg

2000kg (2.0t)

Land Rover Freelander (2006 - 2014) 2.2 TD4 HSE LUX 5d Auto

750kg

2000kg (2.0t)

Land Rover Freelander (2006 - 2014) 2.2 Td4 HST 5d

750kg

2000kg (2.0t)

Land Rover Freelander (2006 - 2014) 2.2 TD4 S (2010) 5d

750kg

2000kg (2.0t)

Land Rover Freelander (2006 - 2014) 2.2 TD4 S (2010) 5d Auto

750kg

2000kg (2.0t)

Land Rover Freelander (2006 - 2014) 2.2 Td4 S 5d

750kg

2000kg (2.0t)

Land Rover Freelander (2006 - 2014) 2.2 TD4 SE (06/14-) 5d

750kg

2000kg (2.0t)

Land Rover Freelander (2006 - 2014) 2.2 Td4 SE 5d

750kg

2000kg (2.0t)

Land Rover Freelander (2006 - 2014) 2.2 TD4 SE Tech 5d

750kg

2000kg (2.0t)

Land Rover Freelander (2006 - 2014) 2.2 TD4 XS (2010) 5d

750kg

2000kg (2.0t)

Land Rover Freelander (2006 - 2014) 2.2 TD4 XS (2010) 5d Auto

750kg

2000kg (2.0t)

Land Rover Freelander (2006 - 2014) 2.2 Td4 XS 5d

750kg

2000kg (2.0t)

Land Rover Freelander (2006 - 2014) 3.2 i6 HSE 5d Auto

750kg

2000kg (2.0t)

Land Rover Freelander (2006 - 2014) 3.2 i6 HST 5d Auto

750kg

2000kg (2.0t)

Land Rover Freelander (2006 - 2014) 3.2 i6 SE 5d Auto

750kg

2000kg (2.0t)

Land Rover Freelander (2006 - 2014) 3.2 i6 XS 5d Auto

750kg

2000kg (2.0t)

Land Rover Freelander Hardback (1997 - 2003) 1.8 ES 3d

750kg

2000kg (2.0t)

Land Rover Freelander Hardback (1997 - 2003) 1.8 GS 3d

750kg

2000kg (2.0t)

Land Rover Freelander Hardback (1997 - 2003) 1.8 Kalahari 3d

750kg

2000kg (2.0t)

Land Rover Freelander Hardback (1997 - 2003) 1.8 Maasai 3d

750kg

2000kg (2.0t)

Land Rover Freelander Hardback (1997 - 2003) 1.8 Maasai Mara 3d

750kg

2000kg (2.0t)

Land Rover Freelander Hardback (1997 - 2003) 1.8 S 3d

750kg

2000kg (2.0t)

Land Rover Freelander Hardback (1997 - 2003) 1.8 Xei 3d

750kg

2000kg (2.0t)

Land Rover Freelander Hardback (1997 - 2003) 1.8 Xi 3d

750kg

2000kg (2.0t)

Land Rover Freelander Hardback (1997 - 2003) 1.8 Xi Millennium LE 3d

750kg

2000kg (2.0t)

Land Rover Freelander Hardback (1997 - 2003) 1.8i 3d

750kg

2000kg (2.0t)

Land Rover Freelander Hardback (1997 - 2003) 1.8i Serengeti 3d (00)

750kg

2000kg (2.0t)

Land Rover Freelander Hardback (1997 - 2003) 1.8i Serengeti 3d (02)

750kg

2000kg (2.0t)

Land Rover Freelander Hardback (1997 - 2003) 2.0 Di 3d

750kg

2000kg (2.0t)

Land Rover Freelander Hardback (1997 - 2003) 2.0 Xdi 3d

750kg

2000kg (2.0t)

Land Rover Freelander Hardback (1997 - 2003) 2.0 XE Di 3d

750kg

2000kg (2.0t)

Land Rover Freelander Softback (1997 - 2003) 1.8 ES 3d

750kg

2000kg (2.0t)

Land Rover Freelander Softback (1997 - 2003) 1.8 Kalahari 3d

750kg

2000kg (2.0t)

Land Rover Freelander Softback (1997 - 2003) 1.8 Maasai 3d

750kg

2000kg (2.0t)

Land Rover Freelander Softback (1997 - 2003) 1.8 Maasai Mara 3d

750kg

2000kg (2.0t)

Land Rover Freelander Softback (1997 - 2003) 1.8 S 3d

750kg

2000kg (2.0t)

Land Rover Freelander Softback (1997 - 2003) 1.8 Xei 3d

750kg

2000kg (2.0t)

Land Rover Freelander Softback (1997 - 2003) 1.8 Xi 3d

750kg

2000kg (2.0t)

Land Rover Freelander Softback (1997 - 2003) 1.8i 3d

750kg

2000kg (2.0t)

Land Rover Freelander Softback (1997 - 2003) 1.8i Anniversary 50 3d

750kg

2000kg (2.0t)

Land Rover Freelander Softback (1997 - 2003) 2.0 Di 3d

750kg

2000kg (2.0t)

Land Rover Freelander Softback (1997 - 2003) 2.0 Xdi 3d

750kg

2000kg (2.0t)

Land Rover Freelander Softback (1997 - 2003) 2.0 XE Di 3d

750kg

2000kg (2.0t)

Land Rover Freelander Station Wagon (1997 - 2003) 1.8 ES 5d

750kg

2000kg (2.0t)

Land Rover Freelander Station Wagon (1997 - 2003) 1.8 ESX 5d

750kg

2000kg (2.0t)

Land Rover Freelander Station Wagon (1997 - 2003) 1.8 Kalahari 5d

750kg

2000kg (2.0t)

Land Rover Freelander Station Wagon (1997 - 2003) 1.8 Maasai 5d

750kg

2000kg (2.0t)

Land Rover Freelander Station Wagon (1997 - 2003) 1.8 Maasai Mara 5d

750kg

2000kg (2.0t)

Land Rover Freelander Station Wagon (1997 - 2003) 1.8 S 5d

750kg

2000kg (2.0t)

Land Rover Freelander Station Wagon (1997 - 2003) 1.8 Xei 5d

750kg

2000kg (2.0t)

Land Rover Freelander Station Wagon (1997 - 2003) 1.8 XEi Anniversary 50 5d

750kg

2000kg (2.0t)

Land Rover Freelander Station Wagon (1997 - 2003) 1.8 Xi 5d

750kg

2000kg (2.0t)

Land Rover Freelander Station Wagon (1997 - 2003) 1.8 Xi Millennium LE 5d

750kg

2000kg (2.0t)

Land Rover Freelander Station Wagon (1997 - 2003) 1.8i 5d

750kg

2000kg (2.0t)

Land Rover Freelander Station Wagon (1997 - 2003) 1.8i Serengeti 5d (00)

750kg

2000kg (2.0t)

Land Rover Freelander Station Wagon (1997 - 2003) 1.8i Serengeti 5d (02)

750kg

2000kg (2.0t)

Land Rover Freelander Station Wagon (1997 - 2003) 2.0 Di 5d

750kg

2000kg (2.0t)

Land Rover Freelander Station Wagon (1997 - 2003) 2.0 Xdi 5d

750kg

2000kg (2.0t)

Land Rover Freelander Station Wagon (1997 - 2003) 2.0 Xdi Millennium LE 5d

750kg

2000kg (2.0t)

Land Rover Freelander Station Wagon (1997 - 2003) 2.0 XE Di 5d

750kg

2000kg (2.0t)

Land Rover Freelander Station Wagon (1997 - 2003) 2.0 XE Di Anniversary 50 5d

750kg

2000kg (2.0t)

Lexus GS (1993 - 2004) 3.0 4d Auto (00)

750kg

2000kg (2.0t)

Lexus GS (1993 - 2004) 3.0 4d Auto (93)

750kg

2000kg (2.0t)

Lexus GS (1993 - 2004) 3.0 4d Auto (Navigator)

750kg

2000kg (2.0t)

Lexus GS (1993 - 2004) 3.0 S 4d Auto

750kg

2000kg (2.0t)

Lexus GS (1993 - 2004) 3.0 S 4d Auto (Navigator)

750kg

2000kg (2.0t)

Lexus GS (1993 - 2004) 3.0 SE 4d Auto (98)

750kg

2000kg (2.0t)

Lexus GS (1993 - 2004) 3.0 SE 4d Auto (Levinson)

750kg

2000kg (2.0t)

Lexus GS (1993 - 2004) 3.0 SE 4d Auto (Navigator)

750kg

2000kg (2.0t)

Lexus GS (1993 - 2004) 3.0 SE 4d Auto (Navigator/Levinson)

750kg

2000kg (2.0t)

Lexus GS (1993 - 2004) 3.0 Sport 4d Auto (03)

750kg

2000kg (2.0t)

Lexus GS (1993 - 2004) 3.0 Sport 4d Auto (99)

750kg

2000kg (2.0t)

Lexus GS (1993 - 2004) 3.0 Sport 4d Auto (Aerofoil)

750kg

2000kg (2.0t)

Lexus GS (1993 - 2004) 3.0 Sport 4d Auto (Aerofoil+Navigator)

750kg

2000kg (2.0t)

Lexus GS (1993 - 2004) 3.0 Sport 4d Auto (Levinson)

750kg

2000kg (2.0t)

Lexus GS (1993 - 2004) 3.0 Sport 4d Auto (Navigator) (00)

750kg

2000kg (2.0t)

Lexus GS (1993 - 2004) 3.0 Sport 4d Auto (Navigator/Levinson)

750kg

2000kg (2.0t)

Lexus GS (1993 - 2004) 4.3 SE 4d Auto (Navigator)

750kg

2000kg (2.0t)

Lexus GS (1993 - 2004) 4.3 SE 4d Auto (Navigator/Levinson)

750kg

2000kg (2.0t)

Lexus GS (1993 - 2004) 4.3 Sport 4d Auto

750kg

2000kg (2.0t)

Lexus GS (1993 - 2004) 4.3 Sport 4d Auto (Navigator)

750kg

2000kg (2.0t)

Lexus GS (1993 - 2004) 4.3 Sport 4d Auto (Navigator/Levinson)

750kg

2000kg (2.0t)

Lexus GS (2005 - 2011) 3.0 4d Auto

750kg

2000kg (2.0t)

Lexus GS (2005 - 2011) 3.0 SE 4d Auto

750kg

2000kg (2.0t)

Lexus GS (2005 - 2011) 3.0 SE 4d Auto (Sunroof)

750kg

2000kg (2.0t)

Lexus GS (2005 - 2011) 3.0 SE-L 4d Auto (ACC/PCS)

750kg

2000kg (2.0t)

Lexus GS (2005 - 2011) 300 3.0 2008 4d Auto

750kg

2000kg (2.0t)

Lexus GS (2005 - 2011) 300 3.0 Limited Edition 4d Auto

-

2000kg (2.0t)

Lexus GS (2005 - 2011) 300 3.0 SE 2008 4d Auto

750kg

2000kg (2.0t)

Lexus GS (2005 - 2011) 300 3.0 SE 2008 4d Auto (Sunroof)

750kg

2000kg (2.0t)

Lexus GS (2005 - 2011) 300 3.0 SE 4d Auto (Multimedia Pack)

750kg

2000kg (2.0t)

Lexus GS (2005 - 2011) 300 3.0 SE 4d Auto (Sunroof+Multimedia Pack)

750kg

2000kg (2.0t)

Lexus GS (2005 - 2011) 300 3.0 SE-L 2008 4d Auto

750kg

2000kg (2.0t)

Lexus GS (2005 - 2011) 300 3.0 SE-L 2008 4d Auto (ACC/PCS + Sunroof)

750kg

2000kg (2.0t)

Lexus GS (2005 - 2011) 300 3.0 SE-L 4d Auto (ACC/PCS+Multimedia Pack)

750kg

2000kg (2.0t)

Lexus GS (2005 - 2011) 300 3.0 SE-L 4d Auto (Multimedia Pack)

750kg

2000kg (2.0t)

Lexus GS (2005 - 2011) 4.3 4d Auto

750kg

2000kg (2.0t)

Lexus GS (2005 - 2011) 430 4.3 4dr 4d Auto (Multimedia Pack)

750kg

2000kg (2.0t)

Lexus GS (2005 - 2011) 450h 3.5 2008 4d CVT Auto (Leather)

750kg

2000kg (2.0t)

Lexus GS (2005 - 2011) 450h 3.5 4d CVT Auto

750kg

2000kg (2.0t)

Lexus GS (2005 - 2011) 450h 3.5 4d CVT Auto (Leather Pack)

750kg

2000kg (2.0t)

Lexus GS (2005 - 2011) 450h 3.5 SE (2010) 4d CVT Auto

750kg

2000kg (2.0t)

Lexus GS (2005 - 2011) 450h 3.5 SE 2008 4d CVT Auto

750kg

2000kg (2.0t)

Lexus GS (2005 - 2011) 450h 3.5 SE 2008 4d CVT Auto (Sunroof)

750kg

2000kg (2.0t)

Lexus GS (2005 - 2011) 450h 3.5 SE 4d CVT Auto

750kg

2000kg (2.0t)

Lexus GS (2005 - 2011) 450h 3.5 SE 4d CVT Auto (Sunroof)

750kg

2000kg (2.0t)

Lexus GS (2005 - 2011) 450h 3.5 SE-L 2008 4d CVT Auto

750kg

2000kg (2.0t)

Lexus GS (2005 - 2011) 450h 3.5 SE-L 2008 4d CVT Auto (ACC/PCS+Sunroof)

750kg

2000kg (2.0t)

Lexus GS (2005 - 2011) 450h 3.5 SE-L 4d CVT Auto

750kg

2000kg (2.0t)

Lexus GS (2005 - 2011) 450h 3.5 Sport 2008 CVT 4d Auto

750kg

2000kg (2.0t)

Lexus GS (2005 - 2011) 460 4.6 2008 4d Auto

750kg

2000kg (2.0t)

Lexus LS (1990 - 2000) 4.0 V8 4d Auto (95)

750kg

2000kg (2.0t)

Lexus LS (2000 - 2006) 4.3 V8 4d Auto (02)

750kg

2000kg (2.0t)

Lexus LS (2000 - 2006) 4.3 V8 4d Auto (03)

750kg

2000kg (2.0t)

Lexus LS (2000 - 2006) 4.3 V8 4d Auto (ACC/PCS)

750kg

2000kg (2.0t)

Lexus LS (2007 onwards) 460 4.6 V8 4d Auto

750kg

2000kg (2.0t)

Lexus LS (2007 onwards) 460 SE-L 4.6 V8 4d Auto

750kg

2000kg (2.0t)

Lexus RX (2003 - 2009) 3.0 5d Auto

700kg

2000kg (2.0t)

Lexus RX (2003 - 2009) 3.0 5d Auto (ICE)

700kg

2000kg (2.0t)

Lexus RX (2003 - 2009) 3.0 LE 5d Auto

700kg

2000kg (2.0t)

Lexus RX (2003 - 2009) 3.0 LE 5d Auto (ICE)

700kg

2000kg (2.0t)

Lexus RX (2003 - 2009) 3.0 LE 5d Auto (ICE) (Navigator)

700kg

2000kg (2.0t)

Lexus RX (2003 - 2009) 3.0 LE 5d Auto (Navigator)

700kg

2000kg (2.0t)

Lexus RX (2003 - 2009) 3.0 SE 5d Auto

700kg

2000kg (2.0t)

Lexus RX (2003 - 2009) 3.0 SE 5d Auto (ICE)

700kg

2000kg (2.0t)

Lexus RX (2003 - 2009) 3.0 SE 5d Auto (Navigator + ICE)

700kg

2000kg (2.0t)

Lexus RX (2003 - 2009) 3.0 SE 5d Auto (Navigator)

700kg

2000kg (2.0t)

Lexus RX (2003 - 2009) 3.0 SE-L 5d Auto

700kg

2000kg (2.0t)

Lexus RX (2003 - 2009) 3.0 SE-L 5d Auto (ICE)

700kg

2000kg (2.0t)

Lexus RX (2003 - 2009) 3.0 SE-L 5d Auto (Wood Finish + ICE)

700kg

2000kg (2.0t)

Lexus RX (2003 - 2009) 3.0 SE-L 5d Auto (Wood Finish)

700kg

2000kg (2.0t)

Lexus RX (2003 - 2009) 350 3.5 5d Auto

700kg

2000kg (2.0t)

Lexus RX (2003 - 2009) 350 3.5 5d Auto (ICE)

700kg

2000kg (2.0t)

Lexus RX (2003 - 2009) 350 3.5 LE 5d Auto

700kg

2000kg (2.0t)

Lexus RX (2003 - 2009) 350 3.5 LE 5d Auto (Multimedia)

700kg

2000kg (2.0t)

Lexus RX (2003 - 2009) 350 3.5 SE 5d Auto

700kg

2000kg (2.0t)

Lexus RX (2003 - 2009) 350 3.5 SE 5d Auto (ICE)

700kg

2000kg (2.0t)

Lexus RX (2003 - 2009) 350 3.5 SE 5d Auto (Multimedia + ICE)

700kg

2000kg (2.0t)

Lexus RX (2003 - 2009) 350 3.5 SE 5d Auto (Multimedia)

700kg

2000kg (2.0t)

Lexus RX (2003 - 2009) 350 3.5 SE 5d Auto (Navigator + ICE)

700kg

2000kg (2.0t)

Lexus RX (2003 - 2009) 350 3.5 SE 5d Auto (Navigator)

700kg

2000kg (2.0t)

Lexus RX (2003 - 2009) 350 3.5 SE-L 5d Auto

700kg

2000kg (2.0t)

Lexus RX (2003 - 2009) 400h 3.3 Executive Limited Edition CVT 5d Auto

700kg

2000kg (2.0t)

Lexus RX (2003 - 2009) 400h 3.3 Limited Edition CVT 5d Auto

700kg

2000kg (2.0t)

Lexus RX (2003 - 2009) 400h 3.3 SE 5d CVT Auto (Multimedia)

700kg

2000kg (2.0t)

Lexus RX (2003 - 2009) 400h 5d CVT Auto (ICE)

700kg

2000kg (2.0t)

Lexus RX (2003 - 2009) 400h SE 5d CVT Auto

700kg

2000kg (2.0t)

Lexus RX (2003 - 2009) 400h SE 5d CVT Auto (ICE)

700kg

2000kg (2.0t)

Lexus RX (2003 - 2009) 400h SE 5d CVT Auto (ICE) (Navigator)

700kg

2000kg (2.0t)

Lexus RX (2003 - 2009) 400h SE 5d CVT Auto (Navigator)

700kg

2000kg (2.0t)

Lexus RX (2003 - 2009) 400h SE-L 5d CVT Auto

700kg

2000kg (2.0t)

Lexus RX (2009 - 2015) 450h 3.5 Advance (Pan roof) 5d CVT Auto

750kg

2000kg (2.0t)

Lexus RX (2009 - 2015) 450h 3.5 Advance (Sunroof) (11/13-) 5d CVT Auto

750kg

2000kg (2.0t)

Lexus RX (2009 - 2015) 450h 3.5 Advance (Sunroof) 5d CVT Auto

750kg

2000kg (2.0t)

Lexus RX (2009 - 2015) 450h 3.5 Advance [Panoramic roof] 5d CVT Auto

750kg

2000kg (2.0t)

Lexus RX (2009 - 2015) 450h 3.5 F-Sport (ACC/PCS + Sunroof) 5d CVT Auto

750kg

2000kg (2.0t)

Lexus RX (2009 - 2015) 450h 3.5 F-Sport (ACC/PCS) 5d CVT Auto

750kg

2000kg (2.0t)

Lexus RX (2009 - 2015) 450h 3.5 F-Sport (Pan roof + ACC/PCS) 5d CVT Auto

750kg

2000kg (2.0t)

Lexus RX (2009 - 2015) 450h 3.5 F-Sport (Pan roof) 5d CVT Auto

750kg

2000kg (2.0t)

Lexus RX (2009 - 2015) 450h 3.5 F-Sport (Prem Aud + ACC/PCS) 5d CVT Auto

750kg

2000kg (2.0t)

Lexus RX (2009 - 2015) 450h 3.5 F-Sport (Prem Aud+ Pan roof) 5d CVT Auto

750kg

2000kg (2.0t)

Lexus RX (2009 - 2015) 450h 3.5 F-Sport (Prem+Pn rf+ACC/PCS) 5d CVT Auto

750kg

2000kg (2.0t)

Lexus RX (2009 - 2015) 450h 3.5 F-Sport (Premium Audio) 5d CVT Auto

750kg

2000kg (2.0t)

Lexus RX (2009 - 2015) 450h 3.5 F-Sport (PrmAud+ACC/PCS+Snr) 5d CVT Auto

750kg

2000kg (2.0t)

Lexus RX (2009 - 2015) 450h 3.5 F-Sport (Sun roof) 5d CVT Auto

750kg

2000kg (2.0t)

Lexus RX (2009 - 2015) 450h 3.5 F-Sport 5d CVT Auto

750kg

2000kg (2.0t)

Lexus RX (2009 - 2015) 450h 3.5 Luxury (Pan roof) 5d CVT Auto

750kg

2000kg (2.0t)

Lexus RX (2009 - 2015) 450h 3.5 Luxury 5d CVT Auto

750kg

2000kg (2.0t)

Lexus RX (2009 - 2015) 450h 3.5 Premier (ACC/PCS) 5d CVT Auto

750kg

2000kg (2.0t)

Lexus RX (2009 - 2015) 450h 3.5 Premier 5d CVT Auto

750kg

2000kg (2.0t)

Lexus RX (2009 - 2015) 450h 3.5 SE (2012-) 5d CVT Auto

750kg

2000kg (2.0t)

Lexus RX (2009 - 2015) 450h 3.5 SE 5d CVT Auto

750kg

2000kg (2.0t)

Lexus RX (2009 - 2015) 450h 3.5 SE Navi 5d CVT Auto

750kg

2000kg (2.0t)

Lexus RX (2009 - 2015) 450h 3.5 SE-I (Pan rf) 5d CVT Auto

750kg

2000kg (2.0t)

Lexus RX (2009 - 2015) 450h 3.5 SE-I 5d CVT Auto

750kg

2000kg (2.0t)

Lexus RX (2009 - 2015) 450h 3.5 SE-L Premier 5d CVT Auto

750kg

2000kg (2.0t)

Lexus RX SUV (2016 onwards) 450h 3.5 F-Sport (Pan roof) 5d CVT Auto

750kg

2000kg (2.0t)

Lexus RX SUV (2016 onwards) 450h 3.5 F-Sport (Prem Audio+Pan Rf) 5d CVT Auto

750kg

2000kg (2.0t)

Lexus RX SUV (2016 onwards) 450h 3.5 F-Sport (Premium Audio) 5d CVT Auto

750kg

2000kg (2.0t)

Lexus RX SUV (2016 onwards) 450h 3.5 F-Sport 5d CVT Auto

750kg

2000kg (2.0t)

Lexus RX SUV (2016 onwards) 450h 3.5 Luxury (Pan roof) 5d CVT Auto

750kg

2000kg (2.0t)

Lexus RX SUV (2016 onwards) 450h 3.5 Luxury 5d CVT Auto

750kg

2000kg (2.0t)

Lexus RX SUV (2016 onwards) 450h 3.5 Premier (Pan roof) 5d CVT Auto

750kg

2000kg (2.0t)

Lexus RX SUV (2016 onwards) 450h 3.5 Premier (Sunroof) 5d CVT Auto

750kg

2000kg (2.0t)

Lexus RX SUV (2016 onwards) 450h F Sport (Premier Pack and Panoramic Roof) E-CVT auto 5d

750kg

2000kg (2.0t)

Lexus RX SUV (2016 onwards) 450h F Sport (Premier Pack and Sunroof) E-CVT auto 5d

750kg

2000kg (2.0t)

Mazda CX-5 (2012 onwards) 2.2d (175bhp) Sport AWD 5d

750kg

2000kg (2.0t)

Mazda CX-5 (2012 onwards) 2.2d (175bhp) Sport AWD 5d Auto

750kg

2000kg (2.0t)

Mazda CX-5 (2012 onwards) 2.2d (175bhp) Sport Nav AWD 5d

750kg

2000kg (2.0t)

Mazda CX-5 (2012 onwards) 2.2d (175bhp) Sport Nav AWD 5d Auto

750kg

2000kg (2.0t)

Mazda CX-5 (2012 onwards) 2.2d SE-L 5d

740kg

2000kg (2.0t)

Mazda CX-5 (2012 onwards) 2.2d SE-L 5d Auto

750kg

2000kg (2.0t)

Mazda CX-5 (2012 onwards) 2.2d SE-L AWD 5d

750kg

2000kg (2.0t)

Mazda CX-5 (2012 onwards) 2.2d SE-L AWD 5d Auto

750kg

2000kg (2.0t)

Mazda CX-5 (2012 onwards) 2.2d SE-L Lux 5d

740kg

2000kg (2.0t)

Mazda CX-5 (2012 onwards) 2.2d SE-L Lux Nav 5d

740kg

2000kg (2.0t)

Mazda CX-5 (2012 onwards) 2.2d SE-L Nav 5d

740kg

2000kg (2.0t)

Mazda CX-5 (2012 onwards) 2.2d SE-L Nav 5d Auto

750kg

2000kg (2.0t)

Mazda CX-5 (2012 onwards) 2.2d SE-L Nav AWD 5d

750kg

2000kg (2.0t)

Mazda CX-5 (2012 onwards) 2.2d SE-L Nav AWD 5d Auto

750kg

2000kg (2.0t)

Mazda CX-5 (2012 onwards) 2.2d Sport 5d

740kg

2000kg (2.0t)

Mazda CX-5 (2012 onwards) 2.2d Sport Nav 5d

740kg

2000kg (2.0t)

Mercedes Benz E-Class Estate (2010 - 2016) E220 BlueTEC AMG Line 5d Tip Auto

750kg

2000kg (2.0t)

Mercedes Benz E-Class Estate (2010 - 2016) E220 BlueTEC AMG Line Premium 5d Tip Auto

750kg

2000kg (2.0t)

Mercedes Benz E-Class Estate (2010 - 2016) E220 BlueTEC AMG Line Premium Plus 5d Tip Auto

750kg

2000kg (2.0t)

Mercedes Benz E-Class Estate (2010 - 2016) E220 CDI AMG Sport 5d Tip Auto

750kg

2000kg (2.0t)

Mercedes Benz E-Class Estate (2010 - 2016) E220 CDI SE 5d Tip Auto

750kg

2000kg (2.0t)

Mercedes Benz E-Class Saloon (2009 - 2016) E220 BlueTEC AMG Line 4d Tip Auto

750kg

2000kg (2.0t)

Mercedes Benz E-Class Saloon (2009 - 2016) E220 BlueTEC AMG Line Premium 4d Tip Auto

750kg

2000kg (2.0t)

Mercedes Benz E-Class Saloon (2009 - 2016) E220 BlueTEC AMG Line Premium Plus 4d Tip Auto

750kg

2000kg (2.0t)

Mercedes Benz E-Class Saloon (2009 - 2016) E220 BlueTEC AMG Night Ed Prem Plus 4d 7G-Tronic

750kg

2000kg (2.0t)

Mercedes Benz E-Class Saloon (2009 - 2016) E220 BlueTEC AMG Night Ed Premium 4d 7G-Tronic

750kg

2000kg (2.0t)

Mercedes Benz E-Class Saloon (2009 - 2016) E220 BlueTEC AMG Night Edition 4d 7G-Tronic

750kg

2000kg (2.0t)

Mercedes Benz E-Class Saloon (2009 - 2016) E220 BlueTEC SE 4d Tip Auto

750kg

2000kg (2.0t)

Mercedes Benz E-Class Saloon (2009 - 2016) E220 BlueTEC SE Premium 4d Tip Auto

750kg

2000kg (2.0t)

Mercedes Benz E-Class Saloon (2009 - 2016) E220 CDI AMG Sport 4d Tip Auto

750kg

2000kg (2.0t)

Mercedes Benz E-Class Saloon (2009 - 2016) E220 CDI BlueEFF Avantgarde Ed 125 4d Tip Auto

750kg

2000kg (2.0t)

Mercedes Benz E-Class Saloon (2009 - 2016) E220 CDI BlueEFF SE Ed 125 (Ext Pk) 4d Tip Auto

750kg

2000kg (2.0t)

Mercedes Benz E-Class Saloon (2009 - 2016) E220 CDI BlueEFF SE Edition 125 4d Tip Auto

750kg

2000kg (2.0t)

Mercedes Benz E-Class Saloon (2009 - 2016) E220 CDI BlueEFF Sport Edition 125 4d Tip Auto

750kg

2000kg (2.0t)

Mercedes Benz E-Class Saloon (2009 - 2016) E220 CDI SE 4d Tip Auto

750kg

2000kg (2.0t)

Mercedes Benz E-Class Saloon (2009 - 2016) E250 CDI AMG Line 4d Tip Auto

750kg

2000kg (2.0t)

Mercedes Benz E-Class Saloon (2009 - 2016) E250 CDI AMG Line Premium 4d Tip Auto

750kg

2000kg (2.0t)

Mercedes Benz E-Class Saloon (2009 - 2016) E250 CDI AMG Line Premium Plus 4d Tip Auto

750kg

2000kg (2.0t)

Mercedes Benz E-Class Saloon (2009 - 2016) E250 CDI AMG Night Ed Premium Plus 4d 7G-Tronic

750kg

2000kg (2.0t)

Mercedes Benz E-Class Saloon (2009 - 2016) E250 CDI AMG Night Edition 4d 7G-Tronic

750kg

2000kg (2.0t)

Mercedes Benz E-Class Saloon (2009 - 2016) E250 CDI AMG Night Edition Premium 4d 7G-Tronic

750kg

2000kg (2.0t)

Mercedes Benz E-Class Saloon (2009 - 2016) E250 CDI AMG Sport 4d Tip Auto

750kg

2000kg (2.0t)

Mercedes Benz E-Class Saloon (2009 - 2016) E250 CDI BE Avantgarde (7speed) (Ext Pk) (Map Pilot)

750kg

2000kg (2.0t)

Mercedes Benz E-Class Saloon (2009 - 2016) E250 CDI BlueEFF Avantgarde (7speed) (Ext Pk) 4d Tip

750kg

2000kg (2.0t)

Mercedes Benz E-Class Saloon (2009 - 2016) E250 CDI BlueEFF Avantgarde (7speed) (Map Pilot) 4d

750kg

2000kg (2.0t)

Mercedes Benz E-Class Saloon (2009 - 2016) E250 CDI BlueEFF Avantgarde (7Speed) 4d Tip Auto

750kg

2000kg (2.0t)

Mercedes Benz E-Class Saloon (2009 - 2016) E250 CDI BlueEFF Avantgarde Ed 125 4d Tip Auto

750kg

2000kg (2.0t)

Mercedes Benz E-Class Saloon (2009 - 2016) E250 CDI BlueEFF SE (7speed) (Ext Pk) (Map Pilot) 4d

750kg

2000kg (2.0t)

Mercedes Benz E-Class Saloon (2009 - 2016) E250 CDI BlueEFF SE (7speed) (Map Pilot) 4d Tip Auto

750kg

2000kg (2.0t)

Mercedes Benz E-Class Saloon (2009 - 2016) E250 CDI BlueEFF SE Ed 125 (Ext Pk) 4d Tip Auto

750kg

2000kg (2.0t)

Mercedes Benz E-Class Saloon (2009 - 2016) E250 CDI BlueEFF SE Edition 125 4d Tip Auto

750kg

2000kg (2.0t)

Mercedes Benz E-Class Saloon (2009 - 2016) E250 CDI BlueEFF Sport (7speed) (Map Pilot) 4d Tip A

750kg

2000kg (2.0t)

Mercedes Benz E-Class Saloon (2009 - 2016) E250 CDI BlueEFF Sport Edition 125 4d Tip Auto

750kg

2000kg (2.0t)

Mercedes Benz E-Class Saloon (2009 - 2016) E250 CDI BlueEFFICIENCY SE (7Speed) (Ext) 4d Tip Aut

750kg

2000kg (2.0t)

Mercedes Benz E-Class Saloon (2009 - 2016) E250 CDI BlueEFFICIENCY SE (7Speed) 4d Tip Auto

750kg

2000kg (2.0t)

Mercedes Benz E-Class Saloon (2009 - 2016) E250 CDI BlueEFFICIENCY SE (Ext Pk) 4d Tip Auto

750kg

2000kg (2.0t)

Mercedes Benz E-Class Saloon (2009 - 2016) E250 CDI BlueEFFICIENCY SE 4d Tip Auto

750kg

2000kg (2.0t)

Mercedes Benz E-Class Saloon (2009 - 2016) E250 CDI BlueEFFICIENCY Sport (7Speed) 4d Tip Auto

750kg

2000kg (2.0t)

Mercedes Benz E-Class Saloon (2009 - 2016) E250 CDI BlueEFFICIENCY Sport 4d Tip Auto

750kg

2000kg (2.0t)

Mercedes Benz E-Class Saloon (2009 - 2016) E250 CDI SE 4d Tip Auto

750kg

2000kg (2.0t)

Mercedes Benz E-Class Saloon (2009 - 2016) E250 CDI SE Premium 4d Tip Auto

750kg

2000kg (2.0t)

Mercedes Benz E-Class Saloon (2009 - 2016) E250 CDI SE Premium Plus 4d Tip Auto

750kg

2000kg (2.0t)

Mercedes Benz E-Class Saloon (2009 - 2016) E350 CGI BlueEFF Avantgarde Ed 125 4d Tip Auto

750kg

2000kg (2.0t)

Mercedes Benz E-Class Saloon (2009 - 2016) E350 CGI BlueEFF Sport Edition 125 4d Tip Auto

750kg

2000kg (2.0t)

Mercedes Benz E-Class Saloon (2009 - 2016) E350 CGi BlueEFFICIENCY Avantgarde 4d Tip Auto

750kg

2000kg (2.0t)

Mercedes Benz E-Class Saloon (2009 - 2016) E350 CGi BlueEFFICIENCY Sport 4d Tip Auto

750kg

2000kg (2.0t)

Mercedes Benz GLE-Class 4x4 (2015 onwards) GLE 500 e 4Matic AMG Line 5d 7G-Tronic

750kg

2000kg (2.0t)

Mercedes Benz GLE-Class 4x4 (2015 onwards) GLE 500 e 4Matic AMG Line Prem Plus 5d 7G-Tronic

750kg

2000kg (2.0t)

Mercedes Benz GLE-Class 4x4 (2015 onwards) GLE 500 e 4Matic AMG Line Premium 5d 7G-Tronic

750kg

2000kg (2.0t)

Mercedes Benz GLE-Class 4x4 (2015 onwards) GLE 500 e 4Matic Designo Line 5d 7G-Tronic

750kg

2000kg (2.0t)

Mercedes Benz V-Class (1996 - 2002) V230 Ambiente 5d Auto

750kg

2000kg (2.0t)

Mercedes Benz V-Class (1996 - 2002) V230 Fashion 5d

750kg

2000kg (2.0t)

Mercedes Benz V-Class (1996 - 2002) V230 Fashion 5d Auto

750kg

2000kg (2.0t)

Mercedes Benz V-Class (1996 - 2002) V230 Trend 5d

750kg

2000kg (2.0t)

Mercedes Benz V-Class (1996 - 2002) V230 Trend 5d Auto

750kg

2000kg (2.0t)

Mercedes Benz V-Class (1996 - 2002) V280 Ambiente 5d Auto

750kg

2000kg (2.0t)

Mercedes Benz Viano (2004 - 2014) 2.0 CDI (116bhp) Trend 5d

750kg

2000kg (2.0t)

Mercedes Benz Viano (2004 - 2014) 2.0 CDI (116bhp) Trend 5d (Long)

750kg

2000kg (2.0t)

Mercedes Benz Viano (2004 - 2014) 2.0 CDI (116bhp) Trend 5d Tip Auto

750kg

2000kg (2.0t)

Mercedes Benz Viano (2004 - 2014) 2.0 CDI (116bhp) Trend 5d Tip Auto (Long)

750kg

2000kg (2.0t)

Mercedes Benz Viano (2004 - 2014) 2.0 CDI Avantgarde (Long) 5d

750kg

2000kg (2.0t)

Mercedes Benz Viano (2004 - 2014) 2.0 CDI Avantgarde (Long) 5d Tip Auto

750kg

2000kg (2.0t)

Mercedes Benz Viano (2004 - 2014) 2.0 CDI Avantgarde 5d

750kg

2000kg (2.0t)

Mercedes Benz Viano (2004 - 2014) 2.0 CDI Avantgarde 5d Tip Auto

750kg

2000kg (2.0t)

Mercedes Benz Viano (2004 - 2014) 2.0 CDI Grand Edition Avantgarde 5d

750kg

2000kg (2.0t)

Mercedes Benz Viano (2004 - 2014) 2.0 CDI Grand Edition Avantgarde 5d Tip Auto

750kg

2000kg (2.0t)

Mercedes Benz Viano (2004 - 2014) 2.0 CDI Grand Edition Avantgarde Long 5d

750kg

2000kg (2.0t)

Mercedes Benz Viano (2004 - 2014) 2.0 CDI Sport (Long) 5d

750kg

2000kg (2.0t)

Mercedes Benz Viano (2004 - 2014) 2.0 CDI Sport (Long) 5d Tip Auto

750kg

2000kg (2.0t)

Mercedes Benz Viano (2004 - 2014) 2.0 CDI Sport 5d

750kg

2000kg (2.0t)

Mercedes Benz Viano (2004 - 2014) 2.0 CDI Sport 5d Tip Auto

750kg

2000kg (2.0t)

Mercedes Benz Viano (2004 - 2014) 2.0 CDI Trend (2010) 5d Tip Auto

750kg

2000kg (2.0t)

Mercedes Benz Viano (2004 - 2014) 2.0 CDI Trend (Long) (2010) 5d Tip Auto

750kg

2000kg (2.0t)

Mercedes Benz Viano (2004 - 2014) 2.0 CDI Trend 5d

750kg

2000kg (2.0t)

Mercedes Benz Viano (2004 - 2014) 2.0 CDI Trend 5d (Long)

750kg

2000kg (2.0t)

Mercedes Benz Viano (2004 - 2014) 2.0 CDI Trend 5d Tip Auto

750kg

2000kg (2.0t)

Mercedes Benz Viano (2004 - 2014) 2.0 CDI Trend 5d Tip Auto (Long)

750kg

2000kg (2.0t)

Mercedes Benz Viano (2004 - 2014) 2.2 CDI Ambiente (2010) 5d

750kg

2000kg (2.0t)

Mercedes Benz Viano (2004 - 2014) 2.2 CDI Ambiente (Ex Long) (2010) 5d

750kg

2000kg (2.0t)

Mercedes Benz Viano (2004 - 2014) 2.2 CDI Ambiente (Ex Long) (2010) 5d Tip Auto

750kg

2000kg (2.0t)

Mercedes Benz Viano (2004 - 2014) 2.2 CDI Ambiente (Long) (2010) 5d

750kg

2000kg (2.0t)

Mercedes Benz Viano (2004 - 2014) 2.2 CDI Ambiente [Long] (2010) 5d Tip Auto

750kg

2000kg (2.0t)

Mercedes Benz Viano (2004 - 2014) 2.2 CDI Ambiente 5d Tip Auto

750kg

2000kg (2.0t)

Mercedes Benz Viano (2004 - 2014) 2.2 CDI Ambiente 5d Tip Auto (Ex Long)

750kg

2000kg (2.0t)

Mercedes Benz Viano (2004 - 2014) 2.2 CDI Ambiente 5d Tip Auto (Long)

750kg

2000kg (2.0t)

Mercedes Benz Viano (2004 - 2014) 2.2 CDI Avantgarde (Long) 5d

750kg

2000kg (2.0t)

Mercedes Benz Viano (2004 - 2014) 2.2 CDI Avantgarde 5d

750kg

2000kg (2.0t)

Mercedes Benz Viano (2004 - 2014) 2.2 CDI Avantgarde 5d Tip Auto

750kg

2000kg (2.0t)

Mercedes Benz Viano (2004 - 2014) 2.2 CDI Grand Edition Avantgarde 5d

750kg

2000kg (2.0t)

Mercedes Benz Viano (2004 - 2014) 2.2 CDI Grand Edition Avantgarde 5d Tip Auto

750kg

2000kg (2.0t)

Mercedes Benz Viano (2004 - 2014) 2.2 CDI Grand Edition Avantgarde Long 5d

750kg

2000kg (2.0t)

Mercedes Benz Viano (2004 - 2014) 2.2 CDI Grand Edition Avantgarde Long 5d Tip Auto

750kg

2000kg (2.0t)

Mercedes Benz Viano (2004 - 2014) 2.2 CDI Sport (Long) 5d

750kg

2000kg (2.0t)

Mercedes Benz Viano (2004 - 2014) 2.2 CDI Sport (Long) 5d Tip Auto

750kg

2000kg (2.0t)

Mercedes Benz Viano (2004 - 2014) 2.2 CDI Sport 5d

750kg

2000kg (2.0t)

Mercedes Benz Viano (2004 - 2014) 2.2 CDI Trend (2010) 5d

750kg

2000kg (2.0t)

Mercedes Benz Viano (2004 - 2014) 2.2 CDI Trend (2010) 5d Tip Auto

750kg

2000kg (2.0t)

Mercedes Benz Viano (2004 - 2014) 2.2 CDI Trend (Ex Long) (2010) 5d

750kg

2000kg (2.0t)

Mercedes Benz Viano (2004 - 2014) 2.2 CDI Trend (Long) (2010) 5d

750kg

2000kg (2.0t)

Mercedes Benz Viano (2004 - 2014) 2.2 CDI Trend [Ex Long] (2010) 5d Tip Auto

750kg

2000kg (2.0t)

Mercedes Benz Viano (2004 - 2014) 2.2 CDI Trend [Long] (2010) 5d Tip Auto

750kg

2000kg (2.0t)

Mercedes Benz Viano (2004 - 2014) 2.2 CDI Trend 5d

750kg

2000kg (2.0t)

Mercedes Benz Viano (2004 - 2014) 2.2 CDI Trend 5d (Ex Long)

750kg

2000kg (2.0t)

Mercedes Benz Viano (2004 - 2014) 2.2 CDI Trend 5d Tip Auto

750kg

2000kg (2.0t)

Mercedes Benz Viano (2004 - 2014) 2.2 CDI Trend 5d Tip Auto (Ex Long)

750kg

2000kg (2.0t)

Mercedes Benz Viano (2004 - 2014) 2.2 CDI Trend 5d Tip Auto (Long)

750kg

2000kg (2.0t)

Mercedes Benz Viano (2004 - 2014) 2.8 CDI Ambiente 5d Tip Auto

750kg

2000kg (2.0t)

Mercedes Benz Viano (2004 - 2014) 2.8 CDI Ambiente 5d Tip Auto (Ex Long)

750kg

2000kg (2.0t)

Mercedes Benz Viano (2004 - 2014) 2.8 CDI Ambiente 5d Tip Auto (Long)

750kg

2000kg (2.0t)

Mercedes Benz Viano (2004 - 2014) 3.0 CDI Ambiente (Ex Long) 5d Tip Auto

750kg

2000kg (2.0t)

Mercedes Benz Viano (2004 - 2014) 3.0 CDI Ambiente (Long) 5d Tip Auto

750kg

2000kg (2.0t)

Mercedes Benz Viano (2004 - 2014) 3.0 CDI Ambiente 5d Tip Auto

750kg

2000kg (2.0t)

Mercedes Benz Viano (2004 - 2014) 3.0 CDI Avantgarde (04/12-) 5d Tip Auto

750kg

2000kg (2.0t)

Mercedes Benz Viano (2004 - 2014) 3.0 CDI Avantgarde (Long) (2012-) 5d Tip Auto

750kg

2000kg (2.0t)

Mercedes Benz Viano (2004 - 2014) 3.0 CDI Avantgarde (Long) 5d Tip Auto

750kg

2000kg (2.0t)

Mercedes Benz Viano (2004 - 2014) 3.0 CDI Avantgarde 5d Tip Auto

750kg

2000kg (2.0t)

Mercedes Benz Viano (2004 - 2014) 3.0 CDI Grand Edition Avantgarde 5d Tip Auto

750kg

2000kg (2.0t)

Mercedes Benz Viano (2004 - 2014) 3.0 CDI Grand Edition Avantgarde Long 5d Tip Auto

750kg

2000kg (2.0t)

Mercedes Benz Viano (2004 - 2014) 3.0 CDI Sport (Long) 5d Tip Auto

750kg

2000kg (2.0t)

Mercedes Benz Viano (2004 - 2014) 3.0 CDI Sport 5d Tip Auto

750kg

2000kg (2.0t)

Mercedes Benz Viano (2004 - 2014) 3.0 CDI X-Clusive (Long) 5d Tip Auto

750kg

2000kg (2.0t)

Mercedes Benz Viano (2004 - 2014) 3.0 CDI X-Clusive 5d Tip Auto

750kg

2000kg (2.0t)

Mercedes Benz Viano (2004 - 2014) 3.2 Ambiente 5d Tip Auto (Ex Long)

750kg

2000kg (2.0t)

Mercedes Benz Viano (2004 - 2014) 3.5 (258bhp) Ambiente 5d Tip Auto

750kg

2000kg (2.0t)

Mercedes Benz Viano (2004 - 2014) 3.5 X-Clusive 5d Tip Auto

750kg

2000kg (2.0t)

Mitsubishi Grandis (2004 - 2010) 2.0 D-ID Classic 5d

-

2000kg (2.0t)

Mitsubishi Grandis (2004 - 2010) 2.0 D-ID Elegance 5d

-

2000kg (2.0t)

Mitsubishi Grandis (2004 - 2010) 2.0 D-ID Warrior 5d

-

2000kg (2.0t)

Mitsubishi Outlander (2007 - 2013) 2.0 DI-D Equippe DPF 5d

750kg

2000kg (2.0t)

Mitsubishi Outlander (2007 - 2013) 2.0 DI-D GSE 5d

750kg

2000kg (2.0t)

Mitsubishi Outlander (2007 - 2013) 2.0 DI-D SE 5d

750kg

2000kg (2.0t)

Mitsubishi Outlander (2007 - 2013) 2.0 DI-DC Elegance 5d

750kg

2000kg (2.0t)

Mitsubishi Outlander (2007 - 2013) 2.0 DI-DC Equippe 5d

750kg

2000kg (2.0t)

Mitsubishi Outlander (2007 - 2013) 2.0 DI-DC Warrior 5d

750kg

2000kg (2.0t)

Mitsubishi Outlander (2007 - 2013) 2.0 DI-DC Warrior 5d (Leather)

750kg

2000kg (2.0t)

Mitsubishi Outlander (2007 - 2013) 2.2 DI-D GX2 5d

750kg

2000kg (2.0t)

Mitsubishi Outlander (2007 - 2013) 2.2 DI-D GX3 (Leather) 5d SST

750kg

2000kg (2.0t)

Mitsubishi Outlander (2007 - 2013) 2.2 DI-D GX3 2WD (Leather) 5d

750kg

2000kg (2.0t)

Mitsubishi Outlander (2007 - 2013) 2.2 DI-D GX3 2WD 5d

750kg

2000kg (2.0t)

Mitsubishi Outlander (2007 - 2013) 2.2 DI-D GX3 5d

750kg

2000kg (2.0t)

Mitsubishi Outlander (2007 - 2013) 2.2 DI-D GX3 5d SST

750kg

2000kg (2.0t)

Mitsubishi Outlander (2007 - 2013) 2.2 DI-D GX4 5d

750kg

2000kg (2.0t)

Mitsubishi Outlander (2007 - 2013) 2.2 DI-D GX4 5d SST

750kg

2000kg (2.0t)

Mitsubishi Outlander (2007 - 2013) 2.2 DI-DC Diamond 5d

750kg

2000kg (2.0t)

Mitsubishi Outlander (2012 onwards) 2.2 DI-D GX2 (10/15-) 5d

750kg

2000kg (2.0t)

Mitsubishi Outlander (2012 onwards) 2.2 DI-D GX2 5d

750kg

2000kg (2.0t)

Mitsubishi Outlander (2012 onwards) 2.2 DI-D GX3 (10/15-) 5d

750kg

2000kg (2.0t)

Mitsubishi Outlander (2012 onwards) 2.2 DI-D GX3 (10/15-) 5d Auto

750kg

2000kg (2.0t)

Mitsubishi Outlander (2012 onwards) 2.2 DI-D GX3 (Leather) (10/15-) 5d

750kg

2000kg (2.0t)

Mitsubishi Outlander (2012 onwards) 2.2 DI-D GX3 (Leather) (10/15-) 5d Auto

750kg

2000kg (2.0t)

Mitsubishi Outlander (2012 onwards) 2.2 DI-D GX3 (Leather) 5d

750kg

2000kg (2.0t)

Mitsubishi Outlander (2012 onwards) 2.2 DI-D GX3 5d

750kg

2000kg (2.0t)

Mitsubishi Outlander (2012 onwards) 2.2 DI-D GX3 5d Auto

750kg

2000kg (2.0t)

Mitsubishi Outlander (2012 onwards) 2.2 DI-D GX4 (10/15-) 5d

750kg

2000kg (2.0t)

Mitsubishi Outlander (2012 onwards) 2.2 DI-D GX4 (10/15-) 5d Auto

750kg

2000kg (2.0t)

Mitsubishi Outlander (2012 onwards) 2.2 DI-D GX4 5d

750kg

2000kg (2.0t)

Mitsubishi Outlander (2012 onwards) 2.2 DI-D GX4 5d Auto

750kg

2000kg (2.0t)

Mitsubishi Outlander (2012 onwards) 2.2 DI-D GX4s 5d Auto

750kg

2000kg (2.0t)

Mitsubishi Outlander (2012 onwards) 2.2 DI-D GX5 5d Auto

750kg

2000kg (2.0t)

Nissan X-Trail (2007 - 2014) 2.0 dCi Aventura 5d

750kg

2000kg (2.0t)

Nissan X-Trail (2007 - 2014) 2.0 dCi Aventura Explorer 5d

750kg

2000kg (2.0t)

Nissan X-Trail (2007 - 2014) 2.0 dCi Aventura Explorer Extreme 5d

750kg

2000kg (2.0t)

Nissan X-Trail (2007 - 2014) 2.0 dCi Sport 5d

750kg

2000kg (2.0t)

Nissan X-Trail (2007 - 2014) 2.0 dCi Sport Expedition 5d

750kg

2000kg (2.0t)

Nissan X-Trail (2007 - 2014) 2.0 dCi Sport Expedition Extreme 5d

750kg

2000kg (2.0t)

Nissan X-Trail (2007 - 2014) 2.0 dCi Sport Extreme 5d

750kg

2000kg (2.0t)

Nissan X-Trail (2007 - 2014) 2.0 dCi Sport-X Sat Nav 5d

750kg

2000kg (2.0t)

Nissan X-Trail (2007 - 2014) 2.0 dCi Trek 5d

750kg

2000kg (2.0t)

Nissan X-Trail (2007 - 2014) 2.5i Aventura 5d

750kg

2000kg (2.0t)

Nissan X-Trail (2007 - 2014) 2.5i Aventura Explorer 5d

750kg

2000kg (2.0t)

Nissan X-Trail (2007 - 2014) 2.5i Aventura Explorer Extreme 5d

750kg

2000kg (2.0t)

Nissan X-Trail (2007 - 2014) 2.5i Aventura Extreme 5d

750kg

2000kg (2.0t)

Nissan X-Trail (2007 - 2014) 2.5i Sport 5d

750kg

2000kg (2.0t)

Nissan X-Trail (2007 - 2014) 2.5i Sport Expedition 5d

750kg

2000kg (2.0t)

Nissan X-Trail (2007 - 2014) 2.5i Sport Expedition Extreme 5d

750kg

2000kg (2.0t)

Nissan X-Trail (2007 - 2014) 2.5i Sport Extreme 5d

750kg

2000kg (2.0t)

Nissan X-Trail (2014 onwards) 1.6 dCi Acenta (7 Seat) 5d

750kg

2000kg (2.0t)

Nissan X-Trail (2014 onwards) 1.6 dCi Acenta (Smart Vision Pack) (7 Seat) 5d

750kg

2000kg (2.0t)

Nissan X-Trail (2014 onwards) 1.6 dCi Acenta (Smart Vision Pack) 4WD (7 Seat) 5d

750kg

2000kg (2.0t)

Nissan X-Trail (2014 onwards) 1.6 dCi Acenta (Smart Vision Pack) 4WD 5d

750kg

2000kg (2.0t)

Nissan X-Trail (2014 onwards) 1.6 dCi Acenta (Smart Vision Pack) 5d

750kg

2000kg (2.0t)

Nissan X-Trail (2014 onwards) 1.6 dCi Acenta 4WD (7 Seat) 5d

750kg

2000kg (2.0t)

Nissan X-Trail (2014 onwards) 1.6 dCi Acenta 4WD 5d

750kg

2000kg (2.0t)

Nissan X-Trail (2014 onwards) 1.6 dCi Acenta 5d

750kg

2000kg (2.0t)

Nissan X-Trail (2014 onwards) 1.6 dCi N-Tec (7 Seat) 5d

750kg

2000kg (2.0t)

Nissan X-Trail (2014 onwards) 1.6 dCi N-Tec 4WD (7 Seat) 5d

750kg

2000kg (2.0t)

Nissan X-Trail (2014 onwards) 1.6 dCi N-Tec 4WD 5d

750kg

2000kg (2.0t)

Nissan X-Trail (2014 onwards) 1.6 dCi Tekna (7 Seat) 5d

750kg

2000kg (2.0t)

Nissan X-Trail (2014 onwards) 1.6 dCi Tekna 4WD (7 Seat) 5d

750kg

2000kg (2.0t)

Nissan X-Trail (2014 onwards) 1.6 dCi Tekna 4WD 5d

750kg

2000kg (2.0t)

Nissan X-Trail (2014 onwards) 1.6 dCi Tekna 5d

750kg

2000kg (2.0t)

Nissan X-Trail (2014 onwards) 1.6 dCi Visia (7 Seat) 5d

750kg

2000kg (2.0t)

Nissan X-Trail (2014 onwards) 1.6 dCi Visia (Smart Vision Pack) (7 Seat) 5d

750kg

2000kg (2.0t)

Nissan X-Trail (2014 onwards) 1.6 dCi Visia (Smart Vision Pack) 5d

750kg

2000kg (2.0t)

Nissan X-Trail (2014 onwards) 1.6 dCi Visia 5d

750kg

2000kg (2.0t)

Nissan X-Trail (2014 onwards) Acenta (Smart Vision Pack) dCi 177 4WD (7 Seat) 5d

750kg

2000kg (2.0t)

Nissan X-Trail (2014 onwards) Acenta (Smart Vision Pack) dCi 177 4WD 5d

750kg

2000kg (2.0t)

Nissan X-Trail (2014 onwards) Acenta dCi 177 4WD (7 Seat) 5d

750kg

2000kg (2.0t)

Nissan X-Trail (2014 onwards) Tekna dCi 177 4WD (7 Seat) 5d

750kg

2000kg (2.0t)

Nissan X-Trail (2014 onwards) Tekna dCi 177 4WD 5d

750kg

2000kg (2.0t)

Peugeot Expert Tepee (2007 - 2015) 1.6 HDi L1 Comfort 5d (6 seats)

750kg

2000kg (2.0t)

Peugeot Expert Tepee (2007 - 2015) 1.6 HDi L1 Comfort 5d (9 seats)

750kg

2000kg (2.0t)

Peugeot Expert Tepee (2007 - 2015) 1.6 HDi L2 Comfort 5d (9 seats)

750kg

2000kg (2.0t)

Peugeot Expert Tepee (2007 - 2015) 2.0 HDi 5d L2 Leisure (9 seats)

750kg

2000kg (2.0t)

Peugeot Expert Tepee (2007 - 2015) 2.0 HDi L1 (130bhp) Comfort (6 Seats) 5d

750kg

2000kg (2.0t)

Peugeot Expert Tepee (2007 - 2015) 2.0 HDi L1 (130bhp) Comfort (9 Seats) 5d

750kg

2000kg (2.0t)

Peugeot Expert Tepee (2007 - 2015) 2.0 HDi L1 (130bhp) Leisure (6 Seats) 5d

750kg

2000kg (2.0t)

Peugeot Expert Tepee (2007 - 2015) 2.0 HDi L1 (130bhp) Leisure (9 Seats) 5d

750kg

2000kg (2.0t)

Peugeot Expert Tepee (2007 - 2015) 2.0 HDi L1 (163bhp) Comfort (6 Seats) 5d Auto

750kg

2000kg (2.0t)

Peugeot Expert Tepee (2007 - 2015) 2.0 HDi L1 (163bhp) Comfort (9 Seats) 5d Auto

750kg

2000kg (2.0t)

Peugeot Expert Tepee (2007 - 2015) 2.0 HDi L1 (163bhp) Leisure (6 Seats) 5d Auto

750kg

2000kg (2.0t)

Peugeot Expert Tepee (2007 - 2015) 2.0 HDi L1 (163bhp) Leisure (9 Seats) 5d Auto

750kg

2000kg (2.0t)

Peugeot Expert Tepee (2007 - 2015) 2.0 HDi L1 (98bhp) Comfort (6 Seats) 5d

750kg

2000kg (2.0t)

Peugeot Expert Tepee (2007 - 2015) 2.0 HDi L1 (98bhp) Comfort (9 Seats) 5d

750kg

2000kg (2.0t)

Peugeot Expert Tepee (2007 - 2015) 2.0 HDi L1 Comfort 5d (6 seats)

750kg

2000kg (2.0t)

Peugeot Expert Tepee (2007 - 2015) 2.0 HDi L1 Comfort 5d (9 seats)

750kg

2000kg (2.0t)

Peugeot Expert Tepee (2007 - 2015) 2.0 HDi L1 Comfort Semi-Glazed 5d (6 seats)

750kg

2000kg (2.0t)

Peugeot Expert Tepee (2007 - 2015) 2.0 HDi L2 (130bhp) Comfort (6 Seats) 5d

750kg

2000kg (2.0t)

Peugeot Expert Tepee (2007 - 2015) 2.0 HDi L2 (130bhp) Comfort (9 Seats) 5d

750kg

2000kg (2.0t)

Peugeot Expert Tepee (2007 - 2015) 2.0 HDi L2 (130bhp) Leisure (6 Seats) 5d

750kg

2000kg (2.0t)

Peugeot Expert Tepee (2007 - 2015) 2.0 HDi L2 (130bhp) Leisure (9 Seats) 5d

750kg

2000kg (2.0t)

Peugeot Expert Tepee (2007 - 2015) 2.0 HDi L2 (163bhp) Comfort (6 Seats) 5d Auto

750kg

2000kg (2.0t)

Peugeot Expert Tepee (2007 - 2015) 2.0 HDi L2 (163bhp) Comfort (9 Seats) 5d Auto

750kg

2000kg (2.0t)

Peugeot Expert Tepee (2007 - 2015) 2.0 HDi L2 (98bhp) Comfort (6 Seats) 5d

750kg

2000kg (2.0t)

Peugeot Expert Tepee (2007 - 2015) 2.0 HDi L2 (98bhp) Comfort (9 Seats) 5d

750kg

2000kg (2.0t)

Peugeot Expert Tepee (2007 - 2015) 2.0 HDi L2 Comfort 5d (6 seats)

750kg

2000kg (2.0t)

Peugeot Expert Tepee (2007 - 2015) 2.0 HDi L2 Comfort 5d (9 seats)

750kg

2000kg (2.0t)

Peugeot Expert Tepee (2007 - 2015) 2.0 HDi L2 Comfort Semi-Glazed 5d (6 seats)

750kg

2000kg (2.0t)

Peugeot Expert Tepee (2007 - 2015) 2.0 HDi L2 Leisure 5d (6 seats)

750kg

2000kg (2.0t)

Renault Avantime (2002 - 2003) 2.0 16V Turbo Dynamique 3d

750kg

2000kg (2.0t)

Renault Avantime (2002 - 2003) 2.0 16V Turbo Dynamique 3d Auto

750kg

2000kg (2.0t)

Renault Avantime (2002 - 2003) 3.0 V6 24V Privilege 3d

750kg

2000kg (2.0t)

Renault Avantime (2002 - 2003) 3.0 V6 24V Privilege 3d Auto

750kg

2000kg (2.0t)

Renault Espace (1997 - 2003) 2.2 dCi Authentique 5d

750kg

2000kg (2.0t)

Renault Espace (1997 - 2003) 2.2 dCi Expression 5d

750kg

2000kg (2.0t)

Renault Espace (1997 - 2003) 2.2 dCi Privilege 5d

750kg

2000kg (2.0t)

Renault Espace (1997 - 2003) 2.2 dCi The Race 5d

750kg

2000kg (2.0t)

Renault Espace (1997 - 2003) 3.0 V6 Initiale 5d Auto

750kg

2000kg (2.0t)

Renault Espace (1997 - 2003) 3.0 V6 Privilege 5d Auto

750kg

2000kg (2.0t)

Renault Espace (2003 - 2012) 1.9 dCi Authentique 5d

750kg

2000kg (2.0t)

Renault Espace (2003 - 2012) 1.9 dCi Dynamique 5d

750kg

2000kg (2.0t)

Renault Espace (2003 - 2012) 1.9 dCi Expression 5d

750kg

2000kg (2.0t)

Renault Espace (2003 - 2012) 1.9 dCi Globe Ellen MacArthur 5d

750kg

2000kg (2.0t)

Renault Espace (2003 - 2012) 1.9 dCi Rush 5d

750kg

2000kg (2.0t)

Renault Espace (2003 - 2012) 2.0 dCi Authentique 5d (130bhp)

750kg

2000kg (2.0t)

Renault Espace (2003 - 2012) 2.0 dCi Dynamique (150bhp) 5d Auto

750kg

2000kg (2.0t)

Renault Espace (2003 - 2012) 2.0 dCi Dynamique 5d

750kg

2000kg (2.0t)

Renault Espace (2003 - 2012) 2.0 dCi Dynamique 5d (130bhp)

750kg

2000kg (2.0t)

Renault Espace (2003 - 2012) 2.0 dCi Dynamique 5d (150bhp)

750kg

2000kg (2.0t)

Renault Espace (2003 - 2012) 2.0 dCi Dynamique 5d Auto

750kg

2000kg (2.0t)

Renault Espace (2003 - 2012) 2.0 dCi Dynamique S (150bhp) 5d

750kg

2000kg (2.0t)

Renault Espace (2003 - 2012) 2.0 dCi Dynamique S (150bhp) 5d Auto

750kg

2000kg (2.0t)

Renault Espace (2003 - 2012) 2.0 dCi Dynamique S 5d

750kg

2000kg (2.0t)

Renault Espace (2003 - 2012) 2.0 dCi Dynamique S 5d Auto

750kg

2000kg (2.0t)

Renault Espace (2003 - 2012) 2.0 dCi Expression 5d (130bhp)

750kg

2000kg (2.0t)

Renault Espace (2003 - 2012) 2.0 dCi Expression 5d (150bhp)

750kg

2000kg (2.0t)

Renault Espace (2003 - 2012) 2.0 dCi Privilege 5d

750kg

2000kg (2.0t)

Renault Espace (2003 - 2012) 2.0 dCi Privilege 5d (150bhp)

750kg

2000kg (2.0t)

Renault Espace (2003 - 2012) 2.0 dCi Quest (130bhp) 5d

750kg

2000kg (2.0t)

Renault Espace (2003 - 2012) 2.0 dCi Quest (150bhp) 5d

750kg

2000kg (2.0t)

Renault Espace (2003 - 2012) 2.0 dCi Quest (150bhp) 5d Auto

750kg

2000kg (2.0t)

Renault Espace (2003 - 2012) 2.0 dCi Team (150bhp) 5d

750kg

2000kg (2.0t)

Renault Espace (2003 - 2012) 2.0 dCi Team (150bhp) 5d Auto

750kg

2000kg (2.0t)

Renault Espace (2003 - 2012) 2.0 dCi Tech Run (130bhp) 5d

750kg

2000kg (2.0t)

Renault Espace (2003 - 2012) 2.0 dCi Tech Run (150bhp) 5d

750kg

2000kg (2.0t)

Renault Espace (2003 - 2012) 2.0T Dynamique 5d

750kg

2000kg (2.0t)

Renault Espace (2003 - 2012) 2.0T Dynamique 5d Auto

750kg

2000kg (2.0t)

Renault Espace (2003 - 2012) 2.0T Dynamique S 5d

750kg

2000kg (2.0t)

Renault Espace (2003 - 2012) 2.0T Dynamique S 5d Auto

750kg

2000kg (2.0t)

Renault Espace (2003 - 2012) 2.0T Expression 5d

750kg

2000kg (2.0t)

Renault Espace (2003 - 2012) 2.0T Expression 5d Auto

750kg

2000kg (2.0t)

Renault Espace (2003 - 2012) 2.0T Initiale 5d

750kg

2000kg (2.0t)

Renault Espace (2003 - 2012) 2.0T Initiale 5d Auto

750kg

2000kg (2.0t)

Renault Espace (2003 - 2012) 2.0T Privilege 5d

750kg

2000kg (2.0t)

Renault Espace (2003 - 2012) 2.0T Privilege 5d Auto

750kg

2000kg (2.0t)

Renault Espace (2003 - 2012) 2.2 dCi Dynamique 5d

750kg

2000kg (2.0t)

Renault Espace (2003 - 2012) 2.2 dCi Dynamique 5d Auto

750kg

2000kg (2.0t)

Renault Espace (2003 - 2012) 2.2 dCi Dynamique 5d Auto (140bhp)

750kg

2000kg (2.0t)

Renault Espace (2003 - 2012) 2.2 dCi Dynamique S (140bhp) 5d Auto

750kg

2000kg (2.0t)

Renault Espace (2003 - 2012) 2.2 dCi Expression 5d

750kg

2000kg (2.0t)

Renault Espace (2003 - 2012) 2.2 dCi Expression 5d Auto

750kg

2000kg (2.0t)

Renault Espace (2003 - 2012) 2.2 dCi Globe Ellen MacArthur 5d

750kg

2000kg (2.0t)

Renault Espace (2003 - 2012) 2.2 dCi Globe Ellen MacArthur 5d Auto

750kg

2000kg (2.0t)

Renault Espace (2003 - 2012) 2.2 dCi Initiale 5d

750kg

2000kg (2.0t)

Renault Espace (2003 - 2012) 2.2 dCi Initiale 5d Auto

750kg

2000kg (2.0t)

Renault Espace (2003 - 2012) 2.2 dCi Privilege 5d

750kg

2000kg (2.0t)

Renault Espace (2003 - 2012) 2.2 dCi Privilege 5d Auto

750kg

2000kg (2.0t)

Renault Espace (2003 - 2012) 2.2 dCi Privilege 5d Auto (140bhp)

750kg

2000kg (2.0t)

Renault Espace (2003 - 2012) 3.0 dCi Initiale 5d Auto

750kg

2000kg (2.0t)

Renault Espace (2003 - 2012) 3.0 dCi Privilege 5d Auto

750kg

2000kg (2.0t)

Renault Espace (2003 - 2012) 3.5 V6 Initiale 5d Auto

750kg

2000kg (2.0t)

Renault Espace (2003 - 2012) 3.5 V6 Privilege 5d Auto

750kg

2000kg (2.0t)

Renault Grand Espace (1998 - 2003) 2.2 dCi Expression 5d

750kg

2000kg (2.0t)

Renault Grand Espace (1998 - 2003) 2.2 dCi Privilege 5d

750kg

2000kg (2.0t)

Renault Grand Espace (1998 - 2003) 2.2 dCi The Race 5d

750kg

2000kg (2.0t)

Renault Grand Espace (1998 - 2003) 3.0 V6 Initiale 5d Auto

750kg

2000kg (2.0t)

Renault Grand Espace (1998 - 2003) 3.0 V6 Privilege 5d Auto

750kg

2000kg (2.0t)

Renault Grand Espace (2003 - 2012) 2.0 dCi Dynamique (150bhp) 5d Auto

750kg

2000kg (2.0t)

Renault Grand Espace (2003 - 2012) 2.0 dCi Dynamique 5d

750kg

2000kg (2.0t)

Renault Grand Espace (2003 - 2012) 2.0 dCi Dynamique 5d (150bhp)

750kg

2000kg (2.0t)

Renault Grand Espace (2003 - 2012) 2.0 dCi Dynamique 5d Auto

750kg

2000kg (2.0t)

Renault Grand Espace (2003 - 2012) 2.0 dCi Dynamique S (150bhp) 5d

750kg

2000kg (2.0t)

Renault Grand Espace (2003 - 2012) 2.0 dCi Dynamique S (150bhp) 5d Auto

750kg

2000kg (2.0t)

Renault Grand Espace (2003 - 2012) 2.0 dCi Dynamique S 5d

750kg

2000kg (2.0t)

Renault Grand Espace (2003 - 2012) 2.0 dCi Dynamique S 5d Auto

750kg

2000kg (2.0t)

Renault Grand Espace (2003 - 2012) 2.0 dCi Expression 5d (150bhp)

750kg

2000kg (2.0t)

Renault Grand Espace (2003 - 2012) 2.0 dCi Initiale (150bhp) 5d Auto

750kg

2000kg (2.0t)

Renault Grand Espace (2003 - 2012) 2.0 dCi Initiale 5d

750kg

2000kg (2.0t)

Renault Grand Espace (2003 - 2012) 2.0 dCi Initiale 5d (150bhp)

750kg

2000kg (2.0t)

Renault Grand Espace (2003 - 2012) 2.0 dCi Initiale 5d Auto

750kg

2000kg (2.0t)

Renault Grand Espace (2003 - 2012) 2.0 dCi Privilege 5d

750kg

2000kg (2.0t)

Renault Grand Espace (2003 - 2012) 2.0 dCi Privilege 5d (150bhp)

750kg

2000kg (2.0t)

Renault Grand Espace (2003 - 2012) 2.0 dCi Quest (150bhp) 5d

750kg

2000kg (2.0t)

Renault Grand Espace (2003 - 2012) 2.0 dCi Quest (150bhp) 5d Auto

750kg

2000kg (2.0t)

Renault Grand Espace (2003 - 2012) 2.0 dCi Team (150bhp) 5d

750kg

2000kg (2.0t)

Renault Grand Espace (2003 - 2012) 2.0 dCi Team (150bhp) 5d Auto

750kg

2000kg (2.0t)

Renault Grand Espace (2003 - 2012) 2.0 dCi Tech Run (150bhp) 5d

750kg

2000kg (2.0t)

Renault Grand Espace (2003 - 2012) 2.0T Dynamique 5d

750kg

2000kg (2.0t)

Renault Grand Espace (2003 - 2012) 2.0T Dynamique 5d Auto

750kg

2000kg (2.0t)

Renault Grand Espace (2003 - 2012) 2.0T Dynamique S 5d

750kg

2000kg (2.0t)

Renault Grand Espace (2003 - 2012) 2.0T Dynamique S 5d Auto

750kg

2000kg (2.0t)

Renault Grand Espace (2003 - 2012) 2.0T Expression 5d

750kg

2000kg (2.0t)

Renault Grand Espace (2003 - 2012) 2.0T Expression 5d Auto

750kg

2000kg (2.0t)

Renault Grand Espace (2003 - 2012) 2.0T Initiale 5d

750kg

2000kg (2.0t)

Renault Grand Espace (2003 - 2012) 2.0T Initiale 5d Auto

750kg

2000kg (2.0t)

Renault Grand Espace (2003 - 2012) 2.0T Privilege 5d

750kg

2000kg (2.0t)

Renault Grand Espace (2003 - 2012) 2.0T Privilege 5d Auto

750kg

2000kg (2.0t)

Renault Grand Espace (2003 - 2012) 2.0T Quest 5d

750kg

2000kg (2.0t)

Renault Grand Espace (2003 - 2012) 2.0T Team 5d

750kg

2000kg (2.0t)

Renault Grand Espace (2003 - 2012) 2.0T Tech Run 5d

750kg

2000kg (2.0t)

Renault Grand Espace (2003 - 2012) 2.2 dCi Dynamique 5d

750kg

2000kg (2.0t)

Renault Grand Espace (2003 - 2012) 2.2 dCi Dynamique 5d Auto

750kg

2000kg (2.0t)

Renault Grand Espace (2003 - 2012) 2.2 dCi Dynamique 5d Auto (140bhp)

750kg

2000kg (2.0t)

Renault Grand Espace (2003 - 2012) 2.2 dCi Dynamique S (140bhp) 5d Auto

750kg

2000kg (2.0t)

Renault Grand Espace (2003 - 2012) 2.2 dCi Expression 5d

750kg

2000kg (2.0t)

Renault Grand Espace (2003 - 2012) 2.2 dCi Expression 5d Auto

750kg

2000kg (2.0t)

Renault Grand Espace (2003 - 2012) 2.2 dCi Initiale 5d

750kg

2000kg (2.0t)

Renault Grand Espace (2003 - 2012) 2.2 dCi Initiale 5d Auto

750kg

2000kg (2.0t)

Renault Grand Espace (2003 - 2012) 2.2 dCi Privilege 5d

750kg

2000kg (2.0t)

Renault Grand Espace (2003 - 2012) 2.2 dCi Privilege 5d Auto

750kg

2000kg (2.0t)

Renault Grand Espace (2003 - 2012) 2.2 dCi Privilege 5d Auto (140bhp)

750kg

2000kg (2.0t)

Renault Grand Espace (2003 - 2012) 3.0 dCi Dynamique 5d Auto

750kg

2000kg (2.0t)

Renault Grand Espace (2003 - 2012) 3.0 dCi Dynamique S 5d Auto

750kg

2000kg (2.0t)

Renault Grand Espace (2003 - 2012) 3.0 dCi Initiale 5d Auto

750kg

2000kg (2.0t)

Renault Grand Espace (2003 - 2012) 3.0 dCi Initiale 5d Auto (6)

750kg

2000kg (2.0t)

Renault Grand Espace (2003 - 2012) 3.0 dCi Privilege 5d Auto (6)

750kg

2000kg (2.0t)

Renault Grand Espace (2003 - 2012) 3.5 V6 Dynamique 5d Auto

750kg

2000kg (2.0t)

Renault Grand Espace (2003 - 2012) 3.5 V6 Initiale 5d Auto

750kg

2000kg (2.0t)

Renault Grand Espace (2003 - 2012) 3.5 V6 Privilege 5d Auto

750kg

2000kg (2.0t)

Renault Koleos (2008 - 2010) 2.0 dCi Dynamique 2WD 5d

750kg

2000kg (2.0t)

Renault Koleos (2008 - 2010) 2.0 dCi Dynamique 5d

750kg

2000kg (2.0t)

Renault Koleos (2008 - 2010) 2.0 dci Dynamique S 5d

750kg

2000kg (2.0t)

Renault Koleos (2008 - 2010) 2.0 dCi Privilege (175bhp) 5d

750kg

2000kg (2.0t)

Renault Koleos (2008 - 2010) 2.0 dCi Privilege 5d

750kg

2000kg (2.0t)

Saab 9-5 Saloon (2010 - 2011) 2.0 TTiD XWD Aero 4d

750kg

2000kg (2.0t)

Saab 9-5 Saloon (2010 - 2011) 2.0 TTiD XWD Vector SE 4d

750kg

2000kg (2.0t)

Saab 9-5 Saloon (2010 - 2011) 2.0T XWD Aero 4d

750kg

2000kg (2.0t)

Saab 9-5 Saloon (2010 - 2011) 2.0T XWD Aero 4d Auto

750kg

2000kg (2.0t)

Saab 9-5 Saloon (2010 - 2011) 2.0T XWD Vector SE (Leather) 4d

750kg

2000kg (2.0t)

Saab 9-5 Saloon (2010 - 2011) 2.0T XWD Vector SE 4d

750kg

2000kg (2.0t)

Saab 9-5 Saloon (2010 - 2011) 2.0T XWD Vector SE 4d Auto

750kg

2000kg (2.0t)

Saab 9-5 Saloon (2010 - 2011) 2.8T XWD Aero 4d Auto

750kg

2000kg (2.0t)

Saab 9-5 Sportwagon (2011 - 2011) 2.0 TTiD XWD Aero 5d

750kg

2000kg (2.0t)

Saab 9-5 Sportwagon (2011 - 2011) 2.0 TTiD XWD Vector SE 5d

750kg

2000kg (2.0t)

Saab 9-5 Sportwagon (2011 - 2011) 2.0T XWD 5d

750kg

2000kg (2.0t)

Saab 9-5 Sportwagon (2011 - 2011) 2.0T XWD Aero 5d Auto

750kg

2000kg (2.0t)

Saab 9-5 Sportwagon (2011 - 2011) 2.0T XWD Vector SE 5d

750kg

2000kg (2.0t)

Saab 9-5 Sportwagon (2011 - 2011) 2.0T XWD Vector SE 5d Auto

750kg

2000kg (2.0t)

Saab 9-5 Sportwagon (2011 - 2011) 2.8T XWD Aero 5d Auto

750kg

2000kg (2.0t)

SEAT Alhambra (1996 - 2000) 1.8 20VT Gran Via 5d (6 Seat)

-

2000kg (2.0t)

SEAT Alhambra (1996 - 2000) 1.8 T 20V 5d (7 Seat)

-

2000kg (2.0t)

SEAT Alhambra (1996 - 2000) 1.9 TDi (110ps) 5d (7 Seat)

-

2000kg (2.0t)

SEAT Alhambra (1996 - 2000) 1.9 TDi 5d (5 Seat)

-

2000kg (2.0t)

SEAT Alhambra (1996 - 2000) 1.9 TDi 5d (7 Seat)

-

2000kg (2.0t)

SEAT Alhambra (1996 - 2000) 1.9 TDi 5d Auto (7 Seat)

-

2000kg (2.0t)

SEAT Alhambra (1996 - 2000) 1.9 TDi S (110ps) 5d (7 Seat)

-

2000kg (2.0t)

SEAT Alhambra (1996 - 2000) 1.9 TDi S (110ps) 5d Auto (7 Seat)

-

2000kg (2.0t)

SEAT Alhambra (1996 - 2000) 1.9 TDi S 5d (7 Seat)

-

2000kg (2.0t)

SEAT Alhambra (1996 - 2000) 1.9 TDi SE (110ps) 5d (7 Seat)

-

2000kg (2.0t)

SEAT Alhambra (1996 - 2000) 1.9 TDi SE 5d (5 Seat)

700kg

2000kg (2.0t)

SEAT Alhambra (1996 - 2000) 1.9 TDi SE 5d (7 Seat)

700kg

2000kg (2.0t)

SEAT Alhambra (1996 - 2000) 1.9 TDi SE Plus 5d (5 Seat)

700kg

2000kg (2.0t)

SEAT Alhambra (1996 - 2000) 1.9 TDi SE Plus SE 5d (7 Seat)

700kg

2000kg (2.0t)

SEAT Alhambra (2000 - 2010) 1.9 TDi PD Reference 5d (7 Seat)

-

2000kg (2.0t)

SEAT Alhambra (2000 - 2010) 1.9 TDi PD S 5d (7 Seat)

-

2000kg (2.0t)

SEAT Alhambra (2000 - 2010) 1.9 TDi PD SE (128ps) 5d (7 Seat)

-

2000kg (2.0t)

SEAT Alhambra (2000 - 2010) 1.9 TDi PD SE 5d (7 Seat)

-

2000kg (2.0t)

SEAT Alhambra (2000 - 2010) 1.9 TDi PD SE 5d Auto (7 Seat)

-

2000kg (2.0t)

SEAT Alhambra (2000 - 2010) 1.9 TDi PD Stylance (130ps) 5d (7 Seat)

-

2000kg (2.0t)

SEAT Alhambra (2000 - 2010) 1.9 TDi PD Stylance 5d Auto (7 Seat)

-

2000kg (2.0t)

SEAT Alhambra (2000 - 2010) 1.9 TDi PD SX 5d (6 Seat)

-

2000kg (2.0t)

SEAT Alhambra (2000 - 2010) 2.0 TDi PD Ecomotive 5d (7 Seat)

-

2000kg (2.0t)

SEAT Alhambra (2000 - 2010) 2.0 TDi PD Reference 5d (7 Seat)

-

2000kg (2.0t)

SEAT Alhambra (2000 - 2010) 2.0 TDi PD S (7 Seat) 5d

-

2000kg (2.0t)

SEAT Alhambra (2000 - 2010) 2.0 TDi PD SE (7 Seat) 5d

-

2000kg (2.0t)

SEAT Alhambra (2000 - 2010) 2.0 TDi PD Stylance 5d (7 Seat)

-

2000kg (2.0t)

SEAT Alhambra (2000 - 2010) 2.8 V6 Sport 5d

-

2000kg (2.0t)

SEAT Alhambra (2010 onwards) 1.4 TSI S 5d

750kg

2000kg (2.0t)

SEAT Alhambra (2010 onwards) 1.4 TSI S 5d DSG

750kg

2000kg (2.0t)

SEAT Alhambra (2010 onwards) 1.4 TSI SE 5d

750kg

2000kg (2.0t)

SEAT Alhambra (2010 onwards) 1.4 TSI SE 5d DSG

750kg

2000kg (2.0t)

SEAT Leon X-PERIENCE (2014 onwards) 2.0 TDI (184bhp) SE Technology (Lux pack) 5d DSG

750kg

2000kg (2.0t)

SEAT Leon X-PERIENCE (2014 onwards) 2.0 TDI (184bhp) SE Technology 5d DSG

750kg

2000kg (2.0t)

SEAT Leon X-PERIENCE (2014 onwards) 2.0 TDI SE 5d

740kg

2000kg (2.0t)

SEAT Leon X-PERIENCE (2014 onwards) 2.0 TDI SE Technology (Lux pack) 5d

740kg

2000kg (2.0t)

SEAT Leon X-PERIENCE (2014 onwards) 2.0 TDI SE Technology 5d

740kg

2000kg (2.0t)

Skoda Octavia Estate (2013 onwards) 1.6 TDI CR (110bhp) SE 4x4 5d

710kg

2000kg (2.0t)

Skoda Octavia Estate (2013 onwards) 1.6 TDI CR (110bhp) SE L 4x4 5d

710kg

2000kg (2.0t)

Skoda Octavia Estate (2013 onwards) 1.6 TDI CR Elegance 4x4 5d

710kg

2000kg (2.0t)

Skoda Octavia Estate (2013 onwards) 1.6 TDI CR SE 4x4 5d

710kg

2000kg (2.0t)

Skoda Octavia Estate (2013 onwards) 2.0 TDI CR Elegance 4x4 5d

720kg

2000kg (2.0t)

Skoda Octavia Estate (2013 onwards) 2.0 TDI CR Laurin + Klement 4x4 5d

720kg

2000kg (2.0t)

Skoda Octavia Estate (2013 onwards) 2.0 TDI CR SE 4x4 5d

720kg

2000kg (2.0t)

Skoda Octavia Estate (2013 onwards) 2.0 TDI CR SE L 4x4 5d

720kg

2000kg (2.0t)

Skoda Octavia Estate (2013 onwards) 2.0 TDI CR Tour de France 4x4 5d

720kg

2000kg (2.0t)

Skoda Octavia vRS (2013 onwards) 2.0 TDI CR vRS 4x4 Estate 5d DSG

750kg

2000kg (2.0t)

Skoda Octavia vRS (2013 onwards) 2.0 TDI CR vRS 4x4 Hatchback 5d DSG

750kg

2000kg (2.0t)

Skoda Superb Estate (2010 - 2015) 2.0 TDI CR (140bhp) Elegance 4X4 (L+K Lux Pack) 5d DSG

750kg

2000kg (2.0t)

Skoda Superb Estate (2010 - 2015) 2.0 TDI CR (140bhp) Elegance 4X4 5d

750kg

2000kg (2.0t)

Skoda Superb Estate (2010 - 2015) 2.0 TDI CR (140bhp) Elegance 4X4 5d DSG

750kg

2000kg (2.0t)

Skoda Superb Estate (2010 - 2015) 2.0 TDI CR (140bhp) Laurin + Klement 4X4 5d

750kg

2000kg (2.0t)

Skoda Superb Estate (2010 - 2015) 2.0 TDI CR (140bhp) Outdoor 4X4 5d

750kg

2000kg (2.0t)

Skoda Superb Estate (2010 - 2015) 2.0 TDI CR (140bhp) Outdoor 4X4 5d DSG

750kg

2000kg (2.0t)

Skoda Superb Estate (2010 - 2015) 2.0 TDI CR (140bhp) Outdoor Plus 4X4 5d

750kg

2000kg (2.0t)

Skoda Superb Estate (2010 - 2015) 2.0 TDI CR (140bhp) SE 4X4 5d DSG

750kg

2000kg (2.0t)

Skoda Superb Estate (2010 - 2015) 2.0 TDI CR (170bhp) Elegance 4X4 (L+K Luxury Pack) 5d

750kg

2000kg (2.0t)

Skoda Superb Estate (2010 - 2015) 2.0 TDI CR (170bhp) Elegance 4X4 5d

750kg

2000kg (2.0t)

Skoda Superb Estate (2010 - 2015) 2.0 TDI CR (170bhp) Elegance 4X4 5d DSG

750kg

2000kg (2.0t)

Skoda Superb Estate (2010 - 2015) 2.0 TDI CR (170bhp) Laurin + Klement 4X4 5d DSG

750kg

2000kg (2.0t)

Skoda Superb Estate (2010 - 2015) 2.0 TDI CR (170bhp) Outdoor 4X4 5d

750kg

2000kg (2.0t)

Skoda Superb Estate (2010 - 2015) 2.0 TDI CR (170bhp) Outdoor 4X4 5d DSG

750kg

2000kg (2.0t)

Skoda Superb Estate (2010 - 2015) 2.0 TDI CR (170bhp) Outdoor Plus 4X4 5d DSG

750kg

2000kg (2.0t)

Skoda Superb Estate (2010 - 2015) 2.0 TDI CR (170bhp) SE 4X4 5d

750kg

2000kg (2.0t)

Skoda Superb Estate (2010 - 2015) 2.0 TDI CR (170bhp) SE 4X4 5d DSG

750kg

2000kg (2.0t)

Skoda Superb Estate (2010 - 2015) 2.0 TDI CR Tour de France 4X4 5d

750kg

2000kg (2.0t)

Skoda Superb Estate (2010 - 2015) 3.6 V6 Elegance 4X4 (07/13-) 5d DSG

750kg

2000kg (2.0t)

Skoda Superb Estate (2010 - 2015) 3.6 V6 Elegance 4X4 (L+K Luxury Pack) 5d DSG

750kg

2000kg (2.0t)

Skoda Superb Estate (2010 - 2015) 3.6 V6 Elegance 4X4 5d DSG

750kg

2000kg (2.0t)

Skoda Superb Estate (2010 - 2015) 3.6 V6 Laurin + Klement 4X4 5d DSG

750kg

2000kg (2.0t)

Skoda Superb Estate (2015 onwards) 2.0 TDI CR (190bhp) Laurin + Klement 5d

750kg

2000kg (2.0t)

Skoda Superb Estate (2015 onwards) 2.0 TDI CR (190bhp) SE L Executive 5d

750kg

2000kg (2.0t)

Skoda Superb Estate (2015 onwards) 2.0 TDI CR (190bhp) SE L Executive 5d DSG

750kg

2000kg (2.0t)

Skoda Superb Estate (2015 onwards) 2.0 TDI CR Laurin + Klement 5d

750kg

2000kg (2.0t)

Skoda Superb Estate (2015 onwards) 2.0 TDI CR Laurin + Klement 5d DSG

750kg

2000kg (2.0t)

Skoda Superb Estate (2015 onwards) 2.0 TDI CR SE 5d

750kg

2000kg (2.0t)

Skoda Superb Estate (2015 onwards) 2.0 TDI CR SE 5d DSG

750kg

2000kg (2.0t)

Skoda Superb Estate (2015 onwards) 2.0 TDI CR SE Business 5d

750kg

2000kg (2.0t)

Skoda Superb Estate (2015 onwards) 2.0 TDI CR SE Business 5d DSG

750kg

2000kg (2.0t)

Skoda Superb Estate (2015 onwards) 2.0 TDI CR SE L Executive 5d

750kg

2000kg (2.0t)

Skoda Superb Estate (2015 onwards) 2.0 TDI CR SE L Executive 5d DSG

750kg

2000kg (2.0t)

Skoda Superb Estate (2015 onwards) 2.0 TSI Laurin + Klement 5d

750kg

2000kg (2.0t)

Skoda Superb Estate (2015 onwards) 2.0 TSI SE L Executive 5d

750kg

2000kg (2.0t)

Skoda Superb Hatchback (2015 onwards) 2.0 TDI CR (190bhp) Laurin + Klement 5d

750kg

2000kg (2.0t)

Skoda Superb Hatchback (2015 onwards) 2.0 TDI CR (190bhp) Laurin + Klement 5d DSG

750kg

2000kg (2.0t)

Skoda Superb Hatchback (2015 onwards) 2.0 TDI CR (190bhp) SE L Executive 5d DSG

750kg

2000kg (2.0t)

Skoda Superb Hatchback (2015 onwards) 2.0 TDI CR Laurin + Klement 5d

750kg

2000kg (2.0t)

Skoda Superb Hatchback (2015 onwards) 2.0 TDI CR Laurin + Klement 5d DSG

750kg

2000kg (2.0t)

Skoda Superb Hatchback (2015 onwards) 2.0 TDI CR SE 5d

750kg

2000kg (2.0t)

Skoda Superb Hatchback (2015 onwards) 2.0 TDI CR SE 5d DSG

750kg

2000kg (2.0t)

Skoda Superb Hatchback (2015 onwards) 2.0 TDI CR SE Business 5d

750kg

2000kg (2.0t)

Skoda Superb Hatchback (2015 onwards) 2.0 TDI CR SE Business 5d DSG

750kg

2000kg (2.0t)

Skoda Superb Hatchback (2015 onwards) 2.0 TDI CR SE L Executive 5d

750kg

2000kg (2.0t)

Skoda Superb Hatchback (2015 onwards) 2.0 TDI CR SE L Executive 5d DSG

750kg

2000kg (2.0t)

Skoda Superb Hatchback (2015 onwards) 2.0 TSI Laurin + Klement 5d DSG

750kg

2000kg (2.0t)

Skoda Superb Hatchback (2015 onwards) 2.0 TSI SE L Executive 5d DSG

750kg

2000kg (2.0t)

Skoda Yeti (2009 onwards) 2.0 TDI CR (140bhp) Adventure 4x4 5d

750kg

2000kg (2.0t)

Skoda Yeti (2009 onwards) 2.0 TDI CR (140bhp) Elegance 4x4 5d

750kg

2000kg (2.0t)

Skoda Yeti (2009 onwards) 2.0 TDI CR (140bhp) Elegance 4x4 5d DSG

750kg

2000kg (2.0t)

Skoda Yeti (2009 onwards) 2.0 TDI CR (140bhp) Laurin + Klement 4x4 5d DSG

750kg

2000kg (2.0t)

Skoda Yeti (2009 onwards) 2.0 TDI CR (140bhp) SE 4x4 5d

750kg

2000kg (2.0t)

Skoda Yeti (2009 onwards) 2.0 TDI CR (140bhp) SE Plus 4x4 5d

750kg

2000kg (2.0t)

Skoda Yeti (2009 onwards) 2.0 TDI CR (140bhp) SE Plus 4x4 5d DSG

750kg

2000kg (2.0t)

Skoda Yeti (2009 onwards) 2.0 TDI CR (170bhp) Elegance 4x4 5d

750kg

2000kg (2.0t)

Skoda Yeti (2009 onwards) 2.0 TDI CR (170bhp) Elegance 4x4 5d DSG

750kg

2000kg (2.0t)

Skoda Yeti (2009 onwards) 2.0 TDI CR (170bhp) Laurin + Klement 4x4 5d

750kg

2000kg (2.0t)

Skoda Yeti (2009 onwards) 2.0 TDI CR (170bhp) Laurin + Klement 4x4 5d DSG

750kg

2000kg (2.0t)

Skoda Yeti (2009 onwards) 2.0 TDI CR (170bhp) SE Plus 4x4 5d

750kg

2000kg (2.0t)

SsangYong Korando (2011 onwards) 2.0 (149bhp) ES 5d

750kg

2000kg (2.0t)

SsangYong Korando (2011 onwards) 2.0 (149bhp) EX 4WD 5d

750kg

2000kg (2.0t)

SsangYong Korando (2011 onwards) 2.0 (149bhp) LE 5d

750kg

2000kg (2.0t)

SsangYong Korando (2011 onwards) 2.0 (149bhp) S 5d

750kg

2000kg (2.0t)

SsangYong Korando (2011 onwards) 2.0 (149bhp) SE 5d

750kg

2000kg (2.0t)

SsangYong Korando (2011 onwards) 2.0 ELX4 5d

750kg

2000kg (2.0t)

SsangYong Korando (2011 onwards) 2.0 ELX4 5d Auto

750kg

2000kg (2.0t)

SsangYong Korando (2011 onwards) 2.0 ES 5d

750kg

2000kg (2.0t)

SsangYong Korando (2011 onwards) 2.0 ES 5d Tip Auto

750kg

2000kg (2.0t)

SsangYong Korando (2011 onwards) 2.0 EX 4WD 5d

750kg

2000kg (2.0t)

SsangYong Korando (2011 onwards) 2.0 EX 4WD 5d Tip Auto

750kg

2000kg (2.0t)

SsangYong Korando (2011 onwards) 2.0 LE 5d

750kg

2000kg (2.0t)

SsangYong Korando (2011 onwards) 2.0 Limited Edition 5d

750kg

2000kg (2.0t)

SsangYong Korando (2011 onwards) 2.0 S 5d

750kg

2000kg (2.0t)

SsangYong Korando (2011 onwards) 2.0 SE 5d

750kg

2000kg (2.0t)

SsangYong Korando (2011 onwards) 2.0 SE4 5d

750kg

2000kg (2.0t)

SsangYong Korando (2011 onwards) 2.0 SX 4WD 5d

750kg

2000kg (2.0t)

SsangYong Korando (2011 onwards) 2.2 ELX Red 4x4 auto 5d

750kg

2000kg (2.0t)

SsangYong Korando (2011 onwards) 2.2 ELX4 5d

750kg

2000kg (2.0t)

SsangYong Korando (2011 onwards) 2.2 ELX4 5d Auto

750kg

2000kg (2.0t)

SsangYong Korando (2011 onwards) 2.2 EX 5d

750kg

2000kg (2.0t)

SsangYong Korando (2011 onwards) 2.2 EX4 5d

750kg

2000kg (2.0t)

SsangYong Korando (2011 onwards) 2.2 LE Diesel 5d

750kg

2000kg (2.0t)

SsangYong Korando (2011 onwards) 2.2 LE Diesel auto 5d

750kg

2000kg (2.0t)

SsangYong Korando (2011 onwards) 2.2 SE 5d

750kg

2000kg (2.0t)

SsangYong Korando (2011 onwards) 2.2 SE4 5d

750kg

2000kg (2.0t)

SsangYong Rodius (2005 - 2013) 200 ES 5d

750kg

2000kg (2.0t)

SsangYong Rodius (2005 - 2013) 200 ES 5d Tip Auto

750kg

2000kg (2.0t)

SsangYong Rodius (2005 - 2013) 200 EX 5d Tip Auto

750kg

2000kg (2.0t)

SsangYong Rodius (2005 - 2013) 200 S 5d

750kg

2000kg (2.0t)

SsangYong Turismo (2013 onwards) 2.2 ELX 4WD 5d Tip Auto

750kg

2000kg (2.0t)

SsangYong Turismo (2013 onwards) 2.2 EX 5d

750kg

2000kg (2.0t)

SsangYong Turismo (2013 onwards) 2.2 EX 5d Tip Auto

750kg

2000kg (2.0t)

SsangYong Turismo (2013 onwards) 2.2 SE 5d

750kg

2000kg (2.0t)

Subaru B9 Tribeca (2006 - 2007) 3.0 S5 5d Auto

750kg

2000kg (2.0t)

Subaru B9 Tribeca (2006 - 2007) 3.0 SE5 5d Auto

750kg

2000kg (2.0t)

Subaru B9 Tribeca (2006 - 2007) 3.0 SE7 5d Auto

750kg

2000kg (2.0t)

Subaru Forester (2002 - 2008) 2.5 XT 5d (04)

750kg

2000kg (2.0t)

Subaru Forester (2002 - 2008) 2.5 XT 5d (05)

750kg

2000kg (2.0t)

Subaru Forester (2002 - 2008) 2.5 XT 5d Auto

750kg

2000kg (2.0t)

Subaru Forester (2002 - 2008) 2.5 XT Cloth 5d

750kg

2000kg (2.0t)

Subaru Forester (2002 - 2008) 2.5 XT Cloth 5d Auto

750kg

2000kg (2.0t)

Subaru Forester (2002 - 2008) 2.5 XTE 5d

750kg

2000kg (2.0t)

Subaru Forester (2002 - 2008) 2.5 XTE 5d Auto

750kg

2000kg (2.0t)

Subaru Forester (2002 - 2008) 2.5 XTEn 5d

750kg

2000kg (2.0t)

Subaru Forester (2002 - 2008) 2.5 XTEn 5d Auto

750kg

2000kg (2.0t)

Subaru Forester (2008 - 2012) 2.0 X 5d

750kg

2000kg (2.0t)

Subaru Forester (2008 - 2012) 2.0 XS 5d

750kg

2000kg (2.0t)

Subaru Forester (2008 - 2012) 2.0D SureTrak 5d

750kg

2000kg (2.0t)

Subaru Forester (2008 - 2012) 2.0D X 5d

750kg

2000kg (2.0t)

Subaru Forester (2008 - 2012) 2.0D XC 5d

750kg

2000kg (2.0t)

Subaru Forester (2008 - 2012) 2.0D XS 5d

750kg

2000kg (2.0t)

Subaru Forester (2008 - 2012) 2.0D XS NavPlus 5d

750kg

2000kg (2.0t)

Subaru Forester (2008 - 2012) 2.0D XSn 5d

750kg

2000kg (2.0t)

Subaru Forester (2013 onwards) 2.0 XE 5d Lineartronic

750kg

2000kg (2.0t)

Subaru Forester (2013 onwards) 2.0 XE Premium 5d Lineartronic

750kg

2000kg (2.0t)

Subaru Forester (2013 onwards) 2.0 XT 5d Lineartronic

750kg

2000kg (2.0t)

Subaru Forester (2013 onwards) 2.0D X 5d Lineartronic

-

2000kg (2.0t)

Subaru Forester (2013 onwards) 2.0D XC 5d

750kg

2000kg (2.0t)

Subaru Forester (2013 onwards) 2.0D XC 5d Lineartronic

750kg

2000kg (2.0t)

Subaru Forester (2013 onwards) 2.0D XC Premium 5d

750kg

2000kg (2.0t)

Subaru Forester (2013 onwards) 2.0D XC Premium 5d Lineartronic

750kg

2000kg (2.0t)

Suzuki Grand Vitara (2005 - 2014) 1.9 DDiS 3d

750kg

2000kg (2.0t)

Suzuki Grand Vitara (2005 - 2014) 1.9 DDiS 5d

750kg

2000kg (2.0t)

Suzuki Grand Vitara (2005 - 2014) 1.9 DDiS SZ5 (13-) 5d

750kg

2000kg (2.0t)

Suzuki Grand Vitara (2005 - 2014) 1.9 DDiS SZ5 5d

750kg

2000kg (2.0t)

Suzuki Grand Vitara (2005 - 2014) 1.9 DDiS SZ-T 5d

750kg

2000kg (2.0t)

Suzuki Grand Vitara (2005 - 2014) 1.9 DDiS X-EC 5d

750kg

2000kg (2.0t)

Toyota RAV4 (2006 - 2012) 2.0 V-matic XT-R 2WD 5d

750kg

2000kg (2.0t)

Toyota RAV4 (2006 - 2012) 2.0 V-matic XT-R Style 2WD 5d

750kg

2000kg (2.0t)

Toyota RAV4 (2006 - 2012) 2.2 D-4D LE 5d

750kg

2000kg (2.0t)

Toyota RAV4 (2006 - 2012) 2.2 D-4D SR180 5d

750kg

2000kg (2.0t)

Toyota RAV4 (2006 - 2012) 2.2 D-4D T180 5d

750kg

2000kg (2.0t)

Toyota RAV4 (2006 - 2012) 2.2 D-4D XT3 5d

750kg

2000kg (2.0t)

Toyota RAV4 (2006 - 2012) 2.2 D-4D XT4 5d

750kg

2000kg (2.0t)

Toyota RAV4 (2006 - 2012) 2.2 D-4D XT-R (09) 5d

750kg

2000kg (2.0t)

Toyota RAV4 (2006 - 2012) 2.2 D-4D XT-R (2010) 5d

750kg

2000kg (2.0t)

Toyota RAV4 (2006 - 2012) 2.2 D-4D XT-R 2WD 5d

750kg

2000kg (2.0t)

Toyota RAV4 (2006 - 2012) 2.2 D-4D XT-R 5d

750kg

2000kg (2.0t)

Toyota RAV4 (2006 - 2012) 2.2 D-4D XT-R Premium Nav (2010) 5d

750kg

2000kg (2.0t)

Toyota RAV4 (2006 - 2012) 2.2 D-4D XT-R Premium Nav 5d

750kg

2000kg (2.0t)

Toyota RAV4 (2006 - 2012) 2.2 D-4D XT-R Style + Premium Nav (2010) 5d

750kg

2000kg (2.0t)

Toyota RAV4 (2006 - 2012) 2.2 D-4D XT-R Style + Premium Nav 5d

750kg

2000kg (2.0t)

Toyota RAV4 (2006 - 2012) 2.2 D-4D XT-R Style 2WD 5d

750kg

2000kg (2.0t)

Toyota RAV4 (2006 - 2012) 2.2 D-4D XT-R Style 5d

750kg

2000kg (2.0t)

Toyota RAV4 (2006 - 2012) 2.2 D-4D XT-R Touch and Go 5d

750kg

2000kg (2.0t)

Vauxhall Antara (2007 - 2015) 2.0 CDTi 16v E 5d

750kg

2000kg (2.0t)

Vauxhall Antara (2007 - 2015) 2.0 CDTi 16v Exclusiv 5d

750kg

2000kg (2.0t)

Vauxhall Antara (2007 - 2015) 2.0 CDTi 16v S 5d

750kg

2000kg (2.0t)

Vauxhall Antara (2007 - 2015) 2.0 CDTi 16v SE 5d

750kg

2000kg (2.0t)

Vauxhall Antara (2007 - 2015) 2.2 CDTi (184bhp) SE 5d

750kg

2000kg (2.0t)

Vauxhall Antara (2007 - 2015) 2.2 CDTi (184bhp) SE Nav (Start Stop) 5d

750kg

2000kg (2.0t)

Vauxhall Antara (2007 - 2015) 2.2 CDTi (184bhp) SE Nav 5d

750kg

2000kg (2.0t)

Vauxhall Antara (2007 - 2015) 2.2 CDTi Diamond (2WD) (Start Stop) 5d

750kg

2000kg (2.0t)

Vauxhall Antara (2007 - 2015) 2.2 CDTi Diamond (Start Stop) 5d

750kg

2000kg (2.0t)

Vauxhall Antara (2007 - 2015) 2.2 CDTi Exclusiv (2WD) (Start Stop) 5d

750kg

2000kg (2.0t)

Vauxhall Antara (2007 - 2015) 2.2 CDTi Exclusiv (2WD) 5d

750kg

2000kg (2.0t)

Vauxhall Antara (2007 - 2015) 2.2 CDTi Exclusiv [Start Stop) 5d

750kg

2000kg (2.0t)

Vauxhall Antara (2007 - 2015) 2.2 CDTi Exclusiv 5d

750kg

2000kg (2.0t)

Vauxhall Antara (2007 - 2015) 2.2 CDTi SE Nav 5d

750kg

2000kg (2.0t)

Vauxhall Frontera (1991 - 2003) 2.0i Sport 3d

750kg

2000kg (2.0t)

Vauxhall Frontera (1991 - 2003) 2.0i Sport Apache 3d

750kg

2000kg (2.0t)

Vauxhall Frontera (1991 - 2003) 2.0i Sport Niagara 3d

750kg

2000kg (2.0t)

Vauxhall Frontera (1991 - 2003) 2.0i Sport S 3d

750kg

2000kg (2.0t)

Vauxhall Frontera (1991 - 2003) 2.0i Sport TransGlobe 3d

750kg

2000kg (2.0t)

Vauxhall Frontera (1991 - 2003) 2.5 TDS Sport 3d

750kg

2000kg (2.0t)

Vauxhall Frontera (1991 - 2003) 2.5 TDS Sport S 3d

750kg

2000kg (2.0t)

Vauxhall Sintra (1997 - 1999) 2.2 DTi CD 5d (7 Seat)

750kg

2000kg (2.0t)

Vauxhall Sintra (1997 - 1999) 3.0 V6 CDX 5d Auto (7 Seat)

750kg

2000kg (2.0t)

Vauxhall Vivaro (2010 - 2014) 2.0CDTI (115bhp) Combi 9 Seater 2.9t 5d Tecshift

750kg

2000kg (2.0t)

Volkswagen Golf Alltrack (2015 onwards) 2.0 TDI (184bhp) 5d DSG

-

2000kg (2.0t)

Volkswagen Golf Alltrack (2015 onwards) 2.0 TDI 5d

-

2000kg (2.0t)

Volkswagen Passat Alltrack (2012 - 2014) 2.0 TDI Bluemotion Tech 4MOTION 5d

750kg

2000kg (2.0t)

Volkswagen Passat Alltrack (2012 - 2014) 2.0 TDI Bluemotion Tech 4MOTION 5d DSG

750kg

2000kg (2.0t)

Volkswagen Passat Estate (2005 - 2011) 2.0 SE TDI 4MOTION 5d

750kg

2000kg (2.0t)

Volkswagen Passat Estate (2005 - 2011) 2.0 Sport TDI 4MOTION 5d

750kg

2000kg (2.0t)

Volkswagen Passat Estate (2005 - 2011) 2.0 Sport TDI CR DPF 4MOTION 5d

750kg

2000kg (2.0t)

Volkswagen Passat Estate (2005 - 2011) 2.0 Sport TDI DPF 4MOTION 5d

750kg

2000kg (2.0t)

Volkswagen Passat Estate (2015 onwards) 2.0 TDI GT 5d

750kg

2000kg (2.0t)

Volkswagen Passat Estate (2015 onwards) 2.0 TDI GT 5d DSG

750kg

2000kg (2.0t)

Volkswagen Passat Estate (2015 onwards) 2.0 TDI R Line 5d

750kg

2000kg (2.0t)

Volkswagen Passat Estate (2015 onwards) 2.0 TDI S 5d

750kg

2000kg (2.0t)

Volkswagen Passat Estate (2015 onwards) 2.0 TDI S 5d DSG

750kg

2000kg (2.0t)

Volkswagen Passat Estate (2015 onwards) 2.0 TDI SCR (190bhp) GT 5d DSG

750kg

2000kg (2.0t)

Volkswagen Passat Estate (2015 onwards) 2.0 TDI SCR (190bhp) R Line 5d DSG

750kg

2000kg (2.0t)

Volkswagen Passat Estate (2015 onwards) 2.0 TDI SE 5d

750kg

2000kg (2.0t)

Volkswagen Passat Estate (2015 onwards) 2.0 TDI SE 5d DSG

750kg

2000kg (2.0t)

Volkswagen Passat Estate (2015 onwards) 2.0 TDI SE Business 5d

750kg

2000kg (2.0t)

Volkswagen Passat Estate (2015 onwards) 2.0 TDI SE Business 5d DSG

750kg

2000kg (2.0t)

Volkswagen Passat Estate (2015 onwards) GT (Panoramic Sunroof) 2.0 TDI BMT 150PS 5d

750kg

2000kg (2.0t)

Volkswagen Passat Estate (2015 onwards) GT (Panoramic Sunroof) 2.0 TDI BMT 150PS DSG auto 5d

750kg

2000kg (2.0t)

Volkswagen Passat Estate (2015 onwards) GT (Panoramic Sunroof) 2.0 TDI SCR BMT 190PS DSG auto 5

750kg

2000kg (2.0t)

Volkswagen Passat Estate (2015 onwards) R-Line (Panoramic Sunroof) 2.0 TDI BMT 150PS 5d

750kg

2000kg (2.0t)

Volkswagen Passat Estate (2015 onwards) R-Line (Panoramic Sunroof) 2.0 TDI BMT 150PS DSG auto 5

750kg

2000kg (2.0t)

Volkswagen Passat Estate (2015 onwards) R-Line (Panoramic Sunroof) 2.0 TDI SCR BMT 190PS DSG au

750kg

2000kg (2.0t)

Volkswagen Passat Saloon (2005 - 2010) 2.0 SE TDI 4MOTION 4d

750kg

2000kg (2.0t)

Volkswagen Passat Saloon (2005 - 2010) 2.0 Sport TDI 4MOTION 4d

750kg

2000kg (2.0t)

Volkswagen Passat Saloon (2005 - 2010) 2.0 Sport TDI CR DPF 4MOTION 4d

750kg

2000kg (2.0t)

Volkswagen Passat Saloon (2005 - 2010) 2.0 Sport TDI DPF 4MOTION 4d

750kg

2000kg (2.0t)

Volkswagen Passat Saloon (2015 onwards) 2.0 TDI GT 4d

730kg

2000kg (2.0t)

Volkswagen Passat Saloon (2015 onwards) 2.0 TDI GT 4d DSG

750kg

2000kg (2.0t)

Volkswagen Passat Saloon (2015 onwards) 2.0 TDI R Line 4d

730kg

2000kg (2.0t)

Volkswagen Passat Saloon (2015 onwards) 2.0 TDI R Line 4d DSG

750kg

2000kg (2.0t)

Volkswagen Passat Saloon (2015 onwards) 2.0 TDI S 4d

730kg

2000kg (2.0t)

Volkswagen Passat Saloon (2015 onwards) 2.0 TDI S 4d DSG

750kg

2000kg (2.0t)

Volkswagen Passat Saloon (2015 onwards) 2.0 TDI SCR (190bhp) GT 4d DSG

750kg

2000kg (2.0t)

Volkswagen Passat Saloon (2015 onwards) 2.0 TDI SCR (190bhp) R Line 4d DSG

750kg

2000kg (2.0t)

Volkswagen Passat Saloon (2015 onwards) 2.0 TDI SE 4d

730kg

2000kg (2.0t)

Volkswagen Passat Saloon (2015 onwards) 2.0 TDI SE 4d DSG

750kg

2000kg (2.0t)

Volkswagen Passat Saloon (2015 onwards) 2.0 TDI SE Business 4d

730kg

2000kg (2.0t)

Volkswagen Passat Saloon (2015 onwards) 2.0 TDI SE Business 4d DSG

750kg

2000kg (2.0t)

Volkswagen Passat Saloon (2015 onwards) GT (Panoramic Sunroof) 2.0 TDI BMT 150PS 4d

730kg

2000kg (2.0t)

Volkswagen Passat Saloon (2015 onwards) GT (Panoramic Sunroof) 2.0 TDI BMT 150PS DSG auto 4d

750kg

2000kg (2.0t)

Volkswagen Passat Saloon (2015 onwards) GT (Panoramic Sunroof) 2.0 TDI SCR BMT 190PS DSG auto 4

750kg

2000kg (2.0t)

Volkswagen Passat Saloon (2015 onwards) R-Line (Panoramic Sunroof) 2.0 TDI BMT 150PS 4d

730kg

2000kg (2.0t)

Volkswagen Passat Saloon (2015 onwards) R-Line (Panoramic Sunroof) 2.0 TDI BMT 150PS DSG auto 4

750kg

2000kg (2.0t)

Volkswagen Passat Saloon (2015 onwards) R-Line (Panoramic Sunroof) 2.0 TDI SCR BMT 190PS DSG au

750kg

2000kg (2.0t)

Volkswagen Sharan (1995 - 2000) 1.9 TDi Carat (110ps) 5d

700kg

2000kg (2.0t)

Volkswagen Sharan (1995 - 2000) 1.9 TDi Carat (110ps) 5d Auto

700kg

2000kg (2.0t)

Volkswagen Sharan (1995 - 2000) 1.9 TDi Carat 5d

700kg

2000kg (2.0t)

Volkswagen Sharan (1995 - 2000) 1.9 TDi S (110ps) 5d

700kg

2000kg (2.0t)

Volkswagen Sharan (1995 - 2000) 1.9 TDi S (110ps) 5d (7 Seat)

700kg

2000kg (2.0t)

Volkswagen Sharan (1995 - 2000) 1.9 TDi S (110ps) 5d Auto

700kg

2000kg (2.0t)

Volkswagen Sharan (1995 - 2000) 1.9 TDi S (110ps) 5d Auto (7 Seat)

700kg

2000kg (2.0t)

Volkswagen Sharan (1995 - 2000) 1.9 TDi S 5d

700kg

2000kg (2.0t)

Volkswagen Sharan (1995 - 2000) 1.9 TDi SE (110ps) 5d

700kg

2000kg (2.0t)

Volkswagen Sharan (1995 - 2000) 1.9 TDi SE (110ps) 5d Auto

700kg

2000kg (2.0t)

Volkswagen Sharan (1995 - 2000) 1.9 TDi SE 5d

700kg

2000kg (2.0t)

Volkswagen Sharan (1995 - 2000) 1.9 TDi Sport 5d

700kg

2000kg (2.0t)

Volkswagen Sharan (1995 - 2000) 1.9 TDi Sport 5d Auto

700kg

2000kg (2.0t)

Volkswagen Sharan (1995 - 2000) 2.8 Carat VR6 5d

700kg

2000kg (2.0t)

Volkswagen Sharan (1995 - 2000) 2.8 Carat VR6 5d Auto

700kg

2000kg (2.0t)

Volkswagen Sharan (1995 - 2000) 2.8 Carat VR6 Syncro 5d Auto

700kg

2000kg (2.0t)

Volkswagen Sharan (1995 - 2000) 2.8 SE VR6 5d

700kg

2000kg (2.0t)

Volkswagen Sharan (1995 - 2000) 2.8 SE VR6 5d Auto

700kg

2000kg (2.0t)

Volkswagen Sharan (1995 - 2000) 2.8 Sport VR6 5d

700kg

2000kg (2.0t)

Volkswagen Sharan (1995 - 2000) 2.8 Sport VR6 5d Auto

700kg

2000kg (2.0t)

Volkswagen Sharan (2000 - 2010) 1.9 SL TDi PD (115ps) 5d

700kg

2000kg (2.0t)

Volkswagen Sharan (2000 - 2010) 1.9 SL TDi PD (115ps) 5d Auto

700kg

2000kg (2.0t)

Volkswagen Sharan (2000 - 2010) 1.9 SL TDi PD (90ps) 5d

700kg

2000kg (2.0t)

Volkswagen Sharan (2000 - 2010) 1.9 TDI Carat (130ps) 5d

700kg

2000kg (2.0t)

Volkswagen Sharan (2000 - 2010) 1.9 TDI Carat 5d

700kg

2000kg (2.0t)

Volkswagen Sharan (2000 - 2010) 1.9 TDI Carat 5d Tip Auto

700kg

2000kg (2.0t)

Volkswagen Sharan (2000 - 2010) 1.9 TDI S (115ps) 5d (00)

700kg

2000kg (2.0t)

Volkswagen Sharan (2000 - 2010) 1.9 TDI S (115ps) 5d (04)

700kg

2000kg (2.0t)

Volkswagen Sharan (2000 - 2010) 1.9 TDI S (115ps) 5d Tip Auto

700kg

2000kg (2.0t)

Volkswagen Sharan (2000 - 2010) 1.9 TDI S (130ps) 5d

700kg

2000kg (2.0t)

Volkswagen Sharan (2000 - 2010) 1.9 TDI S (90ps) 5d

700kg

2000kg (2.0t)

Volkswagen Sharan (2000 - 2010) 1.9 TDI S 5d Tip Auto

700kg

2000kg (2.0t)

Volkswagen Sharan (2000 - 2010) 1.9 TDI SE (115ps) 5d

700kg

2000kg (2.0t)

Volkswagen Sharan (2000 - 2010) 1.9 TDI SE (115ps) 5d Tip Auto

700kg

2000kg (2.0t)

Volkswagen Sharan (2000 - 2010) 1.9 TDI SE (130ps) 5d

700kg

2000kg (2.0t)

Volkswagen Sharan (2000 - 2010) 1.9 TDI SE 4MOTION 5d

700kg

2000kg (2.0t)

Volkswagen Sharan (2000 - 2010) 1.9 TDI SE 5d

700kg

2000kg (2.0t)

Volkswagen Sharan (2000 - 2010) 1.9 TDI SE 5d Tip Auto

700kg

2000kg (2.0t)

Volkswagen Sharan (2000 - 2010) 1.9 TDI Sport (130ps) 5d

700kg

2000kg (2.0t)

Volkswagen Sharan (2000 - 2010) 1.9 TDI Sport 5d

700kg

2000kg (2.0t)

Volkswagen Sharan (2000 - 2010) 1.9 TDI Sport 5d Tip Auto

700kg

2000kg (2.0t)

Volkswagen Sharan (2000 - 2010) 2.0 TDI BlueMotion S (140ps) DPF 5d

700kg

2000kg (2.0t)

Volkswagen Sharan (2000 - 2010) 2.0 TDI BlueMotion Tech S (140bhp) DPF 5d

700kg

2000kg (2.0t)

Volkswagen Sharan (2000 - 2010) 2.0 TDI S (140ps) 5d

700kg

2000kg (2.0t)

Volkswagen Sharan (2000 - 2010) 2.0 TDI S (140ps) 5d (DPF)

700kg

2000kg (2.0t)

Volkswagen Sharan (2000 - 2010) 2.0 TDI SE (140ps) 5d

700kg

2000kg (2.0t)

Volkswagen Sharan (2000 - 2010) 2.0 TDI SE (140ps) 5d (DPF)

700kg

2000kg (2.0t)

Volkswagen Sharan (2000 - 2010) 2.0 TDI Sport (140ps) 5d

700kg

2000kg (2.0t)

Volkswagen Sharan (2000 - 2010) 2.8 Carat V6 4MOTION 5d

700kg

2000kg (2.0t)

Volkswagen Sharan (2000 - 2010) 2.8 Carat V6 5d

700kg

2000kg (2.0t)

Volkswagen Sharan (2000 - 2010) 2.8 Carat V6 5d Tip Auto

700kg

2000kg (2.0t)

Volkswagen Sharan (2000 - 2010) 2.8 Sport V6 4MOTION 5d

700kg

2000kg (2.0t)

Volkswagen Sharan (2000 - 2010) 2.8 Sport V6 5d

700kg

2000kg (2.0t)

Volkswagen Sharan (2000 - 2010) SL 1.9 TDI (115ps) 5d

700kg

2000kg (2.0t)

Volkswagen Sharan (2000 - 2010) SL 1.9 TDI (115ps) 5d Tip Auto

700kg

2000kg (2.0t)

Volkswagen Sharan (2000 - 2010) SL 1.9 TDI (130ps) 5d

700kg

2000kg (2.0t)

Volkswagen Sharan (2010 onwards) 2.0 TDI CR BlueMotion Tech S 5d

750kg

2000kg (2.0t)

Volkswagen Sharan (2010 onwards) 2.0 TSI SEL 5d DSG

750kg

2000kg (2.0t)

Volkswagen Tiguan (2008 - 2016) 1.4 TSi Match (08/13-) 5d

750kg

2000kg (2.0t)

Volkswagen Tiguan (2008 - 2016) 1.4 TSi Match 5d

750kg

2000kg (2.0t)

Volkswagen Tiguan (2008 - 2016) 1.4 TSi S (2011) 5d

750kg

2000kg (2.0t)

Volkswagen Tiguan (2008 - 2016) 1.4 TSI S 5d

750kg

2000kg (2.0t)

Volkswagen Tiguan (2008 - 2016) 1.4 TSi SE (2011) 5d

750kg

2000kg (2.0t)

Volkswagen Tiguan (2008 - 2016) 1.4 TSI SE 5d

750kg

2000kg (2.0t)

Volkswagen Tiguan (2008 - 2016) 1.4 TSi Sport 5d

750kg

2000kg (2.0t)

Volkswagen Tiguan (2008 - 2016) 2.0 TDi BlueMotion Tech Match (150bhp) (2WD) 5d

750kg

2000kg (2.0t)

Volkswagen Tiguan (2008 - 2016) 2.0 TDi BlueMotion Tech Match (2WD) (08/13-) 5d

750kg

2000kg (2.0t)

Volkswagen Tiguan (2008 - 2016) 2.0 TDi BlueMotion Tech Match (2WD) 5d

750kg

2000kg (2.0t)

Volkswagen Tiguan (2008 - 2016) 2.0 TDi BlueMotion Tech Match Edition (150bhp) 2WD 5d

750kg

2000kg (2.0t)

Volkswagen Tiguan (2008 - 2016) 2.0 TDi BlueMotion Tech S (2WD) (2011) 5d

750kg

2000kg (2.0t)

Volkswagen Tiguan (2008 - 2016) 2.0 TDI BlueMotion Tech S (2WD) 5d

750kg

2000kg (2.0t)

Volkswagen Tiguan (2008 - 2016) 2.0 TDi BlueMotion Tech SE (2WD) (08/11-) 5d

750kg

2000kg (2.0t)

Volkswagen Tiguan (2008 - 2016) 2.0 TDI BlueMotion Tech SE (2WD) 5d

750kg

2000kg (2.0t)

Volkswagen Tiguan (2008 - 2016) 2.0 TDi BlueMotion Tech Sport (2WD) 5d

750kg

2000kg (2.0t)

Volkswagen Tiguan (2008 - 2016) 2.0 TDI Escape 5d Auto

750kg

2000kg (2.0t)

Volkswagen Tiguan (2008 - 2016) 2.0 TDi Escape 5d DSG

750kg

2000kg (2.0t)

Volkswagen Tiguan (2008 - 2016) 2.0 TDi Match 5d DSG

750kg

2000kg (2.0t)

Volkswagen Tiguan (2008 - 2016) 2.0 TDI R Line 5d Auto

750kg

2000kg (2.0t)

Volkswagen Tiguan (2008 - 2016) 2.0 TDi R Line 5d DSG

750kg

2000kg (2.0t)

Volkswagen Tiguan (2008 - 2016) 2.0 TDI S 5d Auto

750kg

2000kg (2.0t)

Volkswagen Tiguan (2008 - 2016) 2.0 TDi S 5d DSG

750kg

2000kg (2.0t)

Volkswagen Tiguan (2008 - 2016) 2.0 TDI SE 5d Auto

750kg

2000kg (2.0t)

Volkswagen Tiguan (2008 - 2016) 2.0 TDI Sport 5d Auto

750kg

2000kg (2.0t)

Volkswagen Tiguan (2008 - 2016) 2.0 TDi Sport 5d DSG

750kg

2000kg (2.0t)

Volkswagen Tiguan (2008 - 2016) 2.0 TDi Summit 5d DSG

750kg

2000kg (2.0t)

Volkswagen Tiguan (2016 onwards) 2.0 TDi BMT (150bhp) R-Line 5d

750kg

2000kg (2.0t)

Volkswagen Tiguan (2016 onwards) 2.0 TDi BMT (150bhp) S 5d

750kg

2000kg (2.0t)

Volkswagen Tiguan (2016 onwards) 2.0 TDi BMT (150bhp) SE 5d

750kg

2000kg (2.0t)

Volkswagen Tiguan (2016 onwards) 2.0 TDi BMT (150bhp) SE Nav 5d

750kg

2000kg (2.0t)

Volkswagen Tiguan (2016 onwards) 2.0 TDi BMT (150bhp) SEL 5d

750kg

2000kg (2.0t)

Volkswagen Tiguan (2016 onwards) R-Line 2.0 TDI SCR BMT 150PS 2WD DSG auto 5d

750kg

2000kg (2.0t)

Volkswagen Tiguan (2016 onwards) R-Line 2.0 TSI BMT 180PS 4Motion 5d

750kg

2000kg (2.0t)

Volkswagen Tiguan (2016 onwards) SE 2.0 TDI SCR BMT 150PS 2WD DSG auto 5d

750kg

2000kg (2.0t)

Volkswagen Tiguan (2016 onwards) SE Navigation 2.0 TDI SCR BMT 150PS 2WD DSG auto 5d

750kg

2000kg (2.0t)

Volkswagen Tiguan (2016 onwards) SEL 2.0 TDI SCR BMT 150PS 2WD DSG auto 5d

750kg

2000kg (2.0t)

Volkswagen Tiguan (2016 onwards) SEL 2.0 TSI BMT 180PS 4Motion 5d

750kg

2000kg (2.0t)

Volvo S80 (2006 onwards) 2.4 AWD D5 Executive 4d Geartronic

750kg

2000kg (2.0t)

Volvo S80 (2006 onwards) 2.4 D5 (185bhp) SE Lux Premium 4d Geartronic

750kg

2000kg (2.0t)

Volvo S80 (2006 onwards) 2.4 D5 (185bhp) SE Premium 4d Geartronic

750kg

2000kg (2.0t)

Volvo S80 (2006 onwards) 2.4 D5 (205bhp) ES 4d Geartronic

750kg

2000kg (2.0t)

Volvo S80 (2006 onwards) 2.4 D5 (205bhp) Executive 4d Geartronic

750kg

2000kg (2.0t)

Volvo S80 (2006 onwards) 2.4 D5 (205bhp) SE (Leather) 4d Geartronic

750kg

2000kg (2.0t)

Volvo S80 (2006 onwards) 2.4 D5 (205bhp) SE 4d Geartronic

750kg

2000kg (2.0t)

Volvo S80 (2006 onwards) 2.4 D5 (205bhp) SE Lux (Sat Nav) 4d Geartronic

750kg

2000kg (2.0t)

Volvo S80 (2006 onwards) 2.4 D5 (205bhp) SE Lux 4d Geartronic

750kg

2000kg (2.0t)

Volvo S80 (2006 onwards) 2.4 D5 (205bhp) SE Lux Premium 4d Geartronic

750kg

2000kg (2.0t)

Volvo S80 (2006 onwards) 2.4 D5 (205bhp) SE Premium 4d Geartronic

750kg

2000kg (2.0t)

Volvo S80 (2006 onwards) 2.4 D5 (215bhp) Executive 4d Geartronic

750kg

2000kg (2.0t)

Volvo S80 (2006 onwards) 2.4 D5 (215bhp) SE (Leather) 4d Geartronic

750kg

2000kg (2.0t)

Volvo S80 (2006 onwards) 2.4 D5 (215bhp) SE Lux (Sat Nav) 4d Geartronic

750kg

2000kg (2.0t)

Volvo S80 (2006 onwards) 2.4 D5 (215bhp) SE Nav 4d Geartronic

750kg

2000kg (2.0t)

Volvo S80 (2006 onwards) 2.4 D5 Executive (185bhp) (RTI NAV) 4d Geartronic

750kg

2000kg (2.0t)

Volvo S80 (2006 onwards) 2.4 D5 Executive (185bhp) 4d Geartronic

750kg

2000kg (2.0t)

Volvo S80 (2006 onwards) 2.4 D5 Executive (185bhp) 4d Geartronic (07)

750kg

2000kg (2.0t)

Volvo S80 (2006 onwards) 2.4 D5 SE (185bhp) (RTI NAV) 4d Geartronic

750kg

2000kg (2.0t)

Volvo S80 (2006 onwards) 2.4 D5 SE (185bhp) 4d Geartronic

750kg

2000kg (2.0t)

Volvo S80 (2006 onwards) 2.4 D5 SE (185bhp) 4d Geartronic (07)

750kg

2000kg (2.0t)

Volvo S80 (2006 onwards) 2.4 D5 SE Lux (185bhp) (RTI NAV) 4d Geartronic

750kg

2000kg (2.0t)

Volvo S80 (2006 onwards) 2.4 D5 SE Lux (185bhp) 4d Geartronic

750kg

2000kg (2.0t)

Volvo S80 (2006 onwards) 2.4 D5 SE Lux (185bhp) 4d Geartronic (07)

750kg

2000kg (2.0t)

Volvo S80 (2006 onwards) 2.4 D5 SE Sport (185bhp) (RTI NAV) 4d Geartronic

750kg

2000kg (2.0t)

Volvo S80 (2006 onwards) 2.4 D5 SE Sport (185bhp) 4d Geartronic (07)

750kg

2000kg (2.0t)

Volvo S80 (2006 onwards) 2.4 D5 SE Sport Premium 4d Geartronic

750kg

2000kg (2.0t)

Volvo S80 (2006 onwards) D5 (215bhp) Executive (06/13-) 4d Geartronic

750kg

2000kg (2.0t)

Volvo S80 (2006 onwards) D5 (215bhp) SE Lux (06/13-) 4d Geartronic

750kg

2000kg (2.0t)

Volvo S80 (2006 onwards) T6 AWD (304bhp) SE Lux 4d Geartronic

750kg

2000kg (2.0t)

Volvo S80 (2006 onwards) V8 AWD Executive (RTI NAV) 4d Geartronic

750kg

2000kg (2.0t)

Volvo S80 (2006 onwards) V8 AWD Executive 4d Geartronic

750kg

2000kg (2.0t)

Volvo S80 (2006 onwards) V8 AWD SE (RTI NAV) 4d Geartronic

750kg

2000kg (2.0t)

Volvo S80 (2006 onwards) V8 AWD SE 4d Geartronic

750kg

2000kg (2.0t)

Volvo S80 (2006 onwards) V8 AWD SE 4d Geartronic (07)

750kg

2000kg (2.0t)

Volvo S80 (2006 onwards) V8 AWD SE Lux (RTI NAV) 4d Geartronic

750kg

2000kg (2.0t)

Volvo S80 (2006 onwards) V8 AWD SE Lux (Sat Nav) 4d Geartronic

750kg

2000kg (2.0t)

Volvo S80 (2006 onwards) V8 AWD SE Lux 4d Geartronic

750kg

2000kg (2.0t)

Volvo S80 (2006 onwards) V8 AWD SE Lux 4d Geartronic (07)

750kg

2000kg (2.0t)

Volvo S80 (2006 onwards) V8 AWD SE Lux Premium 4d Geartronic

750kg

2000kg (2.0t)

Volvo S80 (2006 onwards) V8 AWD SE Sport (RTI NAV) 4d Geartronic

750kg

2000kg (2.0t)

Volvo S80 (2006 onwards) V8 AWD SE Sport 4d Geartronic

750kg

2000kg (2.0t)

Volvo S80 (2006 onwards) V8 AWD SE Sport 4d Geartronic (07)

750kg

2000kg (2.0t)

Volvo S80 (2006 onwards) V8 AWD SE Sport Premium 4d Geartronic

750kg

2000kg (2.0t)

Volvo V70 (2007 onwards) 2.4 D5 (205bhp) ES 5d Geartronic

750kg

2000kg (2.0t)

Volvo V70 (2007 onwards) 2.4 D5 (205bhp) R DESIGN 5d Geartronic

750kg

2000kg (2.0t)

Volvo V70 (2007 onwards) 3.0 T6 AWD (304bhp) R DESIGN 5d Geartronic

750kg

2000kg (2.0t)

Volvo V70 (2007 onwards) 3.0 T6 AWD (304bhp) SE 5d Geartronic

750kg

2000kg (2.0t)

Volvo V70 (2007 onwards) 3.0 T6 AWD (304bhp) SE Lux 5d Geartronic

750kg

2000kg (2.0t)

Volvo V70 (2007 onwards) D5 (205bhp) Ocean Race 5d Geartronic

750kg

2000kg (2.0t)

Volvo V70 (2007 onwards) D5 (205bhp) Ocean Race Premium 5d Geartronic

750kg

2000kg (2.0t)

Volvo V70 (2007 onwards) D5 (205bhp) R DESIGN SE 5d Geartronic

750kg

2000kg (2.0t)

Volvo V70 (2007 onwards) D5 (205bhp) R DESIGN SE Premium 5d Geartronic

750kg

2000kg (2.0t)

Volvo V70 (2007 onwards) D5 (205bhp) SE (Leather) 5d Geartronic

750kg

2000kg (2.0t)

Volvo V70 (2007 onwards) D5 (205bhp) SE 5d Geartronic

750kg

2000kg (2.0t)

Volvo V70 (2007 onwards) D5 (205bhp) SE Lux (Sat Nav) 5d Geartronic

750kg

2000kg (2.0t)

Volvo V70 (2007 onwards) D5 (205bhp) SE Lux 5d Geartronic

750kg

2000kg (2.0t)

Volvo V70 (2007 onwards) D5 (205bhp) SE Lux Premium 5d Geartronic

750kg

2000kg (2.0t)

Volvo V70 (2007 onwards) D5 (205bhp) SE Premium 5d Geartronic

750kg

2000kg (2.0t)

Volvo V70 (2007 onwards) D5 (215bhp) Business Edition (06/13-) 5d Geartronic

750kg

2000kg (2.0t)

Volvo V70 (2007 onwards) D5 (215bhp) Business Edition 5d Geartronic

750kg

2000kg (2.0t)

Volvo V70 (2007 onwards) D5 (215bhp) ES 5d Geartronic

750kg

2000kg (2.0t)

Volvo V70 (2007 onwards) D5 (215bhp) R DESIGN 5d Geartronic

750kg

2000kg (2.0t)

Volvo V70 (2007 onwards) D5 (215bhp) R DESIGN Nav 5d Geartronic

750kg

2000kg (2.0t)

Volvo V70 (2007 onwards) D5 (215bhp) SE (06/13-) 5d Geartronic

750kg

2000kg (2.0t)

Volvo V70 (2007 onwards) D5 (215bhp) SE (Leather) 5d Geartronic

750kg

2000kg (2.0t)

Volvo V70 (2007 onwards) D5 (215bhp) SE Lux (06/13-) 5d Geartronic

750kg

2000kg (2.0t)

Volvo V70 (2007 onwards) D5 (215bhp) SE Lux (Sat Nav) 5d Geartronic

750kg

2000kg (2.0t)

Volvo V70 (2007 onwards) D5 (215bhp) SE Nav (06/13-) 5d Geartronic

750kg

2000kg (2.0t)

Volvo V70 (2007 onwards) D5 (215bhp) SE Nav 5d Geartronic

750kg

2000kg (2.0t)

Volvo V70 (2007 onwards) D5 AWD (205bhp) SE (Leather) 5d Geartronic

750kg

2000kg (2.0t)

Volvo V70 (2007 onwards) D5 AWD (205bhp) SE 5d Geartronic

750kg

2000kg (2.0t)

Volvo V70 (2007 onwards) D5 AWD (205bhp) SE Lux (Sat Nav) 5d Geartronic

750kg

2000kg (2.0t)

Volvo V70 (2007 onwards) D5 AWD (205bhp) SE Lux 5d Geartronic

750kg

2000kg (2.0t)

Volvo V70 (2007 onwards) D5 AWD (205bhp) SE Lux Premium 5d Geartronic

750kg

2000kg (2.0t)

Volvo V70 (2007 onwards) D5 AWD (205bhp) SE Premium 5d Geartronic

750kg

2000kg (2.0t)

Volvo V70 (2007 onwards) D5 AWD R DESIGN (RTI NAV) 5d Geartronic

750kg

2000kg (2.0t)

Volvo V70 (2007 onwards) D5 AWD R DESIGN 5d Geartronic

750kg

2000kg (2.0t)

Volvo V70 (2007 onwards) D5 AWD R DESIGN Premium 5d Geartronic

750kg

2000kg (2.0t)

Volvo V70 (2007 onwards) D5 AWD SE (RTI NAV) 5d Geartronic

750kg

2000kg (2.0t)

Volvo V70 (2007 onwards) D5 AWD SE 5d Geartronic

750kg

2000kg (2.0t)

Volvo V70 (2007 onwards) D5 AWD SE Lux (RTI NAV) 5d Geartronic

750kg

2000kg (2.0t)

Volvo V70 (2007 onwards) D5 AWD SE Lux 5d Geartronic

750kg

2000kg (2.0t)

Volvo V70 (2007 onwards) D5 AWD SE Lux Premium 5d Geartronic

750kg

2000kg (2.0t)

Volvo V70 (2007 onwards) D5 AWD SE Premium 5d Geartronic

750kg

2000kg (2.0t)

Volvo V70 (2007 onwards) D5 AWD SE Sport 5d Geartronic

750kg

2000kg (2.0t)

Volvo V70 (2007 onwards) D5 Ocean Race 5d Geartronic

750kg

2000kg (2.0t)

Volvo V70 (2007 onwards) D5 Ocean Race Premium 5d Geartronic

750kg

2000kg (2.0t)

Volvo V70 (2007 onwards) D5 R DESIGN (RTI NAV) 5d Geartronic

750kg

2000kg (2.0t)

Volvo V70 (2007 onwards) D5 R DESIGN 5d Geartronic

750kg

2000kg (2.0t)

Volvo V70 (2007 onwards) D5 R DESIGN Premium 5d Geartronic

750kg

2000kg (2.0t)

Volvo V70 (2007 onwards) D5 SE (RTI NAV) 5d Geartronic

750kg

2000kg (2.0t)

Volvo V70 (2007 onwards) D5 SE 5d Geartronic

750kg

2000kg (2.0t)

Volvo V70 (2007 onwards) D5 SE Lux 5d Geartronic

750kg

2000kg (2.0t)

Volvo V70 (2007 onwards) D5 SE Premium 5d Geartronic

750kg

2000kg (2.0t)

Volvo V70 (2007 onwards) D5 SE Sport 5d Geartronic

750kg

2000kg (2.0t)

Volvo V70 (2007 onwards) T6 AWD (304bhp) R DESIGN Nav 5d Geartronic

750kg

2000kg (2.0t)

Volvo V70 (2007 onwards) T6 AWD R DESIGN (RTI NAV) 5d Geartronic

750kg

2000kg (2.0t)

Volvo V70 (2007 onwards) T6 AWD R DESIGN 5d Geartronic

750kg

2000kg (2.0t)

Volvo V70 (2007 onwards) T6 AWD R DESIGN Premium 5d Geartronic

750kg

2000kg (2.0t)

Volvo V70 (2007 onwards) T6 AWD R DESIGN SE 5d Geartronic

750kg

2000kg (2.0t)

Volvo V70 (2007 onwards) T6 AWD R DESIGN SE Premium 5d Geartronic

750kg

2000kg (2.0t)

Volvo V70 (2007 onwards) T6 AWD SE (RTI NAV) 5d Geartronic

750kg

2000kg (2.0t)

Volvo V70 (2007 onwards) T6 AWD SE 5d Geartronic

750kg

2000kg (2.0t)

Volvo V70 (2007 onwards) T6 AWD SE Lux (RTI NAV) 5d Geartronic

750kg

2000kg (2.0t)

Volvo V70 (2007 onwards) T6 AWD SE Lux 5d Geartronic

750kg

2000kg (2.0t)

Volvo V70 (2007 onwards) T6 AWD SE Lux Premium 5d Geartronic

750kg

2000kg (2.0t)

Volvo V70 (2007 onwards) T6 AWD SE Sport 5d Geartronic

750kg

2000kg (2.0t)

Volvo XC60 (2008 onwards) 2.4 D5 (205bhp) ES AWD 5d Geartronic

750kg

2000kg (2.0t)

Volvo XC60 (2008 onwards) 2.4D (175bhp) R Design 5d Geartronic

750kg

2000kg (2.0t)

Volvo XC60 (2008 onwards) 2.4D (175bhp) R Design Premium 5d Geartronic

750kg

2000kg (2.0t)

Volvo XC60 (2008 onwards) 2.4D (175bhp) R Design SE 5d Geartronic

750kg

2000kg (2.0t)

Volvo XC60 (2008 onwards) 2.4D (175bhp) R Design SE Premium 5d Geartronic

750kg

2000kg (2.0t)

Volvo XC60 (2008 onwards) 2.4D (175bhp) S 2WD 5d Geartronic

750kg

2000kg (2.0t)

Volvo XC60 (2008 onwards) 2.4D (175bhp) SE Lux 2WD 5d Geartronic

750kg

2000kg (2.0t)

Volvo XC60 (2008 onwards) 2.4D (175bhp) SE Premium 2WD 5d Geartronic

750kg

2000kg (2.0t)

Volvo XC60 (2008 onwards) 2.4D S 5d Geartronic

750kg

2000kg (2.0t)

Volvo XC60 (2008 onwards) 2.4D SE 5d Geartronic

750kg

2000kg (2.0t)

Volvo XC60 (2008 onwards) 2.4D SE Lux 5d Geartronic

750kg

2000kg (2.0t)

Volvo XC60 (2008 onwards) 3.0 T6 (304bhp) R Design AWD 5d Geartronic

750kg

2000kg (2.0t)

Volvo XC60 (2008 onwards) 3.0 T6 (304bhp) R Design Premium AWD 5d Geartronic

750kg

2000kg (2.0t)

Volvo XC60 (2008 onwards) 3.0 T6 (304bhp) SE AWD 5d Geartronic

750kg

2000kg (2.0t)

Volvo XC60 (2008 onwards) 3.0 T6 (304bhp) SE Lux AWD 5d Geartronic

750kg

2000kg (2.0t)

Volvo XC60 (2008 onwards) 3.0 T6 (304bhp) SE Lux Premium AWD 5d Geartronic

750kg

2000kg (2.0t)

Volvo XC60 (2008 onwards) 3.0 T6 (304bhp) SE Premium AWD 5d Geartronic

750kg

2000kg (2.0t)

Volvo XC60 (2008 onwards) D3 (163bhp) Ocean Race AWD 5d Geartronic

750kg

2000kg (2.0t)

Volvo XC60 (2008 onwards) D3 (163bhp) SE AWD 5d Geartronic

750kg

2000kg (2.0t)

Volvo XC60 (2008 onwards) D3 (163bhp) SE Lux AWD 5d Geartronic

750kg

2000kg (2.0t)

Volvo XC60 (2008 onwards) D3 (163bhp) SE Lux Premium AWD 5d Geartronic

750kg

2000kg (2.0t)

Volvo XC60 (2008 onwards) D3 (163bhp) SE Premium AWD 5d Geartronic

750kg

2000kg (2.0t)

Volvo XC60 (2008 onwards) D4 (163bhp) Ocean Race AWD 5d Geartronic

750kg

2000kg (2.0t)

Volvo XC60 (2008 onwards) D4 (163bhp) Ocean Race Nav AWD 5d Geartronic

750kg

2000kg (2.0t)

Volvo XC60 (2008 onwards) D4 (163bhp) R DESIGN AWD (06/13-) 5d Geartronic

750kg

2000kg (2.0t)

Volvo XC60 (2008 onwards) D4 (163bhp) R Design AWD 5d Geartronic

750kg

2000kg (2.0t)

Volvo XC60 (2008 onwards) D4 (163bhp) R DESIGN Lux AWD (06/13-) 5d Geartronic

750kg

2000kg (2.0t)

Volvo XC60 (2008 onwards) D4 (163bhp) R Design Lux AWD 5d Geartronic

750kg

2000kg (2.0t)

Volvo XC60 (2008 onwards) D4 (163bhp) R Design Lux Nav AWD 5d Geartronic

750kg

2000kg (2.0t)

Volvo XC60 (2008 onwards) D4 (163bhp) R DESIGN Nav AWD (06/13-) 5d Geartronic

750kg

2000kg (2.0t)

Volvo XC60 (2008 onwards) D4 (163bhp) SE AWD (06/13-) 5d Geartronic

750kg

2000kg (2.0t)

Volvo XC60 (2008 onwards) D4 (163bhp) SE AWD 5d Geartronic

750kg

2000kg (2.0t)

Volvo XC60 (2008 onwards) D4 (163bhp) SE Lux AWD (06/13-) 5d Geartronic

750kg

2000kg (2.0t)

Volvo XC60 (2008 onwards) D4 (163bhp) SE Lux AWD 5d Geartronic

750kg

2000kg (2.0t)

Volvo XC60 (2008 onwards) D4 (163bhp) SE Lux Nav AWD (06/13-) 5d Geartronic

750kg

2000kg (2.0t)

Volvo XC60 (2008 onwards) D4 (163bhp) SE Lux Nav AWD 5d Geartronic

750kg

2000kg (2.0t)

Volvo XC60 (2008 onwards) D4 (163bhp) SE Nav AWD (06/13-) 5d Geartronic

750kg

2000kg (2.0t)

Volvo XC60 (2008 onwards) D4 (163bhp) SE Nav AWD 5d Geartronic

750kg

2000kg (2.0t)

Volvo XC60 (2008 onwards) D4 (181bhp) R DESIGN AWD 5d Geartronic

750kg

2000kg (2.0t)