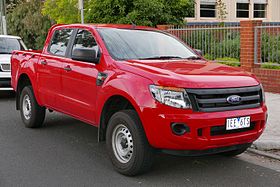 The Ford Ranger is Ford's most popular pick up truck range. The T6 pickup was first revealed by Ford in October 2010 in Sydney at the Australian International Motor Show in Sydney.
The most recent Ford Ranger model was launched in 2016. Its a simple facelifted model that's benefited from a package of nips, tucks and tweaks – in our opinion its about time it got a makeover. It's not that the the Ford Ranger was a ugly beast before, but the UK's pick-up competition has come on leaps and bouds recently Ford needed to make sure the Ranger keeps up with the times.
Ford Ranger Details
Body style options:
2-door single cab
4-door extended cab
4-door double cab
Layout
Front-engine, rear-wheel-drive or four-wheel-drive
Ford Ranger Engine Options
Engine 2.5 L Duratec 25 I4 (petrol)
2.2 L Duratorq I4 (diesel)
3.2 L Duratorq I5 (diesel)
Ford Ranger Transmission Options
5-speed manual
6-speed manual
6-speed automatic


If you are looking for the towing capacity for a Ford Ranger car then we're here to help. The towing capacity is a term used to describe the maximum weight of a trailer a Ford Ranger car can tow. There may be certain models of Ford Ranger car that cannot be used to tow a trailer. These will be highlighted with 'N KG' in the below list of Ford Ranger towing weights.




For those models of Ford Ranger where towing is allowed, we have detailed the Ford Ranger towing capacity for a braked trailer (this is when the trailer being towed has its own breaking system). To ensure you are both safe and legal it is really important that you check the Ford Ranger towing weight limit for the car.

As well as providing the braked towing capacity for your Ford Ranger, where data is available we also have also listed the Ford Ranger's unbraked towing capacity.

Here is a full list of the Unbraked and Braked Towing Capacity for the Ford Ranger. If you cannot find the Ford Ranger you are looking for please drop us a email and we will add this to the list.

There were no cars matching your query: Ford RangerGive it another go!