Finding the right car that can tow up to 3500kg can be very difficult, and there's really no good way to try before you buy. Fortunately, there are plenty of test-drive reports out there to help you make your mind. But before you start looking, it's important to see what the different options are as this will help you narrow down your search.


3500kg towing capacity vehicles: Things to consider
If you want to tow a heavy trailer, you need a car with a high towing capacity. There are also a number of other considerations you should make.

Before you hook up a trailer, the first thing to look at is always the vehicle documents. The maximum towing capacity of the vehicle is shown in the registration certificate or log book and often in the owners manual.

If, on the other hand, you are planning to buy a new car, you should carefully check the technical data in the brochures. Because depending on the engine, transmission and drive type (all-wheel drive) and equipment, the permissible trailer load can vary considerably, even for one and the same model.


What is the difference between braked and unbraked trailer?
A clear distinction is made between "braked" and "unbraked". Unbraked trailers are often used as "light trailers" to tow motorcycles or small boats. These are normally smaller trailers with just two wheels and a single axle. The type of trailer you would use to go to the tip with your garden waste or to take the lawn mower in for repairs.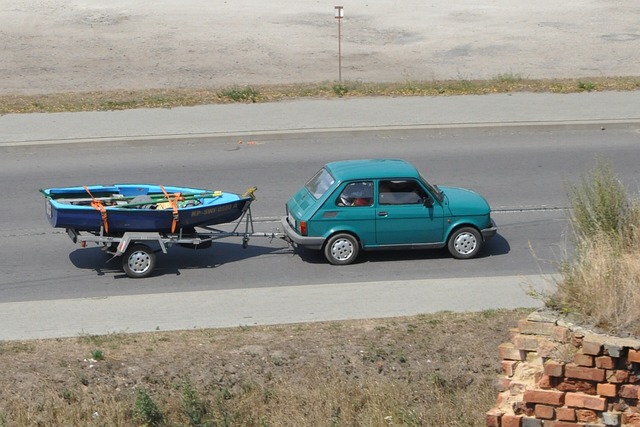 Example of a small unbraked trailer.

Large boat or car trailers as well as some caravans or yacht trailers are usually equipped with their own brakes (overrun brakes) and can therefore be heavier. In the UK, car trailers with a total weight limit of more than 750kg must by law have an overrun brake. If you are towing a trailer with four or six wheels when you should prbably look for a car with a towing capacity of 3500kg.



Example of a heavy braked trailer with twin axle.


It's not just about the size of the car
It should be clear to everyone that a small Fiat Panda or an Opel Corsa is overwhelmed by a heavy horse trailer or a large caravan. But even a large SUV or a high-horsepower car is not automatically suitable as a towing vehicle. There are quite significant differences in towing capacity: A Lexus UX as a compact SUV, for example, can tow a maximum of 750 kilograms, while the 400hp electric SUV Jaguar i-Pace has no trailer load at all. A BMW X5 Diesel or a Mercedes G-Class, on the other hand, has a towing capacity of 3500kg / 3 ton.

The list below shows a wide range of cars that can tow up to 3500kg. The relevant make and model series are listed and the engines with the lowest maximum towing capacity (braked and unbraked) and those with the highest.


Cars That Can Tow 3500kg
Looking for a towing-capable car that is tough and powerful? Discover our curated collection of premium vehicles with a powerful 3.5-tonne towing capability, including sumptuous SUVs and adaptable vans

The upper limit for towing on category B driving licenses, covering cars, vans, and pick-up trucks, is an impressive 3,500kg (equivalent to three-and-a-half tonnes). This maximum towing capacity is available for a range of vehicles without requiring any additional training.

The prevalence of this high towing capacity varies depending on the vehicle type. For pick-up trucks, it is quite commonly found as they are often employed in agricultural or construction settings, necessitating the ability to handle substantial weight and tow heavy loads on a regular basis.

Here's the list of some popular cars that can tow 2500kg, arranged alphabetically:

- Audi Q7
- Ford Ranger
- Land Rover Defender
- Land Rover Discovery 4
- Mercedes Sprinter
- Mitsubishi L200
- SsangYong Rexton
- Volkswagen Touareg


Can a Van Tow 3500kg?
While a good number of vans boast a 3,500kg towing capability, procuring such a hauling capacity sometimes requires a strengthened tow hitch or a heavy-duty framework. As for regular passenger cars, encountering models capable of towing the complete weight is rather uncommon.


Which vehicles have 3500kg towing capacity?
For those models of car with a towing capacity of 3500kg, we have detailed the make and model of the car where the maximum braked towing capacity is 3500kg (this is when the trailer being towed has its own breaking system). To ensure you are both safe and legal it is really important that you check the towing weight limit for the car with the manufacturer.




Whilst every effort has been made to ensure the towing weights provided on this website are accurate, we always recommend checking the vehicle log book (V5) for the official towing capacity. We accept no responsibility if the towing weights provided on this website are incorrect.
| Car Make & Model | Max Towing Weight - Unbraked | Max Towing Capacity - Braked |
| --- | --- | --- |
| Audi Q7 SUV (2015 onwards) SQ7 4.0 BiTDI 435PS Quattro 5d Tiptronic auto | 750kg | 3500kg (3.5t) |
| BMW X5 (2007 - 2013) 3.0D xDrive30d SE (Dynamic) 5d Auto | 750kg | 3500kg (3.5t) |
| BMW X5 (2007 - 2013) 3.0D xDrive35d SE(Dynamic) 5d Auto | 750kg | 3500kg (3.5t) |
| BMW X5 (2007 - 2013) 30d xDrive M Sport 5d Auto | 750kg | 3500kg (3.5t) |
| BMW X5 (2007 - 2013) 30d xDrive SE 5d Auto | 750kg | 3500kg (3.5t) |
| BMW X5 (2007 - 2013) 35d xDrive M Sport 5d Auto | 750kg | 3500kg (3.5t) |
| BMW X5 (2007 - 2013) 35d xDrive SE 5d Auto | 750kg | 3500kg (3.5t) |
| BMW X5 (2007 - 2013) 4.8 xDrive48i SE (Dynamic) 5d Auto | 750kg | 3500kg (3.5t) |
| BMW X5 (2007 - 2013) 4.8i xDrive M Sport 5d Auto | 750kg | 3500kg (3.5t) |
| BMW X5 (2007 - 2013) 4.8i xDrive SE 5d Auto | 750kg | 3500kg (3.5t) |
| BMW X5 (2007 - 2013) xDrive M50d M Performance (7 Seat) 5d Auto | 750kg | 3500kg (3.5t) |
| BMW X5 (2007 - 2013) xDrive M50d M Performance 5d Auto | 750kg | 3500kg (3.5t) |
| BMW X5 (2007 - 2013) xDrive30d BluePerform SE (Dyn) (7Seat) 5d Auto | 750kg | 3500kg (3.5t) |
| BMW X5 (2007 - 2013) xDrive30d BluePerformance SE (7 Seat) 5d Auto | 750kg | 3500kg (3.5t) |
| BMW X5 (2007 - 2013) xDrive30d BluePerformance SE (Dynamic) 5d Auto | 750kg | 3500kg (3.5t) |
| BMW X5 (2007 - 2013) xDrive30d BluePerformance SE 5d Auto | 750kg | 3500kg (3.5t) |
| BMW X5 (2007 - 2013) xDrive30d M Sport (7 Seat) (04/10-) 5d Auto | 750kg | 3500kg (3.5t) |
| BMW X5 (2007 - 2013) xDrive30d M Sport (7 Seat) 5d Auto | 750kg | 3500kg (3.5t) |
| BMW X5 (2007 - 2013) xDrive30d M Sport 5d Auto | 750kg | 3500kg (3.5t) |
| BMW X5 (2007 - 2013) xDrive30d SE (7 Seat) (04/10-) 5d Auto | 750kg | 3500kg (3.5t) |
| BMW X5 (2007 - 2013) xDrive30d SE (7 Seat) 5d Auto | 750kg | 3500kg (3.5t) |
| BMW X5 (2007 - 2013) xDrive30d SE (Dynamic) (7 Seat) (04/10-) 5d Auto | 750kg | 3500kg (3.5t) |
| BMW X5 (2007 - 2013) xDrive30d SE (Dynamic) (7 Seat) 5d Auto | 750kg | 3500kg (3.5t) |
| BMW X5 (2007 - 2013) xDrive30d SE (Dynamic) 5d Auto | 750kg | 3500kg (3.5t) |
| BMW X5 (2007 - 2013) xDrive30d SE 5d Auto | 750kg | 3500kg (3.5t) |
| BMW X5 (2007 - 2013) xDrive35d 10-Year Edition 5d Auto | 750kg | 3500kg (3.5t) |
| BMW X5 (2007 - 2013) xDrive35d M Sport (7 Seat) 5d Auto | 750kg | 3500kg (3.5t) |
| BMW X5 (2007 - 2013) xDrive35d SE (7 Seat) 5d Auto | 750kg | 3500kg (3.5t) |
| BMW X5 (2007 - 2013) xDrive40d M Sport (7 Seat) 5d Auto | 750kg | 3500kg (3.5t) |
| BMW X5 (2007 - 2013) xDrive40d M Sport 5d Auto | 750kg | 3500kg (3.5t) |
| BMW X5 (2007 - 2013) xDrive40d SE (7 Seat) 5d Auto | 750kg | 3500kg (3.5t) |
| BMW X5 (2007 - 2013) xDrive40d SE (Dynamic) (7 Seat) 5d Auto | 750kg | 3500kg (3.5t) |
| BMW X5 (2007 - 2013) xDrive40d SE (Dynamic) 5d Auto | 750kg | 3500kg (3.5t) |
| BMW X5 (2007 - 2013) xDrive40d SE 5d Auto | 750kg | 3500kg (3.5t) |
| BMW X5 (2007 - 2013) xDrive48i M Sport (7 Seat) 5d Auto | 750kg | 3500kg (3.5t) |
| BMW X5 (2007 - 2013) xDrive48i SE (7 Seat) 5d Auto | 750kg | 3500kg (3.5t) |
| BMW X5 (2007 - 2013) xDrive48i SE (Dynamic) (7 Seat) 5d Auto | 750kg | 3500kg (3.5t) |
| BMW X5 (2007 - 2013) xDrive50i M Sport (7 Seat) 5d Auto | 750kg | 3500kg (3.5t) |
| BMW X5 (2007 - 2013) xDrive50i M Sport 5d Auto | 750kg | 3500kg (3.5t) |
| BMW X5 (2007 - 2013) xDrive50i SE (7 Seat) 5d Auto | 750kg | 3500kg (3.5t) |
| BMW X5 (2007 - 2013) xDrive50i SE (Dynamic) (7 Seat) 5d Auto | 750kg | 3500kg (3.5t) |
| BMW X5 (2007 - 2013) xDrive50i SE (Dynamic) 5d Auto | 750kg | 3500kg (3.5t) |
| BMW X5 (2007 - 2013) xDrive50i SE 5d Auto | 750kg | 3500kg (3.5t) |
| BMW X5 4x4 (2013 onwards) xDrive M50d 5d Auto | 750kg | 3500kg (3.5t) |
| BMW X5 4x4 (2013 onwards) xDrive30d M Sport (7 Seat) 5d Auto | 750kg | 3500kg (3.5t) |
| BMW X5 4x4 (2013 onwards) xDrive30d M Sport 5d Auto | 750kg | 3500kg (3.5t) |
| BMW X5 4x4 (2013 onwards) xDrive30d SE (7 Seat) 5d Auto | 750kg | 3500kg (3.5t) |
| BMW X5 4x4 (2013 onwards) xDrive30d SE 5d Auto | 750kg | 3500kg (3.5t) |
| BMW X5 4x4 (2013 onwards) xDrive40d M Sport (7 Seat) 5d Auto | 750kg | 3500kg (3.5t) |
| BMW X5 4x4 (2013 onwards) xDrive40d M Sport 5d Auto | 750kg | 3500kg (3.5t) |
| BMW X5 4x4 (2013 onwards) xDrive40d SE (7 Seat) 5d Auto | 750kg | 3500kg (3.5t) |
| BMW X5 4x4 (2013 onwards) xDrive40d SE 5d Auto | 750kg | 3500kg (3.5t) |
| BMW X5 4x4 (2013 onwards) xDrive50i M Sport (7 Seat) 5d Auto | 750kg | 3500kg (3.5t) |
| BMW X5 4x4 (2013 onwards) xDrive50i M Sport 5d Auto | 750kg | 3500kg (3.5t) |
| BMW X5 4x4 (2013 onwards) xDrive50i SE (7 Seat) 5d Auto | 750kg | 3500kg (3.5t) |
| BMW X5 4x4 (2013 onwards) xDrive50i SE 5d Auto | 750kg | 3500kg (3.5t) |
| BMW X6 (2008 - 2014) 5.0i xDrive 5d Step Auto | 750kg | 3500kg (3.5t) |
| BMW X6 (2008 - 2014) xDrive50i (8) 5d Step Auto | 750kg | 3500kg (3.5t) |
| BMW X6 (2008 - 2014) xDrive50i (Dynamic) (8) 5d Step Auto | 750kg | 3500kg (3.5t) |
| BMW X6 (2008 - 2014) xDrive50i (Dynamic) 5d Step Auto | 750kg | 3500kg (3.5t) |
| BMW X6 (2014 onwards) xDrive M50d 5d Auto | 750kg | 3500kg (3.5t) |
| BMW X6 (2014 onwards) xDrive30d M Sport 5d Step Auto | 750kg | 3500kg (3.5t) |
| BMW X6 (2014 onwards) xDrive30d SE 5d Step Auto | 750kg | 3500kg (3.5t) |
| BMW X6 (2014 onwards) xDrive40d M Sport 5d Step Auto | 750kg | 3500kg (3.5t) |
| BMW X6 (2014 onwards) xDrive40d SE 5d Step Auto | 750kg | 3500kg (3.5t) |
| BMW X6 (2014 onwards) xDrive50i M Sport 5d Step Auto | 750kg | 3500kg (3.5t) |
| BMW X6 (2014 onwards) xDrive50i SE 5d Step Auto | 750kg | 3500kg (3.5t) |
| Daihatsu Fourtrak (1984 - 2002) 2.8 TD Limited Edition 3d | - | 3500kg (3.5t) |
| Daihatsu Fourtrak (1984 - 2002) 2.8 TD Riviera 2 3d | - | 3500kg (3.5t) |
| Daihatsu Fourtrak (1984 - 2002) 2.8 TDL-SE Independent 3d | - | 3500kg (3.5t) |
| Daihatsu Fourtrak (1984 - 2002) 2.8 TDS Anjou Independent 3d | - | 3500kg (3.5t) |
| Daihatsu Fourtrak (1984 - 2002) 2.8 TDS Independent 3d | - | 3500kg (3.5t) |
| Daihatsu Fourtrak (1984 - 2002) 2.8 TDS Riviera 3d | - | 3500kg (3.5t) |
| Daihatsu Fourtrak (1984 - 2002) 2.8 TDS Timberline 3d | - | 3500kg (3.5t) |
| Daihatsu Fourtrak (1984 - 2002) 2.8 TDX Anjou Independent 3d | - | 3500kg (3.5t) |
| Daihatsu Fourtrak (1984 - 2002) 2.8 TDX Independent 3d | - | 3500kg (3.5t) |
| Daihatsu Fourtrak (1984 - 2002) 2.8 TDX Riviera 3d | - | 3500kg (3.5t) |
| Daihatsu Fourtrak (1984 - 2002) 2.8 TDX Timberline 3d | - | 3500kg (3.5t) |
| Daihatsu Fourtrak (1984 - 2002) 2.8 TDX-SE Independent 3d | - | 3500kg (3.5t) |
| Hummer H2 (2007 - 2009) 6.2 V8 Adventure 5d Auto | - | 3500kg (3.5t) |
| Hummer H2 (2007 - 2009) 6.2 V8 Luxury 5d Auto | - | 3500kg (3.5t) |
| Hummer H2 (2007 - 2009) 6.2 V8 Luxury Auto 4d | - | 3500kg (3.5t) |
| Isuzu Trooper (1992 - 2003) 3.0 TD Citation 5d | 750kg | 3500kg (3.5t) |
| Isuzu Trooper (1992 - 2003) 3.0 TD Citation 5d (7 Seat) | 750kg | 3500kg (3.5t) |
| Isuzu Trooper (1992 - 2003) 3.0 TD Citation 5d Auto | 750kg | 3500kg (3.5t) |
| Isuzu Trooper (1992 - 2003) 3.0 TD Citation 5d Auto (7 Seat) | 750kg | 3500kg (3.5t) |
| Isuzu Trooper (1992 - 2003) 3.0 TD Duty 5d (7 Seat) | 750kg | 3500kg (3.5t) |
| Isuzu Trooper (1992 - 2003) 3.0 TD Insignia 5d | 750kg | 3500kg (3.5t) |
| Isuzu Trooper (1992 - 2003) 3.0 TD Insignia 5d Auto | 750kg | 3500kg (3.5t) |
| Isuzu Trooper (1992 - 2003) 3.5 Citation 5d (7 Seat) | 750kg | 3500kg (3.5t) |
| Isuzu Trooper (1992 - 2003) 3.5 Citation 5d Auto (7 Seat) | 750kg | 3500kg (3.5t) |
| Isuzu Trooper (1992 - 2003) 3.5 Duty 5d (7 Seat) | 750kg | 3500kg (3.5t) |
| Isuzu Trooper (1992 - 2003) 3.5 Duty 5d Auto (7 Seat) | 750kg | 3500kg (3.5t) |
| Isuzu Trooper (1992 - 2003) 3.5 Insignia 5d Auto | 750kg | 3500kg (3.5t) |
| Isuzu Trooper (1992 - 2003) 3.5 Insignia 5d Auto (7 Seat) | 750kg | 3500kg (3.5t) |
| Jeep Cherokee (2001 - 2007) 2.8 CRD Extreme Sport 5d Auto | - | 3500kg (3.5t) |
| Jeep Cherokee (2001 - 2007) 2.8 CRD Limited 5d Auto (02) | - | 3500kg (3.5t) |
| Jeep Cherokee (2001 - 2007) 3.7 V6 Limited 5d Auto (01) | - | 3500kg (3.5t) |
| Jeep Commander (2006 - 2009) 3.0 CRD Limited 5d Auto | 750kg | 3500kg (3.5t) |
| Jeep Grand Cherokee (1994 - 1999) 4.0 Laredo 5d Auto | - | 3500kg (3.5t) |
| Jeep Grand Cherokee (1994 - 1999) 4.0 Limited 5d Auto | - | 3500kg (3.5t) |
| Jeep Grand Cherokee (1994 - 1999) 4.0 Orvis 5d Auto (97) | - | 3500kg (3.5t) |
| Jeep Grand Cherokee (1994 - 1999) 4.0 Orvis 5d Auto (98) | - | 3500kg (3.5t) |
| Jeep Grand Cherokee (1994 - 1999) 5.2 Limited 5d Auto | - | 3500kg (3.5t) |
| Jeep Grand Cherokee (1994 - 1999) 5.9 LX 5d Auto | - | 3500kg (3.5t) |
| Jeep Grand Cherokee (2005 - 2010) 3.0 CRD 5d Auto | 750kg | 3500kg (3.5t) |
| Jeep Grand Cherokee (2005 - 2010) 3.0 CRD Limited 5d Auto | 750kg | 3500kg (3.5t) |
| Jeep Grand Cherokee (2005 - 2010) 3.0 CRD Overland 5d Auto | 750kg | 3500kg (3.5t) |
| Jeep Grand Cherokee (2005 - 2010) 3.0 CRD Overland Tech 5d Auto | 750kg | 3500kg (3.5t) |
| Jeep Grand Cherokee (2005 - 2010) 3.0 CRD Predator 5d Auto | 750kg | 3500kg (3.5t) |
| Jeep Grand Cherokee (2005 - 2010) 3.0 CRD S Limited 5d Auto | 750kg | 3500kg (3.5t) |
| Jeep Grand Cherokee (2011 onwards) 3.0 CRD Laredo 5d Auto | 750kg | 3500kg (3.5t) |
| Jeep Grand Cherokee (2011 onwards) 3.0 CRD Limited (07/13-) 5d Auto | 750kg | 3500kg (3.5t) |
| Jeep Grand Cherokee (2011 onwards) 3.0 CRD Limited 5d Auto | 750kg | 3500kg (3.5t) |
| Jeep Grand Cherokee (2011 onwards) 3.0 CRD Limited Plus 5d Auto | 750kg | 3500kg (3.5t) |
| Jeep Grand Cherokee (2011 onwards) 3.0 CRD Overland (07/13-) 5d Auto | 750kg | 3500kg (3.5t) |
| Jeep Grand Cherokee (2011 onwards) 3.0 CRD Overland Summit 5d Auto | 750kg | 3500kg (3.5t) |
| Jeep Grand Cherokee (2011 onwards) 3.0 CRD S Limited 5d Auto | 750kg | 3500kg (3.5t) |
| Jeep Grand Cherokee (2011 onwards) 3.0 CRD V6 247hp Overland 4WD auto 5d | 750kg | 3500kg (3.5t) |
| Jeep Wrangler (2007 onwards) 2.8 CRD Sahara Unlimited 4d | 750kg | 3500kg (3.5t) |
| Jeep Wrangler (2007 onwards) 2.8 CRD Sahara Unlimited 4d Auto | 750kg | 3500kg (3.5t) |
| Jeep Wrangler (2007 onwards) 2.8 CRD Sport Unlimited 4d | 750kg | 3500kg (3.5t) |
| Jeep Wrangler (2007 onwards) 2.8 CRD Ultimate 4d Auto | 750kg | 3500kg (3.5t) |
| Jeep Wrangler (2007 onwards) 3.8 V6 Rubicon 4d | 750kg | 3500kg (3.5t) |
| Jeep Wrangler (2007 onwards) 3.8 V6 Rubicon Unlimited 4d | 750kg | 3500kg (3.5t) |
| Jeep Wrangler (2007 onwards) 3.8 V6 Rubicon Unlimited 4d Auto | 750kg | 3500kg (3.5t) |
| Jeep Wrangler (2007 onwards) 3.8 V6 Sahara 4d Auto | 750kg | 3500kg (3.5t) |
| Land Rover Discovery (1989 - 1998) 2.5 Tdi Anniversary 50 5d | 750kg | 3500kg (3.5t) |
| Land Rover Discovery (1989 - 1998) 2.5 Tdi Anniversary 50 5d Auto | 750kg | 3500kg (3.5t) |
| Land Rover Discovery (1989 - 1998) 2.5 Tdi Safari 5d | 750kg | 3500kg (3.5t) |
| Land Rover Discovery (1989 - 1998) 2.5 Tdi Safari 5d Auto | 750kg | 3500kg (3.5t) |
| Land Rover Discovery (1989 - 1998) 300 Tdi Arden 5d | 750kg | 3500kg (3.5t) |
| Land Rover Discovery (1989 - 1998) 300 Tdi Arden 5d Auto | 750kg | 3500kg (3.5t) |
| Land Rover Discovery (1989 - 1998) 300 Tdi Argyll 5d | 750kg | 3500kg (3.5t) |
| Land Rover Discovery (1989 - 1998) 300 Tdi Argyll 5d Auto | 750kg | 3500kg (3.5t) |
| Land Rover Discovery (1989 - 1998) 300 Tdi Aviemore 5d | 750kg | 3500kg (3.5t) |
| Land Rover Discovery (1989 - 1998) 300 Tdi Aviemore 5d Auto | 750kg | 3500kg (3.5t) |
| Land Rover Discovery (1998 - 2004) 2.5 Td5 Adventurer 5d (7 Seat) | 750kg | 3500kg (3.5t) |
| Land Rover Discovery (1998 - 2004) 2.5 Td5 Adventurer 5d Auto (7 Seat) | 750kg | 3500kg (3.5t) |
| Land Rover Discovery (1998 - 2004) 2.5 Td5 Adventurer LE 5d (7 Seat) | 750kg | 3500kg (3.5t) |
| Land Rover Discovery (1998 - 2004) 2.5 Td5 Adventurer LE 5d Auto (7 Seat) | 750kg | 3500kg (3.5t) |
| Land Rover Discovery (1998 - 2004) 2.5 Td5 E 5d (5 Seat) | 750kg | 3500kg (3.5t) |
| Land Rover Discovery (1998 - 2004) 2.5 Td5 E 5d (7 Seat) | 750kg | 3500kg (3.5t) |
| Land Rover Discovery (1998 - 2004) 2.5 Td5 E 5d Auto (5 Seat) | 750kg | 3500kg (3.5t) |
| Land Rover Discovery (1998 - 2004) 2.5 Td5 E 5d Auto (7 Seat) | 750kg | 3500kg (3.5t) |
| Land Rover Discovery (1998 - 2004) 2.5 Td5 ES 5d (5 Seat) | 750kg | 3500kg (3.5t) |
| Land Rover Discovery (1998 - 2004) 2.5 Td5 ES 5d (7 Seat) | 750kg | 3500kg (3.5t) |
| Land Rover Discovery (1998 - 2004) 2.5 Td5 ES 5d Auto (5 Seat) | 750kg | 3500kg (3.5t) |
| Land Rover Discovery (1998 - 2004) 2.5 Td5 ES 5d Auto (7 Seat) | 750kg | 3500kg (3.5t) |
| Land Rover Discovery (1998 - 2004) 2.5 Td5 ES Premium 5d (7 Seat) | 750kg | 3500kg (3.5t) |
| Land Rover Discovery (1998 - 2004) 2.5 Td5 ES Premium 5d Auto (7 Seat) | 750kg | 3500kg (3.5t) |
| Land Rover Discovery (1998 - 2004) 2.5 Td5 GS 5d (5 Seat) | 750kg | 3500kg (3.5t) |
| Land Rover Discovery (1998 - 2004) 2.5 Td5 GS 5d (7 Seat) | 750kg | 3500kg (3.5t) |
| Land Rover Discovery (1998 - 2004) 2.5 Td5 GS 5d Auto (5 Seat) | 750kg | 3500kg (3.5t) |
| Land Rover Discovery (1998 - 2004) 2.5 Td5 GS 5d Auto (7 Seat) | 750kg | 3500kg (3.5t) |
| Land Rover Discovery (1998 - 2004) 2.5 Td5 Landmark 5d (7 Seat) | 750kg | 3500kg (3.5t) |
| Land Rover Discovery (1998 - 2004) 2.5 Td5 Landmark 5d Auto (7 Seat) | 750kg | 3500kg (3.5t) |
| Land Rover Discovery (1998 - 2004) 2.5 Td5 Metropolis 5d Auto (7 Seat) | 750kg | 3500kg (3.5t) |
| Land Rover Discovery (1998 - 2004) 2.5 Td5 Millennium LE 5d | 750kg | 3500kg (3.5t) |
| Land Rover Discovery (1998 - 2004) 2.5 Td5 Millennium LE 5d Auto | 750kg | 3500kg (3.5t) |
| Land Rover Discovery (1998 - 2004) 2.5 Td5 Pursuit 5d (5 Seat) | 750kg | 3500kg (3.5t) |
| Land Rover Discovery (1998 - 2004) 2.5 Td5 Pursuit 5d (7 Seat) | 750kg | 3500kg (3.5t) |
| Land Rover Discovery (1998 - 2004) 2.5 Td5 Pursuit 5d Auto (5 Seat) | 750kg | 3500kg (3.5t) |
| Land Rover Discovery (1998 - 2004) 2.5 Td5 Pursuit 5d Auto (7 Seat) | 750kg | 3500kg (3.5t) |
| Land Rover Discovery (1998 - 2004) 2.5 Td5 S 5d (5 Seat) | 750kg | 3500kg (3.5t) |
| Land Rover Discovery (1998 - 2004) 2.5 Td5 S 5d (7 Seat) | 750kg | 3500kg (3.5t) |
| Land Rover Discovery (1998 - 2004) 2.5 Td5 S 5d Auto (5 Seat) | 750kg | 3500kg (3.5t) |
| Land Rover Discovery (1998 - 2004) 2.5 Td5 S 5d Auto (7 Seat) | 750kg | 3500kg (3.5t) |
| Land Rover Discovery (1998 - 2004) 2.5 Td5 Serengeti 5d (5 Seat) | 750kg | 3500kg (3.5t) |
| Land Rover Discovery (1998 - 2004) 2.5 Td5 Serengeti 5d (7 Seat) | 750kg | 3500kg (3.5t) |
| Land Rover Discovery (1998 - 2004) 2.5 Td5 Serengeti 5d Auto (5 Seat) | 750kg | 3500kg (3.5t) |
| Land Rover Discovery (1998 - 2004) 2.5 Td5 Serengeti 5d Auto (7 Seat) | 750kg | 3500kg (3.5t) |
| Land Rover Discovery (1998 - 2004) 2.5 Td5 XS 5d (5 Seat) | 750kg | 3500kg (3.5t) |
| Land Rover Discovery (1998 - 2004) 2.5 Td5 XS 5d (7 Seat) | 750kg | 3500kg (3.5t) |
| Land Rover Discovery (1998 - 2004) 2.5 Td5 XS 5d Auto (5 Seat) | 750kg | 3500kg (3.5t) |
| Land Rover Discovery (1998 - 2004) 2.5 Td5 XS 5d Auto (7 Seat) | 750kg | 3500kg (3.5t) |
| Land Rover Discovery (1998 - 2004) 4.0 V8i Adventurer 5d (7 Seat) | 750kg | 3500kg (3.5t) |
| Land Rover Discovery (1998 - 2004) 4.0 V8i Adventurer 5d Auto (7 Seat) | 750kg | 3500kg (3.5t) |
| Land Rover Discovery (1998 - 2004) 4.0 V8i ES 5d (5 Seat) | 750kg | 3500kg (3.5t) |
| Land Rover Discovery (1998 - 2004) 4.0 V8i ES 5d (7 Seat) | 750kg | 3500kg (3.5t) |
| Land Rover Discovery (1998 - 2004) 4.0 V8i ES 5d Auto (5 Seat) | 750kg | 3500kg (3.5t) |
| Land Rover Discovery (1998 - 2004) 4.0 V8i ES 5d Auto (7 Seat) | 750kg | 3500kg (3.5t) |
| Land Rover Discovery (1998 - 2004) 4.0 V8i ES Premium 5d Auto (7 Seat) | 750kg | 3500kg (3.5t) |
| Land Rover Discovery (1998 - 2004) 4.0 V8i GS 5d (5 Seat) | 750kg | 3500kg (3.5t) |
| Land Rover Discovery (1998 - 2004) 4.0 V8i GS 5d (7 Seat) | 750kg | 3500kg (3.5t) |
| Land Rover Discovery (1998 - 2004) 4.0 V8i GS 5d Auto (5 Seat) | 750kg | 3500kg (3.5t) |
| Land Rover Discovery (1998 - 2004) 4.0 V8i GS 5d Auto (7 Seat) | 750kg | 3500kg (3.5t) |
| Land Rover Discovery (1998 - 2004) 4.0 V8i Metropolis 5d Auto (7 Seat) | 750kg | 3500kg (3.5t) |
| Land Rover Discovery (1998 - 2004) 4.0 V8i Millennium LE 5d Auto | 750kg | 3500kg (3.5t) |
| Land Rover Discovery (1998 - 2004) 4.0 V8i XS 5d (5 Seat) | 750kg | 3500kg (3.5t) |
| Land Rover Discovery (1998 - 2004) 4.0 V8i XS 5d (7 Seat) | 750kg | 3500kg (3.5t) |
| Land Rover Discovery (1998 - 2004) 4.0 V8i XS 5d Auto (5 Seat) | 750kg | 3500kg (3.5t) |
| Land Rover Discovery (1998 - 2004) 4.0 V8i XS 5d Auto (7 Seat) | 750kg | 3500kg (3.5t) |
| Land Rover Discovery (2004 onwards) 2.7 Td V6 GS 5d | 750kg | 3500kg (3.5t) |
| Land Rover Discovery (2004 onwards) 2.7 Td V6 GS 5d Auto | 750kg | 3500kg (3.5t) |
| Land Rover Discovery (2004 onwards) 2.7 Td V6 Metropolis LE 5d Auto | 750kg | 3500kg (3.5t) |
| Land Rover Discovery (2004 onwards) 2.7 Td V6 XS 5d | 750kg | 3500kg (3.5t) |
| Land Rover Discovery (2004 onwards) 2.7 Td V6 XS 5d (Leather) | 750kg | 3500kg (3.5t) |
| Land Rover Discovery (2004 onwards) 2.7 Td V6 XS 5d Auto | 750kg | 3500kg (3.5t) |
| Land Rover Discovery (2004 onwards) 2.7 Td V6 XS 5d Auto (Leather) | 750kg | 3500kg (3.5t) |
| Land Rover Discovery (2004 onwards) 2.7 TdV6 5d | 750kg | 3500kg (3.5t) |
| Land Rover Discovery (2004 onwards) 2.7 TdV6 5d (7 Seat) | 750kg | 3500kg (3.5t) |
| Land Rover Discovery (2004 onwards) 2.7 TdV6 5d Auto | 750kg | 3500kg (3.5t) |
| Land Rover Discovery (2004 onwards) 2.7 TdV6 5d Auto (7 Seat) | 750kg | 3500kg (3.5t) |
| Land Rover Discovery (2004 onwards) 2.7 TDV6 GS (09) 5d | 750kg | 3500kg (3.5t) |
| Land Rover Discovery (2004 onwards) 2.7 TDV6 GS (09) 5d Auto | 750kg | 3500kg (3.5t) |
| Land Rover Discovery (2004 onwards) 2.7 TdV6 HSE 5d | 750kg | 3500kg (3.5t) |
| Land Rover Discovery (2004 onwards) 2.7 TdV6 HSE 5d Auto | 750kg | 3500kg (3.5t) |
| Land Rover Discovery (2004 onwards) 2.7 TdV6 S 5d | 750kg | 3500kg (3.5t) |
| Land Rover Discovery (2004 onwards) 2.7 TdV6 S 5d Auto | 750kg | 3500kg (3.5t) |
| Land Rover Discovery (2004 onwards) 2.7 TdV6 SE 5d | 750kg | 3500kg (3.5t) |
| Land Rover Discovery (2004 onwards) 2.7 TdV6 SE 5d Auto | 750kg | 3500kg (3.5t) |
| Land Rover Discovery (2004 onwards) 3.0 SDV6 (255bhp) GS 5d Auto | 750kg | 3500kg (3.5t) |
| Land Rover Discovery (2004 onwards) 3.0 SDV6 (255bhp) HSE 5d Auto | 750kg | 3500kg (3.5t) |
| Land Rover Discovery (2004 onwards) 3.0 SDV6 (255bhp) XS 5d Auto | 750kg | 3500kg (3.5t) |
| Land Rover Discovery (2004 onwards) 3.0 SDV6 Graphite 5d Auto | 750kg | 3500kg (3.5t) |
| Land Rover Discovery (2004 onwards) 3.0 SDV6 GS 5d Auto | 750kg | 3500kg (3.5t) |
| Land Rover Discovery (2004 onwards) 3.0 SDV6 HSE (11/13-) 5d Auto | 750kg | 3500kg (3.5t) |
| Land Rover Discovery (2004 onwards) 3.0 SDV6 HSE 5d Auto | 750kg | 3500kg (3.5t) |
| Land Rover Discovery (2004 onwards) 3.0 SDV6 HSE Luxury (11/13-) 5d Auto | 750kg | 3500kg (3.5t) |
| Land Rover Discovery (2004 onwards) 3.0 SDV6 HSE Luxury 5d Auto | 750kg | 3500kg (3.5t) |
| Land Rover Discovery (2004 onwards) 3.0 SDV6 Landmark 5d Auto | 750kg | 3500kg (3.5t) |
| Land Rover Discovery (2004 onwards) 3.0 SDV6 Landmark LE 5d Auto | 750kg | 3500kg (3.5t) |
| Land Rover Discovery (2004 onwards) 3.0 SDV6 SE 5d Auto | 750kg | 3500kg (3.5t) |
| Land Rover Discovery (2004 onwards) 3.0 SDV6 SE Tech 5d Auto | 750kg | 3500kg (3.5t) |
| Land Rover Discovery (2004 onwards) 3.0 SDV6 XS 5d Auto | 750kg | 3500kg (3.5t) |
| Land Rover Discovery (2004 onwards) 3.0 TDV6 GS 5d Auto | 750kg | 3500kg (3.5t) |
| Land Rover Discovery (2004 onwards) 3.0 TDV6 HSE 5d Auto | 750kg | 3500kg (3.5t) |
| Land Rover Discovery (2004 onwards) 3.0 TDV6 XS 5d Auto | 750kg | 3500kg (3.5t) |
| Land Rover Discovery (2004 onwards) 4.4 V8 HSE 5d Auto | 750kg | 3500kg (3.5t) |
| Land Rover Discovery (2004 onwards) 4.4 V8 S 5d Auto | 750kg | 3500kg (3.5t) |
| Land Rover Discovery (2004 onwards) 4.4 V8 SE 5d Auto | 750kg | 3500kg (3.5t) |
| Land Rover Discovery (2004 onwards) 4.4 V8 XS 5d Auto | 750kg | 3500kg (3.5t) |
| Land Rover Discovery (2004 onwards) First Edition 3.0 Td6 auto 5d | 750kg | 3500kg (3.5t) |
| Land Rover Discovery (2004 onwards) HSE 2.0 Sd4 auto 5d | 750kg | 3500kg (3.5t) |
| Land Rover Discovery (2004 onwards) HSE 3.0 Si6 auto 5d | 750kg | 3500kg (3.5t) |
| Land Rover Discovery (2004 onwards) HSE 3.0 Td6 auto 5d | 750kg | 3500kg (3.5t) |
| Land Rover Discovery (2004 onwards) HSE Luxury 2.0 Sd4 auto 5d | 750kg | 3500kg (3.5t) |
| Land Rover Discovery (2004 onwards) HSE Luxury 3.0 Si6 auto 5d | 750kg | 3500kg (3.5t) |
| Land Rover Discovery (2004 onwards) HSE Luxury 3.0 Td6 auto 5d | 750kg | 3500kg (3.5t) |
| Land Rover Discovery (2004 onwards) S 2.0 Sd4 auto 5d | 750kg | 3500kg (3.5t) |
| Land Rover Discovery (2004 onwards) SE 2.0 Sd4 auto 5d | 750kg | 3500kg (3.5t) |
| Land Rover Discovery (2004 onwards) SE 3.0 Si6 auto 5d | 750kg | 3500kg (3.5t) |
| Land Rover Discovery (2004 onwards) SE 3.0 Td6 auto 5d | 750kg | 3500kg (3.5t) |
| Land Rover Range Rover (1981 - 1998) 2.5 Tdi Vogue 4d | 750kg | 3500kg (3.5t) |
| Land Rover Range Rover (1981 - 1998) 2.5 Tdi Vogue 4d Auto | 750kg | 3500kg (3.5t) |
| Land Rover Range Rover (1981 - 1998) 2.5 Tdi Vogue SE 4d | 750kg | 3500kg (3.5t) |
| Land Rover Range Rover (1981 - 1998) 2.5 Tdi Vogue SE 4d Auto | 750kg | 3500kg (3.5t) |
| Land Rover Range Rover (1994 - 2002) 2.0 County 4d Auto | 750kg | 3500kg (3.5t) |
| Land Rover Range Rover (1994 - 2002) 2.5 D 4d Auto | 750kg | 3500kg (3.5t) |
| Land Rover Range Rover (1994 - 2002) 2.5 D Bordeaux 4d Auto | 750kg | 3500kg (3.5t) |
| Land Rover Range Rover (1994 - 2002) 2.5 D County 4d | 750kg | 3500kg (3.5t) |
| Land Rover Range Rover (1994 - 2002) 2.5 D County 4d Auto (00) | 750kg | 3500kg (3.5t) |
| Land Rover Range Rover (1994 - 2002) 2.5 D County 4d Auto (98) | 750kg | 3500kg (3.5t) |
| Land Rover Range Rover (1994 - 2002) 2.5 dHSE 4d Auto (98) | 750kg | 3500kg (3.5t) |
| Land Rover Range Rover (1994 - 2002) 2.5 dHSE 4d Auto (99) | 750kg | 3500kg (3.5t) |
| Land Rover Range Rover (1994 - 2002) 2.5 DSE 4d (00) | 750kg | 3500kg (3.5t) |
| Land Rover Range Rover (1994 - 2002) 2.5 DSE 4d (94) | 750kg | 3500kg (3.5t) |
| Land Rover Range Rover (1994 - 2002) 2.5 DSE 4d Auto | 750kg | 3500kg (3.5t) |
| Land Rover Range Rover (1994 - 2002) 2.5 DSE Plus 4d Auto | 750kg | 3500kg (3.5t) |
| Land Rover Range Rover (1994 - 2002) 2.5 DT 4d | 750kg | 3500kg (3.5t) |
| Land Rover Range Rover (1994 - 2002) 2.5 DT 4d Auto | 750kg | 3500kg (3.5t) |
| Land Rover Range Rover (1994 - 2002) 4.0 4d Auto | 750kg | 3500kg (3.5t) |
| Land Rover Range Rover (1994 - 2002) 4.0 Bordeaux 4d Auto | 750kg | 3500kg (3.5t) |
| Land Rover Range Rover (1994 - 2002) 4.0 County 4d Auto | 750kg | 3500kg (3.5t) |
| Land Rover Range Rover (1994 - 2002) 4.0 HSE 4d Auto | 750kg | 3500kg (3.5t) |
| Land Rover Range Rover (1994 - 2002) 4.0 Westminster 4d Auto (7/01) | 750kg | 3500kg (3.5t) |
| Land Rover Range Rover (1994 - 2002) 4.6 30th Anniversary LE 4d Auto | 750kg | 3500kg (3.5t) |
| Land Rover Range Rover (1994 - 2002) 4.6 Holland + Holland SE 4d Auto | 750kg | 3500kg (3.5t) |
| Land Rover Range Rover (1994 - 2002) 4.6 Linley 4d Auto | 750kg | 3500kg (3.5t) |
| Land Rover Range Rover (1994 - 2002) 4.6 Vogue 4d Auto | 750kg | 3500kg (3.5t) |
| Land Rover Range Rover (1994 - 2002) 4.6 Vogue SE2 4d Auto | 750kg | 3500kg (3.5t) |
| Land Rover Range Rover (2002 - 2012) 3.0 Td6 4d Auto | 750kg | 3500kg (3.5t) |
| Land Rover Range Rover (2002 - 2012) 3.0 Td6 Autobiography 4d Auto | 500kg | 3500kg (3.5t) |
| Land Rover Range Rover (2002 - 2012) 3.0 Td6 HSE 4d Auto | 750kg | 3500kg (3.5t) |
| Land Rover Range Rover (2002 - 2012) 3.0 Td6 SE 4d Auto | 500kg | 3500kg (3.5t) |
| Land Rover Range Rover (2002 - 2012) 3.0 Td6 VOGUE 4d Auto | 750kg | 3500kg (3.5t) |
| Land Rover Range Rover (2002 - 2012) 3.0 Td6 VOGUE SE 4d Auto | 750kg | 3500kg (3.5t) |
| Land Rover Range Rover (2002 - 2012) 3.6 TDV8 AUTOBIOGRAPHY (09) 4d Auto | 750kg | 3500kg (3.5t) |
| Land Rover Range Rover (2002 - 2012) 3.6 TDV8 AUTOBIOGRAPHY 4d Auto | 750kg | 3500kg (3.5t) |
| Land Rover Range Rover (2002 - 2012) 3.6 TDV8 HSE 4d Auto | 750kg | 3500kg (3.5t) |
| Land Rover Range Rover (2002 - 2012) 3.6 TDV8 VOGUE 4d Auto | 750kg | 3500kg (3.5t) |
| Land Rover Range Rover (2002 - 2012) 3.6 TDV8 VOGUE SE (09) 4d Auto | 750kg | 3500kg (3.5t) |
| Land Rover Range Rover (2002 - 2012) 3.6 TDV8 VOGUE SE 4d Auto | 750kg | 3500kg (3.5t) |
| Land Rover Range Rover (2002 - 2012) 3.6 TDV8 Westminster 4d Auto | 750kg | 3500kg (3.5t) |
| Land Rover Range Rover (2002 - 2012) 4.4 TDV8 AUTOBIOGRAPHY 4d Auto | 750kg | 3500kg (3.5t) |
| Land Rover Range Rover (2002 - 2012) 4.4 TDV8 Autobiography Black 4d Auto | 750kg | 3500kg (3.5t) |
| Land Rover Range Rover (2002 - 2012) 4.4 TDV8 VOGUE 4d Auto | 750kg | 3500kg (3.5t) |
| Land Rover Range Rover (2002 - 2012) 4.4 TDV8 VOGUE SE 4d Auto | 750kg | 3500kg (3.5t) |
| Land Rover Range Rover (2002 - 2012) 4.4 V8 4d Auto | 750kg | 3500kg (3.5t) |
| Land Rover Range Rover (2002 - 2012) 4.4 V8 Autobiography (03) 4d Auto | 500kg | 3500kg (3.5t) |
| Land Rover Range Rover (2002 - 2012) 4.4 V8 Autobiography (05) 4d Auto | 500kg | 3500kg (3.5t) |
| Land Rover Range Rover (2002 - 2012) 4.4 V8 Autobiography 4d Auto (DVD) | 500kg | 3500kg (3.5t) |
| Land Rover Range Rover (2002 - 2012) 4.4 V8 HSE 4d Auto | 500kg | 3500kg (3.5t) |
| Land Rover Range Rover (2002 - 2012) 4.4 V8 SE 4d Auto | 500kg | 3500kg (3.5t) |
| Land Rover Range Rover (2002 - 2012) 4.4 V8 VOGUE 4d Auto (6 Speed) | 750kg | 3500kg (3.5t) |
| Land Rover Range Rover (2002 - 2012) 4.4 V8 VOGUE SE 4d Auto | 750kg | 3500kg (3.5t) |
| Land Rover Range Rover (2002 - 2012) 5.0 V8 S/C Autobiography Black 4d Auto | 750kg | 3500kg (3.5t) |
| Land Rover Range Rover (2002 - 2012) 5.0 V8 Supercharged AUTOBIOGRAPHY 4d Auto | 750kg | 3500kg (3.5t) |
| Land Rover Range Rover (2013 onwards) 3.0 SDV6 HEV Autobiography Black LWB 4d Auto | 750kg | 3500kg (3.5t) |
| Land Rover Range Rover (2013 onwards) 3.0 TDV6 Autobiography 4d Auto | 750kg | 3500kg (3.5t) |
| Land Rover Range Rover (2013 onwards) 3.0 TDV6 Vogue 4d Auto | 750kg | 3500kg (3.5t) |
| Land Rover Range Rover (2013 onwards) 3.0 TDV6 Vogue SE 4d Auto | 750kg | 3500kg (3.5t) |
| Land Rover Range Rover (2013 onwards) 4.4 SDV8 Autobiography 4d Auto | 750kg | 3500kg (3.5t) |
| Land Rover Range Rover (2013 onwards) 4.4 SDV8 Autobiography Black LWB 4d Auto | 750kg | 3500kg (3.5t) |
| Land Rover Range Rover (2013 onwards) 4.4 SDV8 Autobiography LWB 4d Auto | 750kg | 3500kg (3.5t) |
| Land Rover Range Rover (2013 onwards) 4.4 SDV8 SVAutobiography LWB 4d Auto | 750kg | 3500kg (3.5t) |
| Land Rover Range Rover (2013 onwards) 4.4 SDV8 Vogue 4d Auto | 750kg | 3500kg (3.5t) |
| Land Rover Range Rover (2013 onwards) 4.4 SDV8 Vogue SE 4d Auto | 750kg | 3500kg (3.5t) |
| Land Rover Range Rover (2013 onwards) 5.0 V8 S/C Autobiography Black LWB SS 4d Auto | 750kg | 3500kg (3.5t) |
| Land Rover Range Rover (2013 onwards) 5.0 V8 Supercharged Autobiography (SS) 4d Auto | 750kg | 3500kg (3.5t) |
| Land Rover Range Rover (2013 onwards) 5.0 V8 Supercharged Autobiography 4d Auto | 750kg | 3500kg (3.5t) |
| Land Rover Range Rover (2013 onwards) 5.0 V8 Supercharged Autobiography LWB SS 4d | 750kg | 3500kg (3.5t) |
| Land Rover Range Rover (2013 onwards) Vogue SE 3.0 Supercharged V6 auto 4d | 750kg | 3500kg (3.5t) |
| Land Rover Range Rover Sport (2005 - 2013) 2.7 TDV6 HSE 5d Auto | 750kg | 3500kg (3.5t) |
| Land Rover Range Rover Sport (2005 - 2013) 2.7 TDV6 S 5d Auto | 750kg | 3500kg (3.5t) |
| Land Rover Range Rover Sport (2005 - 2013) 2.7 TDV6 SE 5d Auto | 750kg | 3500kg (3.5t) |
| Land Rover Range Rover Sport (2005 - 2013) 2.7 TDV6 Stormer 5d Auto | 750kg | 3500kg (3.5t) |
| Land Rover Range Rover Sport (2005 - 2013) 2.7 TDV6 XS 5d Auto | 750kg | 3500kg (3.5t) |
| Land Rover Range Rover Sport (2005 - 2013) 3.6 TDV8 HSE (01/07-09/09) 5d Auto | 750kg | 3500kg (3.5t) |
| Land Rover Range Rover Sport (2005 - 2013) 3.6 TDV8 HST (03/08-06/08) 5d Auto | 750kg | 3500kg (3.5t) |
| Land Rover Range Rover Sport (2005 - 2013) 4.2 V8 Supercharged 5d Auto | 750kg | 3500kg (3.5t) |
| Land Rover Range Rover Sport (2005 - 2013) 4.2 V8 Supercharged First Edition 5d Auto | 750kg | 3500kg (3.5t) |
| Land Rover Range Rover Sport (2005 - 2013) 4.2 V8 Supercharged HST 5d Auto (08) | 750kg | 3500kg (3.5t) |
| Land Rover Range Rover Sport (2005 - 2013) 4.4 V8 HSE 5d Auto | 750kg | 3500kg (3.5t) |
| Land Rover Range Rover Sport (2005 - 2013) 4.4 V8 SE 5d Auto | 750kg | 3500kg (3.5t) |
| Land Rover Range Rover Sport (2013 onwards) 3.0 SDV6 (306bhp) Autobiography Dynamic (7 seat) 5d | 750kg | 3500kg (3.5t) |
| Land Rover Range Rover Sport (2013 onwards) 3.0 SDV6 (306bhp) Autobiography Dynamic 5d Auto | 750kg | 3500kg (3.5t) |
| Land Rover Range Rover Sport (2013 onwards) 3.0 SDV6 (306bhp) HSE (7 seat) 5d Auto | 750kg | 3500kg (3.5t) |
| Land Rover Range Rover Sport (2013 onwards) 3.0 SDV6 (306bhp) HSE 5d Auto | 750kg | 3500kg (3.5t) |
| Land Rover Range Rover Sport (2013 onwards) 3.0 SDV6 (306bhp) HSE Dynamic (7 seat) 5d Auto | 750kg | 3500kg (3.5t) |
| Land Rover Range Rover Sport (2013 onwards) 3.0 SDV6 (306bhp) HSE Dynamic 5d Auto | 750kg | 3500kg (3.5t) |
| Land Rover Range Rover Sport (2013 onwards) 3.0 TDV6 SE (7 seat) 5d Auto | 750kg | 3500kg (3.5t) |
| Land Rover Range Rover Sport (2013 onwards) 3.0 TDV6 SE 5d Auto | 750kg | 3500kg (3.5t) |
| Land Rover Range Rover Sport (2013 onwards) 4.4 SDV8 Autobiography Dynamic (7 seat) 5d Auto | 750kg | 3500kg (3.5t) |
| Land Rover Range Rover Sport (2013 onwards) 4.4 SDV8 Autobiography Dynamic (SS) 5d Auto | 750kg | 3500kg (3.5t) |
| Land Rover Range Rover Sport (2013 onwards) 4.4 SDV8 Autobiography Dynamic 5d Auto | 750kg | 3500kg (3.5t) |
| Land Rover Range Rover Sport (2013 onwards) 5.0 V8 S/C Autobiography Dynamic (7 seat) 5d Auto | 750kg | 3500kg (3.5t) |
| Land Rover Range Rover Sport (2013 onwards) 5.0 V8 S/C Autobiography Dynamic 5d Auto | 750kg | 3500kg (3.5t) |
| Land Rover Range Rover Sport (2013 onwards) HSE 2.0 SD4 auto 5d | 750kg | 3500kg (3.5t) |
| Land Rover Range Rover Sport (2013 onwards) HSE Dynamic 3.0 Supercharged auto (7 seater) 5d | 750kg | 3500kg (3.5t) |
| Land Rover Range Rover Sport (2013 onwards) HSE Dynamic 3.0 Supercharged auto 5d | 750kg | 3500kg (3.5t) |
| Mercedes Benz G-Class (1997 - 2012) G350 CDI 5d Tip Auto | 750kg | 3500kg (3.5t) |
| Mercedes Benz G-Class (2012 onwards) G350d 5d Tip Auto | 750kg | 3500kg (3.5t) |
| Mercedes Benz G-Class AMG (2005 - 2012) G55 5d Tip Auto | 750kg | 3500kg (3.5t) |
| Mercedes Benz G-Class AMG (2012 onwards) G63 (571bhp) 5d Tip Auto | 750kg | 3500kg (3.5t) |
| Mercedes Benz G-Class AMG (2012 onwards) G63 Colour Edition 5d Tip Auto | 750kg | 3500kg (3.5t) |
| Mercedes Benz G-Class AMG (2012 onwards) G63 Edition (463bhp) 5d Tip Auto | 750kg | 3500kg (3.5t) |
| Mercedes Benz GL-Class (2006 - 2012) GL320 CDI 5d Tip Auto | 750kg | 3500kg (3.5t) |
| Mercedes Benz GL-Class (2006 - 2012) GL350 CDI BlueEFF (265bhp) (Sport Pack) 5d Tip Auto | 750kg | 3500kg (3.5t) |
| Mercedes Benz GL-Class (2006 - 2012) GL350 CDI BlueEFFICIENCY (10/09) 5d Tip Auto | 750kg | 3500kg (3.5t) |
| Mercedes Benz GL-Class (2006 - 2012) GL350 CDI BlueEFFICIENCY (265bhp) 5d Tip Auto | 750kg | 3500kg (3.5t) |
| Mercedes Benz GL-Class (2006 - 2012) GL350 CDI BlueEFFICIENCY (Sport Pack) 5d Tip Auto | 750kg | 3500kg (3.5t) |
| Mercedes Benz GL-Class (2006 - 2012) GL420 CDI 5d Tip Auto | 750kg | 3500kg (3.5t) |
| Mercedes Benz GL-Class (2006 - 2012) GL450 CDI (10/09) 5d Tip Auto | 750kg | 3500kg (3.5t) |
| Mercedes Benz GL-Class (2006 - 2012) GL450 CDI (Sports Pack) 5d Tip Auto | 750kg | 3500kg (3.5t) |
| Mercedes Benz GL-Class (2006 - 2012) GL500 (10/09-) 5d Tip Auto | 750kg | 3500kg (3.5t) |
| Mercedes Benz GL-Class (2006 - 2012) GL500 (Sports Pack) 5d Tip Auto | 750kg | 3500kg (3.5t) |
| Mercedes Benz GL-Class (2006 - 2012) GL500 5d Tip Auto | 750kg | 3500kg (3.5t) |
| Mercedes Benz GLE-Class 4x4 (2015 onwards) GLE 350 d 4Matic AMG Line 5d 9G-Tronic | 750kg | 3500kg (3.5t) |
| Mercedes Benz GLE-Class 4x4 (2015 onwards) GLE 350 d 4Matic AMG Line Prem Plus 5d 9G-Tronic | 750kg | 3500kg (3.5t) |
| Mercedes Benz GLE-Class 4x4 (2015 onwards) GLE 350 d 4Matic AMG Line Premium 5d 9G-Tronic | 750kg | 3500kg (3.5t) |
| Mercedes Benz GLE-Class 4x4 (2015 onwards) GLE 350 d 4Matic Designo Line 5d 9G-Tronic | 750kg | 3500kg (3.5t) |
| Mercedes Benz GLE-Class 4x4 (2015 onwards) GLE 43 4Matic 9G-Tronic Plus auto 5d | 750kg | 3500kg (3.5t) |
| Mercedes Benz GLE-Class 4x4 (2015 onwards) GLE 43 4Matic Designo Line 9G-Tronic Plus auto 5d | 750kg | 3500kg (3.5t) |
| Mercedes Benz GLE-Class 4x4 (2015 onwards) GLE 43 4Matic Premium 9G-Tronic Plus auto 5d | 750kg | 3500kg (3.5t) |
| Mercedes Benz GLE-Class 4x4 (2015 onwards) GLE 43 4Matic Premium Plus 9G-Tronic Plus auto 5d | 750kg | 3500kg (3.5t) |
| Mercedes Benz GLE-Class 4x4 (2015 onwards) GLE 450 AMG 4Matic 5d 9G-Tronic | 750kg | 3500kg (3.5t) |
| Mercedes Benz GLE-Class 4x4 (2015 onwards) GLE 450 AMG 4Matic Designo Line 5d 9G-Tronic | 750kg | 3500kg (3.5t) |
| Mercedes Benz GLE-Class 4x4 (2015 onwards) GLE 450 AMG 4Matic Premium 5d 9G-Tronic | 750kg | 3500kg (3.5t) |
| Mercedes Benz GLE-Class 4x4 (2015 onwards) GLE 450 AMG 4Matic Premium Plus 5d 9G-Tronic | 750kg | 3500kg (3.5t) |
| Mercedes Benz GLE-Class AMG (2015 onwards) GLE 63 S 4Matic Coupe 5d 7G-Tronic | 750kg | 3500kg (3.5t) |
| Mercedes Benz GLE-Class AMG (2015 onwards) GLE 63 S 4Matic Premium Coupe 5d 7G-Tronic | 750kg | 3500kg (3.5t) |
| Mercedes Benz GLE-Class Coupe (2015 onwards) GLE 43 4Matic 9G-Tronic Plus auto 5d | 750kg | 3500kg (3.5t) |
| Mercedes Benz GLE-Class Coupe (2015 onwards) GLE 43 4Matic Designo Line 9G-Tronic Plus auto 5d | 750kg | 3500kg (3.5t) |
| Mercedes Benz GLE-Class Coupe (2015 onwards) GLE 43 4Matic Premium 9G-Tronic Plus auto 5d | 750kg | 3500kg (3.5t) |
| Mercedes Benz GLE-Class Coupe (2015 onwards) GLE 43 4Matic Premium Plus 9G-Tronic Plus auto 5d | 750kg | 3500kg (3.5t) |
| Mercedes Benz GLE-Class Coupe (2015 onwards) GLE 450 AMG 4Matic 5d 9G-Tronic | 750kg | 3500kg (3.5t) |
| Mercedes Benz GLE-Class Coupe (2015 onwards) GLE 450 AMG 4Matic Designo Line 5d 9G-Tronic | 750kg | 3500kg (3.5t) |
| Mercedes Benz GLE-Class Coupe (2015 onwards) GLE 450 AMG 4Matic Premium 5d 9G-Tronic | 750kg | 3500kg (3.5t) |
| Mercedes Benz GLE-Class Coupe (2015 onwards) GLE 450 AMG 4Matic Premium Plus 5d 9G-Tronic | 750kg | 3500kg (3.5t) |
| Mercedes Benz M-Class (1998 - 2004) ML270 CDI 5d (04) | 750kg | 3500kg (3.5t) |
| Mercedes Benz M-Class (1998 - 2004) ML270 CDI 5d (99) | 750kg | 3500kg (3.5t) |
| Mercedes Benz M-Class (1998 - 2004) ML270 CDI 5d Tip Auto (04) | 750kg | 3500kg (3.5t) |
| Mercedes Benz M-Class (1998 - 2004) ML270 CDI 5d Tip Auto (99) | 750kg | 3500kg (3.5t) |
| Mercedes Benz M-Class (1998 - 2004) ML270 CDI Inspiration 5d | 750kg | 3500kg (3.5t) |
| Mercedes Benz M-Class (1998 - 2004) ML270 CDI Inspiration 5d Tip Auto | 750kg | 3500kg (3.5t) |
| Mercedes Benz M-Class (1998 - 2004) ML320 5d Tip Auto | 750kg | 3500kg (3.5t) |
| Mercedes Benz M-Class (1998 - 2004) ML500 5d Tip Auto (01) | 750kg | 3500kg (3.5t) |
| Mercedes Benz M-Class (1998 - 2004) ML500 5d Tip Auto (04) | 750kg | 3500kg (3.5t) |
| Mercedes Benz M-Class (1998 - 2004) ML500 Inspiration 5d Tip Auto | 750kg | 3500kg (3.5t) |
| Mercedes Benz M-Class (1998 - 2004) ML55 5d Auto | 750kg | 3500kg (3.5t) |
| Mercedes Benz M-Class (2012 - 2015) ML350 3.0 CDi BlueTEC Sport (Command) 5d Auto | 750kg | 3500kg (3.5t) |
| Mercedes Benz M-Class (2012 - 2015) ML350 3.0 CDi BlueTEC Sport 5d Auto | 750kg | 3500kg (3.5t) |
| Mercedes Benz M-Class (2012 - 2015) ML350 CDi BlueTEC AMG Line (Premium Plus) 5d Auto | 750kg | 3500kg (3.5t) |
| Mercedes Benz M-Class (2012 - 2015) ML350 CDi BlueTEC AMG Line (Premium) 5d Auto | 750kg | 3500kg (3.5t) |
| Mercedes Benz M-Class (2012 - 2015) ML350 CDi BlueTEC AMG Line 5d Auto | 750kg | 3500kg (3.5t) |
| Mercedes Benz M-Class (2012 - 2015) ML350 CDi BlueTEC AMG Sport (Comand) 5d Auto | 750kg | 3500kg (3.5t) |
| Mercedes Benz M-Class (2012 - 2015) ML350 CDi BlueTEC AMG Sport 5d Auto | 750kg | 3500kg (3.5t) |
| Mercedes Benz M-Class (2012 - 2015) ML350 CDi BlueTEC SE (Comand) 5d Auto | 750kg | 3500kg (3.5t) |
| Mercedes Benz M-Class (2012 - 2015) ML350 CDi BlueTEC SE 5d Auto | 750kg | 3500kg (3.5t) |
| Mercedes Benz M-Class (2012 - 2015) ML350 CDi BlueTEC SE Exec (Premium Plus) 5d Auto | 750kg | 3500kg (3.5t) |
| Mercedes Benz M-Class (2012 - 2015) ML350 CDi BlueTEC SE Executive (Premium) 5d Auto | 750kg | 3500kg (3.5t) |
| Mercedes Benz M-Class (2012 - 2015) ML350 CDi BlueTEC SE Executive 5d Auto | 750kg | 3500kg (3.5t) |
| Mercedes Benz M-Class (2012 - 2015) ML350 CDi BlueTEC Special Edition (Comand) 5d Auto | 750kg | 3500kg (3.5t) |
| Mercedes Benz M-Class (2012 - 2015) ML350 CDi BlueTEC Special Edition 5d Auto | 750kg | 3500kg (3.5t) |
| Mercedes Benz M-Class AMG (2006 - 2010) ML63 5d Tip Auto | 750kg | 3500kg (3.5t) |
| Mercedes Benz M-Class AMG (2006 - 2010) ML63 AMG (08) 5d Tip Auto | 750kg | 3500kg (3.5t) |
| Mitsubishi Shogun (2007 onwards) 3.2 DI-DC (197bhp) Diamond 5d Auto | 750kg | 3500kg (3.5t) |
| Mitsubishi Shogun (2007 onwards) 3.2 DI-DC (197bhp) Equippe 5d | 750kg | 3500kg (3.5t) |
| Mitsubishi Shogun (2007 onwards) 3.2 DI-DC (197bhp) Equippe 5d Auto | 750kg | 3500kg (3.5t) |
| Mitsubishi Shogun (2007 onwards) 3.2 DI-DC (197bhp) SG2 5d | 750kg | 3500kg (3.5t) |
| Mitsubishi Shogun (2007 onwards) 3.2 DI-DC (197bhp) SG2 5d Auto | 750kg | 3500kg (3.5t) |
| Mitsubishi Shogun (2007 onwards) 3.2 DI-DC (197bhp) SG3 5d Auto | 750kg | 3500kg (3.5t) |
| Mitsubishi Shogun (2007 onwards) 3.2 DI-DC (197bhp) SG4 5d Auto | 750kg | 3500kg (3.5t) |
| Mitsubishi Shogun (2007 onwards) 3.2 DI-DC (197bhp) SG4 Black 5d Auto | 750kg | 3500kg (3.5t) |
| Mitsubishi Shogun (2007 onwards) 3.2 DI-DC SG2 5d | 750kg | 3500kg (3.5t) |
| Mitsubishi Shogun (2007 onwards) 3.2 DI-DC SG2 5d Auto | 750kg | 3500kg (3.5t) |
| Mitsubishi Shogun (2007 onwards) 3.2 DI-DC SG3 5d Auto | 750kg | 3500kg (3.5t) |
| Mitsubishi Shogun (2007 onwards) 3.2 DI-DC SG4 5d Auto | 750kg | 3500kg (3.5t) |
| Nissan Patrol (1982 - 1998) 2.8TD SE 5d | 750kg | 3500kg (3.5t) |
| Nissan Patrol (1982 - 1998) 2.8TD SLX 3d | 750kg | 3500kg (3.5t) |
| Nissan Patrol (1982 - 1998) 4.2D SE 5d Auto | - | 3500kg (3.5t) |
| Nissan Patrol (1982 - 1998) 4.2D SGX 5d | - | 3500kg (3.5t) |
| Nissan Patrol (1998 - 2009) 2.8TD 3d | 750kg | 3500kg (3.5t) |
| Nissan Patrol (1998 - 2009) 2.8TD 5d | 750kg | 3500kg (3.5t) |
| Nissan Patrol (1998 - 2009) 2.8TD SE 3d | 750kg | 3500kg (3.5t) |
| Nissan Patrol (1998 - 2009) 2.8TD SE 5d | 750kg | 3500kg (3.5t) |
| Nissan Patrol (1998 - 2009) 2.8TD SE Touring 5d | 750kg | 3500kg (3.5t) |
| Nissan Patrol (1998 - 2009) 3.0 Di Aventura 5d | 750kg | 3500kg (3.5t) |
| Nissan Patrol (1998 - 2009) 3.0 Di Long Way Down 5d | 750kg | 3500kg (3.5t) |
| Nissan Patrol (1998 - 2009) 3.0 Di S 5d (03) | 750kg | 3500kg (3.5t) |
| Nissan Patrol (1998 - 2009) 3.0 Di S 5d (04) | 750kg | 3500kg (3.5t) |
| Nissan Patrol (1998 - 2009) 3.0 Di SVE 5d (03) | 750kg | 3500kg (3.5t) |
| Nissan Patrol (1998 - 2009) 3.0 Di SVE 5d (04) | 750kg | 3500kg (3.5t) |
| Nissan Patrol (1998 - 2009) 3.0 Di Trek 5d | 750kg | 3500kg (3.5t) |
| Nissan Patrol Hardtop (1993 - 1995) 4.2D SLX 3d | - | 3500kg (3.5t) |
| Porsche Cayenne (2003 - 2009) 3.2 V6 5d | - | 3500kg (3.5t) |
| Porsche Cayenne (2003 - 2009) 3.2 V6 5d Tiptronic | - | 3500kg (3.5t) |
| Porsche Cayenne (2003 - 2009) 3.6 V6 5d (07) | 750kg | 3500kg (3.5t) |
| Porsche Cayenne (2003 - 2009) 3.6 V6 5d Tiptronic (07) | 750kg | 3500kg (3.5t) |
| Porsche Cayenne (2003 - 2009) 4.8 V8 S 5d (07) | 750kg | 3500kg (3.5t) |
| Porsche Cayenne (2003 - 2009) 4.8 V8 S 5d Tiptronic (07) | 750kg | 3500kg (3.5t) |
| Porsche Cayenne (2003 - 2009) 4.8 V8 Turbo 5d Tiptronic (07) | 750kg | 3500kg (3.5t) |
| Porsche Cayenne (2003 - 2009) Diesel S 5d Tiptronic | 750kg | 3500kg (3.5t) |
| Porsche Cayenne (2003 - 2009) S 4.5 V8 5d | - | 3500kg (3.5t) |
| Porsche Cayenne (2003 - 2009) S 4.5 V8 5d Tiptronic | - | 3500kg (3.5t) |
| Porsche Cayenne (2003 - 2009) Turbo 5d Tiptronic | - | 3500kg (3.5t) |
| Porsche Cayenne (2003 - 2009) Turbo S (540) 5d Tiptronic | 750kg | 3500kg (3.5t) |
| Porsche Cayenne (2003 - 2009) Turbo S 5d Tiptronic | - | 3500kg (3.5t) |
| Porsche Cayenne (2003 - 2009) Turbo S 5d Tiptronic S | 750kg | 3500kg (3.5t) |
| Porsche Cayenne (2010 onwards) 3.0 S E-Hybrid 5d Tiptronic S | 750kg | 3500kg (3.5t) |
| Porsche Cayenne (2010 onwards) 3.0 S Hybrid 5d Tiptronic S | 750kg | 3500kg (3.5t) |
| Porsche Cayenne (2010 onwards) 3.0D Diesel (245bhp) 5d Tiptronic S | 750kg | 3500kg (3.5t) |
| Porsche Cayenne (2010 onwards) 3.0D Diesel 5d Tiptronic S | 750kg | 3500kg (3.5t) |
| Porsche Cayenne (2010 onwards) 3.0D Platinum Edition Diesel 5d Tiptronic S | 750kg | 3500kg (3.5t) |
| Porsche Cayenne (2010 onwards) 3.6 (02/15-) 5d Tiptronic S | 750kg | 3500kg (3.5t) |
| Porsche Cayenne (2010 onwards) 3.6 5d Tiptronic S | 750kg | 3500kg (3.5t) |
| Porsche Cayenne (2010 onwards) 3.6 Platinum Edition 5d Tiptronic S | 750kg | 3500kg (3.5t) |
| Porsche Cayenne (2010 onwards) 3.6 S 5d Tiptronic S | 750kg | 3500kg (3.5t) |
| Porsche Cayenne (2010 onwards) 4.2D S Diesel 5d Tiptronic S | 750kg | 3500kg (3.5t) |
| Porsche Cayenne (2010 onwards) 4.2D S Diesel Tiptronic S 5d | 750kg | 3500kg (3.5t) |
| Porsche Cayenne (2010 onwards) 4.8 GTS 5d Tiptronic S | 750kg | 3500kg (3.5t) |
| Porsche Cayenne (2010 onwards) 4.8 S 5d Tiptronic S | 750kg | 3500kg (3.5t) |
| Porsche Cayenne (2010 onwards) 4.8 Turbo (10/14-) 5d Tiptronic S | 750kg | 3500kg (3.5t) |
| Porsche Cayenne (2010 onwards) 4.8 Turbo 5d Tiptronic S | 750kg | 3500kg (3.5t) |
| Porsche Cayenne (2010 onwards) 4.8 Turbo S Tiptronic S 5d | 750kg | 3500kg (3.5t) |
| Porsche Cayenne (2010 onwards) Diesel Platinum Edition Tiptronic S auto 5d | 750kg | 3500kg (3.5t) |
| Porsche Cayenne (2010 onwards) S E-Hybrid Platinum Edition Tiptronic S auto 5d | 750kg | 3500kg (3.5t) |
| Porsche Cayenne (2010 onwards) Turbo S 5d Tiptronic S | 750kg | 3500kg (3.5t) |
| SsangYong Musso (1995 - 1999) 3.2 GX220 5d Auto | 750kg | 3500kg (3.5t) |
| SsangYong Rexton (2003 - 2013) 270 S 5d | 750kg | 3500kg (3.5t) |
| SsangYong Rexton (2003 - 2013) 270 S 5d Auto | 750kg | 3500kg (3.5t) |
| SsangYong Rexton (2003 - 2013) 270 S Family 5d | 750kg | 3500kg (3.5t) |
| SsangYong Rexton (2003 - 2013) 270 S Sport 5d | 750kg | 3500kg (3.5t) |
| SsangYong Rexton (2003 - 2013) 270 S7 5d | 750kg | 3500kg (3.5t) |
| SsangYong Rexton (2003 - 2013) 270 S7 5d Auto | 750kg | 3500kg (3.5t) |
| SsangYong Rexton (2003 - 2013) 270 SE 5d | 750kg | 3500kg (3.5t) |
| SsangYong Rexton (2003 - 2013) 270 SE 5d Auto | 750kg | 3500kg (3.5t) |
| SsangYong Rexton (2003 - 2013) 270 SE Family 5d | 750kg | 3500kg (3.5t) |
| SsangYong Rexton (2003 - 2013) 270 SE Family 5d Auto | 750kg | 3500kg (3.5t) |
| SsangYong Rexton (2003 - 2013) 270 SE Sport 5d | 750kg | 3500kg (3.5t) |
| SsangYong Rexton (2003 - 2013) 270 SE7 5d | 750kg | 3500kg (3.5t) |
| SsangYong Rexton (2003 - 2013) 270 SX (01/06-05/07) 5d Auto | 750kg | 3500kg (3.5t) |
| SsangYong Rexton (2003 - 2013) 270 SX (01/06-10/06) 5d | 750kg | 3500kg (3.5t) |
| SsangYong Rexton (2003 - 2013) 270 SX7 5d | 750kg | 3500kg (3.5t) |
| SsangYong Rexton (2003 - 2013) 270 SX7 5d Auto | 750kg | 3500kg (3.5t) |
| SsangYong Rexton (2003 - 2013) 270 Xdi S 5d | - | 3500kg (3.5t) |
| SsangYong Rexton (2003 - 2013) 270 Xdi S 5d Auto | - | 3500kg (3.5t) |
| SsangYong Rexton (2003 - 2013) 270 Xdi SE 5d | - | 3500kg (3.5t) |
| SsangYong Rexton (2003 - 2013) 270 Xdi SE7 5d Auto | - | 3500kg (3.5t) |
| SsangYong Rexton (2003 - 2013) 270 Xdi SX 5d | - | 3500kg (3.5t) |
| SsangYong Rexton (2003 - 2013) 270 Xdi SX 5d Auto | - | 3500kg (3.5t) |
| SsangYong Rexton (2003 - 2013) 270 Xdi SX7 5d | - | 3500kg (3.5t) |
| SsangYong Rexton (2003 - 2013) 270 Xdi SX7 5d Auto | - | 3500kg (3.5t) |
| SsangYong Rexton (2003 - 2013) 290 E 5d | 750kg | 3500kg (3.5t) |
| SsangYong Rexton (2003 - 2013) 290 S 5d | 750kg | 3500kg (3.5t) |
| SsangYong Rexton (2003 - 2013) 290 S 5d Auto | 750kg | 3500kg (3.5t) |
| SsangYong Rexton (2003 - 2013) 290 SE 5d Auto (7 Seat) | 750kg | 3500kg (3.5t) |
| SsangYong Rexton (2003 - 2013) 320 SX 5 Seat 5d Auto | 750kg | 3500kg (3.5t) |
| SsangYong Rexton (2003 - 2013) 320 SX 5d Auto (7 Seat) | 750kg | 3500kg (3.5t) |
| Toyota Land Cruiser (1981 - 1998) 4.2 TD VX 5d Auto | - | 3500kg (3.5t) |
| Toyota Land Cruiser (1981 - 1998) GX Amazon TD 5d | - | 3500kg (3.5t) |
| Toyota Land Cruiser (1981 - 1998) VX Amazon 5d Auto | - | 3500kg (3.5t) |
| Toyota Land Cruiser (1981 - 1998) VX Amazon TD 5d | - | 3500kg (3.5t) |
| Toyota Land Cruiser (2009 onwards) 4.5 D-4D V8 (Entertainment Pack) 5d Auto | 750kg | 3500kg (3.5t) |
| Toyota Land Cruiser (2009 onwards) 4.5 D-4D V8 (Premium ICE) 5d Auto | 750kg | 3500kg (3.5t) |
| Toyota Land Cruiser (2009 onwards) 4.5 D-4D V8 5d Auto | 750kg | 3500kg (3.5t) |
| Toyota Land Cruiser Amazon (1998 - 2002) 4.2 TD Anniversary 5d Auto | - | 3500kg (3.5t) |
| Toyota Land Cruiser Amazon (1998 - 2002) 4.2 TD GX 5d | - | 3500kg (3.5t) |
| Toyota Land Cruiser Amazon (1998 - 2002) 4.2 TD GX 5d Auto | - | 3500kg (3.5t) |
| Toyota Land Cruiser Amazon (1998 - 2002) 4.2 TD VX 5d (Active) | - | 3500kg (3.5t) |
| Toyota Land Cruiser Amazon (1998 - 2002) 4.2 TD VX 5d Auto (Active) | - | 3500kg (3.5t) |
| Toyota Land Cruiser Amazon (1998 - 2002) 4.7 V8 Anniversary 5d Auto | - | 3500kg (3.5t) |
| Toyota Land Cruiser Amazon (1998 - 2002) 4.7 V8 VX 5d Auto (Active) | - | 3500kg (3.5t) |
| Toyota Land Cruiser V8 (2008 - 2011) 4.5 D-4D V8 5d Auto | 750kg | 3500kg (3.5t) |
| Toyota Land Cruiser V8 (2008 - 2011) 4.5 D-4D V8 5d Auto (Premium Audio) | 750kg | 3500kg (3.5t) |
| Toyota Land Cruiser V8 (2008 - 2011) 4.5 D-4D V8 5d Auto (Premium ICE and Audio) | 750kg | 3500kg (3.5t) |
| Toyota Land Cruiser V8 (2008 - 2011) 4.5 D-4D V8 5d Auto (Premium ICE) | 750kg | 3500kg (3.5t) |
| Volkswagen Touareg (2003 - 2009) 2.5 TDi 5d | 750kg | 3500kg (3.5t) |
| Volkswagen Touareg (2003 - 2009) 2.5 TDI 5d (DPF) | 750kg | 3500kg (3.5t) |
| Volkswagen Touareg (2003 - 2009) 2.5 TDi 5d Auto | 750kg | 3500kg (3.5t) |
| Volkswagen Touareg (2003 - 2009) 2.5 TDI 5d Auto (DPF) | 750kg | 3500kg (3.5t) |
| Volkswagen Touareg (2003 - 2009) 2.5 TDI DPF 5d | 750kg | 3500kg (3.5t) |
| Volkswagen Touareg (2003 - 2009) 2.5 TDI DPF 5d Tip Auto | 750kg | 3500kg (3.5t) |
| Volkswagen Touareg (2003 - 2009) 2.5 TDI DPF Altitude 5d Tip Auto | 750kg | 3500kg (3.5t) |
| Volkswagen Touareg (2003 - 2009) 2.5 TDI DPF SE 5d | 750kg | 3500kg (3.5t) |
| Volkswagen Touareg (2003 - 2009) 2.5 TDI DPF SE 5d Tip Auto | 750kg | 3500kg (3.5t) |
| Volkswagen Touareg (2003 - 2009) 2.5 TDI SE 5d | 750kg | 3500kg (3.5t) |
| Volkswagen Touareg (2003 - 2009) 2.5 TDI SE 5d (Leather) (DPF) | 750kg | 3500kg (3.5t) |
| Volkswagen Touareg (2003 - 2009) 2.5 TDI SE 5d Auto | 750kg | 3500kg (3.5t) |
| Volkswagen Touareg (2003 - 2009) 2.5 TDI SE 5d Auto (Leather) | 750kg | 3500kg (3.5t) |
| Volkswagen Touareg (2003 - 2009) 2.5 TDI SE 5d Auto (Leather) (DPF) | 750kg | 3500kg (3.5t) |
| Volkswagen Touareg (2003 - 2009) 2.5 TDI SE Sport 5d Auto | 750kg | 3500kg (3.5t) |
| Volkswagen Touareg (2003 - 2009) 2.5 TDI Sport 5d | 750kg | 3500kg (3.5t) |
| Volkswagen Touareg (2003 - 2009) 3.0 BlueMotion V6 TDI CR DPF SE [225bhp) 5d Tip Auto | 750kg | 3500kg (3.5t) |
| Volkswagen Touareg (2003 - 2009) 3.0 V6 TDI 5d Auto | 750kg | 3500kg (3.5t) |
| Volkswagen Touareg (2003 - 2009) 3.0 V6 TDI 5d Tip Auto | 750kg | 3500kg (3.5t) |
| Volkswagen Touareg (2003 - 2009) 3.0 V6 TDI Altitude 5d Tip Auto | 750kg | 3500kg (3.5t) |
| Volkswagen Touareg (2003 - 2009) 3.0 V6 TDI CR DPF 5d Tip Auto | 750kg | 3500kg (3.5t) |
| Volkswagen Touareg (2003 - 2009) 3.0 V6 TDI CR DPF Altitude 5d Tip Auto | 750kg | 3500kg (3.5t) |
| Volkswagen Touareg (2003 - 2009) 3.0 V6 TDI CR DPF SE 5d Tip Auto | 750kg | 3500kg (3.5t) |
| Volkswagen Touareg (2003 - 2009) 3.0 V6 TDI DPF 5d Tip Auto | 750kg | 3500kg (3.5t) |
| Volkswagen Touareg (2003 - 2009) 3.0 V6 TDI DPF Altitude 5d Tip Auto | 750kg | 3500kg (3.5t) |
| Volkswagen Touareg (2003 - 2009) 3.0 V6 TDI DPF SE 5d Tip Auto | 750kg | 3500kg (3.5t) |
| Volkswagen Touareg (2003 - 2009) 3.0 V6 TDI SE 5d Auto (Leather) | 750kg | 3500kg (3.5t) |
| Volkswagen Touareg (2003 - 2009) 3.0 V6 TDI SE 5d Tip Auto | 750kg | 3500kg (3.5t) |
| Volkswagen Touareg (2003 - 2009) 3.0 V6 TDI Sport 5d Auto | 750kg | 3500kg (3.5t) |
| Volkswagen Touareg (2003 - 2009) 3.2 V6 5d | 750kg | 3500kg (3.5t) |
| Volkswagen Touareg (2003 - 2009) 3.2 V6 5d Auto | 750kg | 3500kg (3.5t) |
| Volkswagen Touareg (2003 - 2009) 3.2 V6 Sport 5d | 750kg | 3500kg (3.5t) |
| Volkswagen Touareg (2003 - 2009) 3.2 V6 Sport 5d Auto | 750kg | 3500kg (3.5t) |
| Volkswagen Touareg (2003 - 2009) 3.6 V6 5d Auto | 750kg | 3500kg (3.5t) |
| Volkswagen Touareg (2003 - 2009) 3.6 V6 Altitude 5d Auto | 750kg | 3500kg (3.5t) |
| Volkswagen Touareg (2003 - 2009) 3.6 V6 Altitude 5d Tip Auto | 750kg | 3500kg (3.5t) |
| Volkswagen Touareg (2003 - 2009) 3.6 V6 SE 5d Auto (Leather) | 750kg | 3500kg (3.5t) |
| Volkswagen Touareg (2003 - 2009) 3.6 V6 SE 5d Tip Auto | 750kg | 3500kg (3.5t) |
| Volkswagen Touareg (2003 - 2009) 3.6 V6 Sport 5d Auto | 750kg | 3500kg (3.5t) |
| Volkswagen Touareg (2003 - 2009) 4.2 V8 5d Auto | 750kg | 3500kg (3.5t) |
| Volkswagen Touareg (2003 - 2009) 4.2 V8 Sport 5d Auto | 750kg | 3500kg (3.5t) |
| Volkswagen Touareg (2003 - 2009) 5.0 V10 TDI 5d Auto | 750kg | 3500kg (3.5t) |
| Volkswagen Touareg (2003 - 2009) 5.0 V10 TDI DPF Altitiude 5d Tip Auto | 750kg | 3500kg (3.5t) |
| Volkswagen Touareg (2003 - 2009) 5.0 V10 TDI DPF SE 5d Tip Auto | 750kg | 3500kg (3.5t) |
| Volkswagen Touareg (2003 - 2009) 5.0 V10 TDI SE 5d Auto (Leather) | 750kg | 3500kg (3.5t) |
| Volkswagen Touareg (2003 - 2009) 5.0 V10 TDI SE 5d Auto (Leather) (DPF) | 750kg | 3500kg (3.5t) |
| Volkswagen Touareg (2010 onwards) 3.0 V6 TDI (245bhp) Altitude 5d Tip Auto | 750kg | 3500kg (3.5t) |
| Volkswagen Touareg (2010 onwards) 3.0 V6 TDI (245bhp) Escape 5d Tip Auto | 750kg | 3500kg (3.5t) |
| Volkswagen Touareg (2010 onwards) 3.0 V6 TDI (245bhp) R Line 5d Tip Auto | 750kg | 3500kg (3.5t) |
| Volkswagen Touareg (2010 onwards) 3.0 V6 TDI (245bhp) SE 5d Tip Auto | 750kg | 3500kg (3.5t) |
| Volkswagen Touareg (2010 onwards) 3.0 V6 TDI Altitude (240bhp) 5d Tip Auto | 750kg | 3500kg (3.5t) |
| Volkswagen Touareg (2010 onwards) 3.0 V6 TDI Altitude 5d Tip Auto | 750kg | 3500kg (3.5t) |
| Volkswagen Touareg (2010 onwards) 3.0 V6 TDI BlueMotion Tech (262bhp) Escape 5d Tip Auto | 750kg | 3500kg (3.5t) |
| Volkswagen Touareg (2010 onwards) 3.0 V6 TDI BlueMotion Tech (262bhp) R Line 5d Tip Auto | 750kg | 3500kg (3.5t) |
| Volkswagen Touareg (2010 onwards) 3.0 V6 TDI BlueMotion Tech (262bhp) SE 5d Tip Auto | 750kg | 3500kg (3.5t) |
| Volkswagen Touareg (2010 onwards) 3.0 V6 TDI BlueMotion Tech R Line 5d Tip Auto | 750kg | 3500kg (3.5t) |
| Volkswagen Touareg (2010 onwards) 3.0 V6 TDI BlueMotion Tech SE 5d Tip Auto | 750kg | 3500kg (3.5t) |
| Volkswagen Touareg (2010 onwards) 3.0 V6 TDI BlueMtn Tech (262bhp) Response 5d Tip Auto | 750kg | 3500kg (3.5t) |
| Volkswagen Touareg (2010 onwards) 3.0 V6 TDI R Line 5d Tip Auto | 750kg | 3500kg (3.5t) |
| Volkswagen Touareg (2010 onwards) 3.0 V6 TDI SE (240bhp) 5d Tip Auto | 750kg | 3500kg (3.5t) |
| Volkswagen Touareg (2010 onwards) 3.0 V6 TDI SE 5d Tip Auto | 750kg | 3500kg (3.5t) |
| Volkswagen Touareg (2010 onwards) 3.0 V6 TSI Hybrid 5d Tip Auto | 750kg | 3500kg (3.5t) |
| Volkswagen Touareg (2010 onwards) 4.2 V8 TDI Altitude 5d Tip Auto | 750kg | 3500kg (3.5t) |
| Volkswagen Touareg (2010 onwards) 4.2 V8 TDI R Line 5d Tip Auto | 750kg | 3500kg (3.5t) |
| Volkswagen Touareg (2010 onwards) R-Line Plus 3.0 V6 TDI SCR BMT 204PS Tiptronic auto 5d | 750kg | 3500kg (3.5t) |
| Volkswagen Touareg (2010 onwards) R-Line Plus 3.0 V6 TDI SCR BMT 262PS Tiptronic auto 5d | 750kg | 3500kg (3.5t) |
| Volkswagen Touareg R50 (2008 - 2009) 5.0 V10 TDI DPF R50 5d Tip Auto | 750kg | 3500kg (3.5t) |